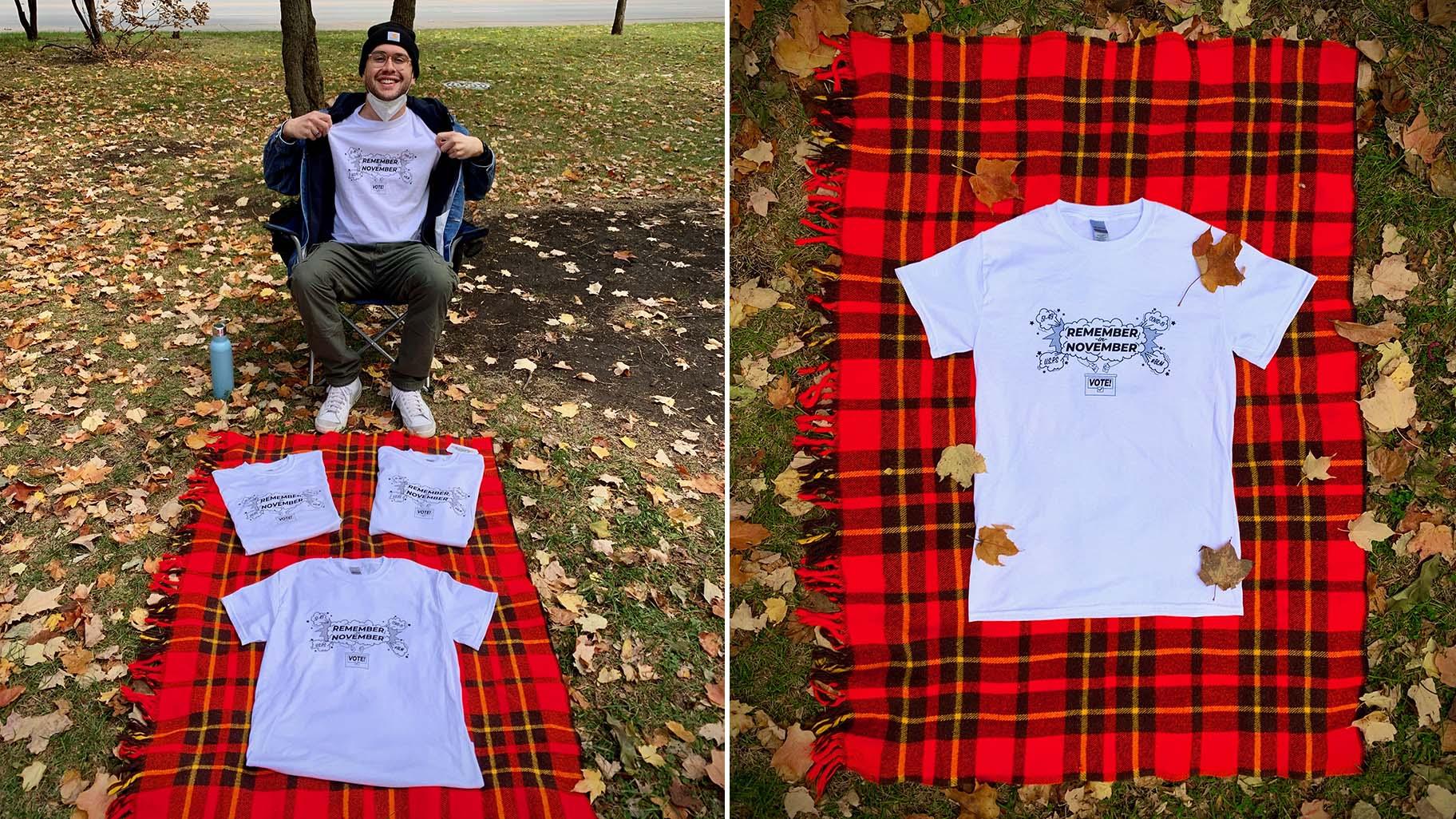 Left: Horace Nowell sells his shirts at the Logan Square Monument park on Oct. 4, 2020. (Ariel Parrella-Aureli / WTTW News) Right: A close-up of the T-shirt. (Courtesy of Horace Nowell)
Early in 2020, before the coronavirus pandemic forced schools and businesses across the country to close, President Donald Trump's impeachment trial took the spotlight, ending with the Senate's rejection of witnesses and acquittal of the president in a 51-49 vote. 
That vote planted the seed for a design project between a Chicago father and son to spread voter awareness and stress the importance of collective action through art as the Nov. 3 election nears.
Lincoln Park artist Horace Nowell III and his father, Horace Nowell Jr., also an artist, worked for months on a design encompassing major events from 2020 that made national headlines: the Senate impeachment vote, the Black Lives Matter uprisings, the U.S. Postal Service bill and voting delays and the coronavirus pandemic. 
The comic book-style design references each of those stories using thought bubbles surrounding a larger bubble that reads "Remember in November" with hands dropping ballots into a box labeled "Vote!"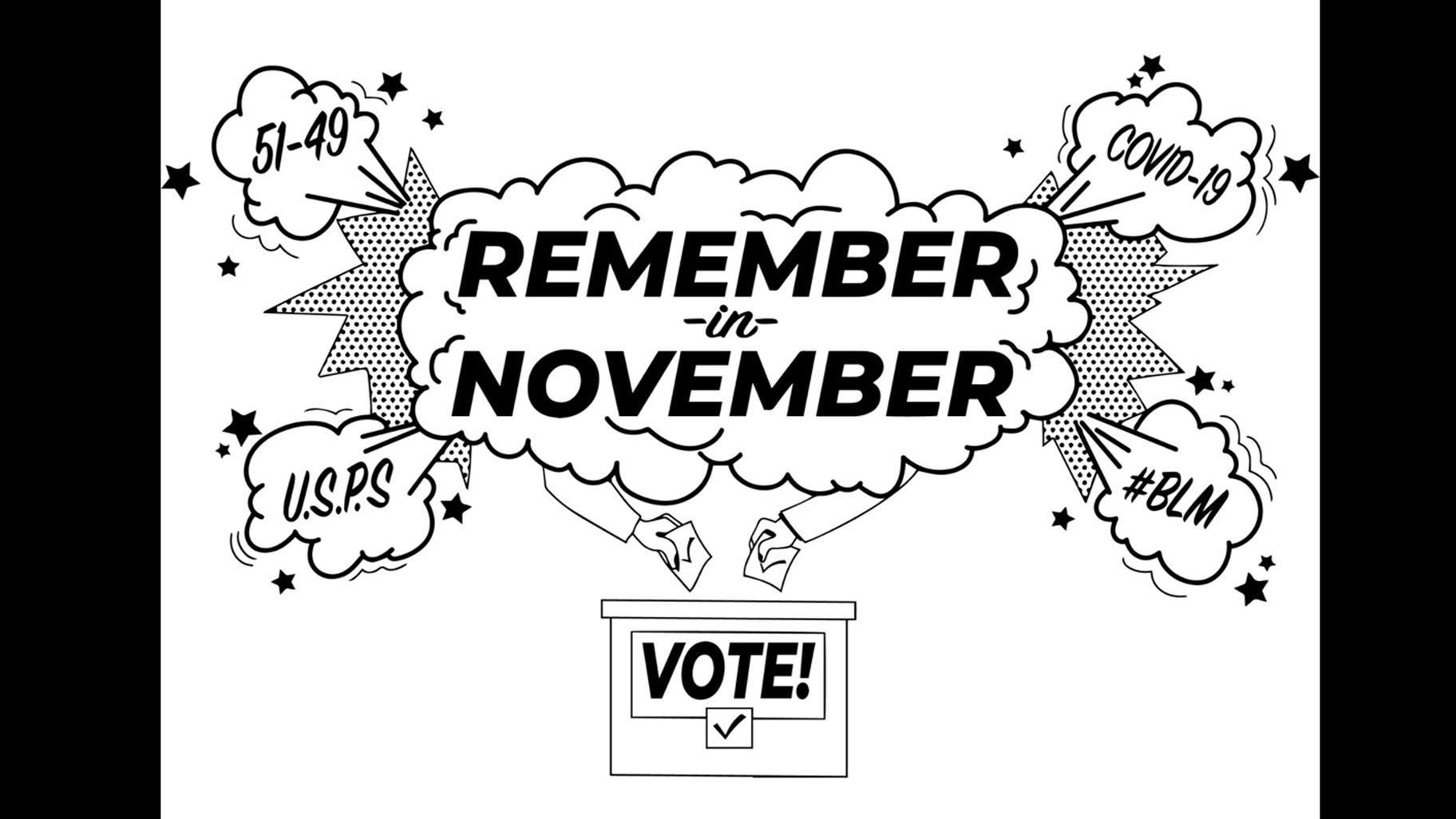 (Courtesy of Horace Nowell)
Nowell has been selling the T-shirts online since Oct. 4 and at a Logan Square independent vendor market to remind people how important it is to make their voices heard in the upcoming election.
"With this design, we are trying to signify the power we all have and collectively hold to create lasting change we all want to see in the future," Nowell said. "Voting is the key to that."
Nowell is hopeful that voting can unify people during a particularly divisive time — both politically and as the pandemic has exposed racial and socioeconomic disparities among Black and Brown communities.
Nowell, who usually works with pen and paper to create letter-based illustrations and murals, said the project was a welcomed challenge that taught him how to work in a new style and learn new skills. 
Like many artists, Nowell was compelled to respond to recent events in a creative way, and the collaboration with his father was a natural fit: they've been working together on projects since he was 4 years old. 
"I owe gratitude towards him in terms of inspiring me and promoting me to express myself creatively through visual art," Nowell said of his father. 
Because of the pandemic, Nowell and his father, who recently moved out of state, worked remotely on the T-shirt design. During a recent in-person visit — their first in six months — he posed for a picture with his father, both in their T-shirts, in front of a painting they created together years ago.  
"We finally were able to see each other in person, right when I was about to launch the website for the shirts," Nowell said. "It was a full-circle moment."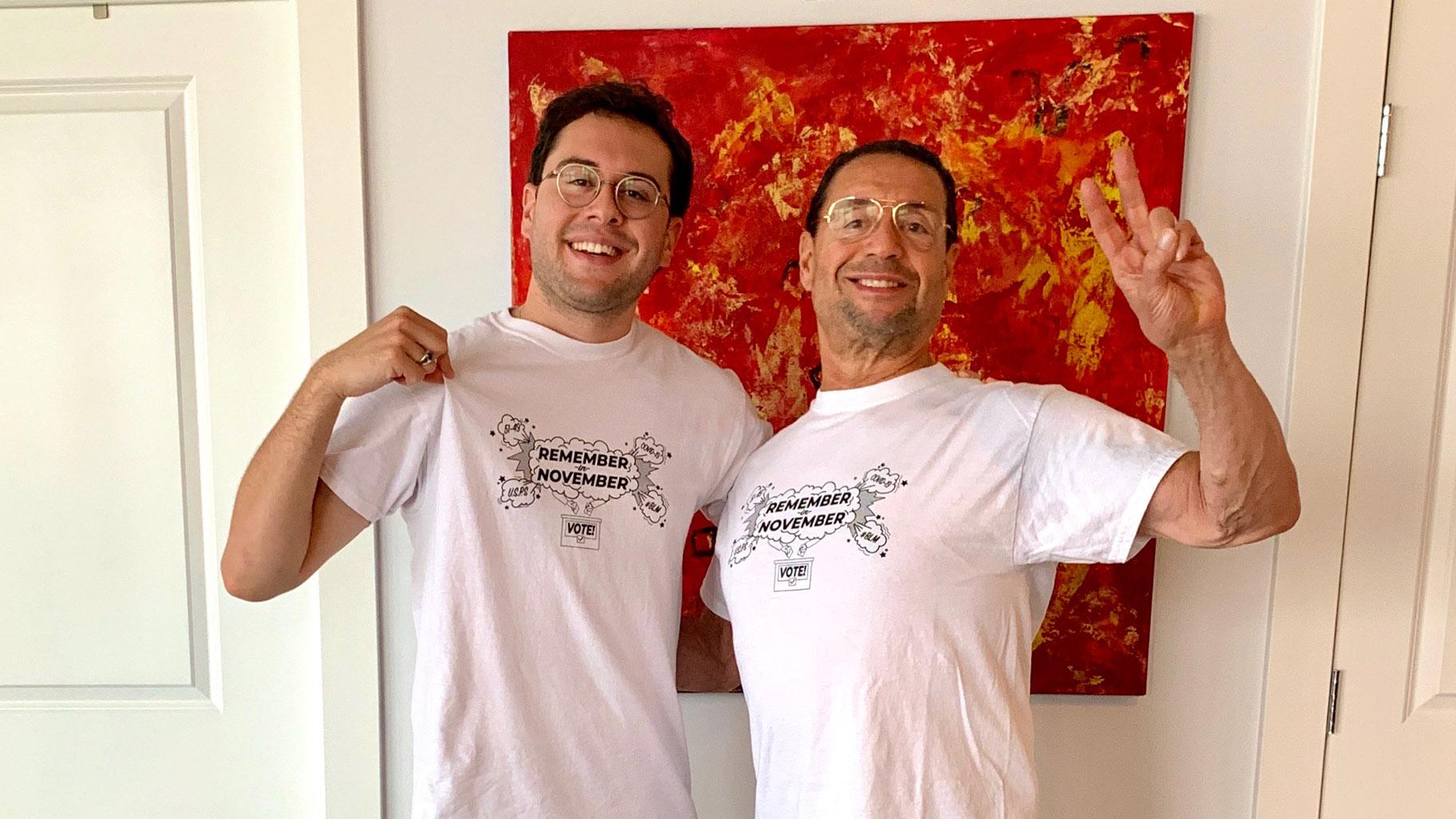 Horace Nowell III, left, and his father have their first in-person visit during the pandemic and show off their T-shirts. In the background is a painting the two made together. (Courtesy Horace Nowell)
The 24-year-old artist said making T-shirts is also his way to give back to communities hit hard by the pandemic. He is donating 40% of proceeds to Crisis Aid International, a nonprofit that provides a wide range of assistance to communities in times of crisis. As part of the group's COVID-19 relief efforts, it's helping to provide free food and medical assistance to vulnerable populations in East Africa.
Nowell said he's looking into other local nonprofits to support and is looking forward to where the project takes him. Ultimately, he hopes it helps raise money for communities in need while reminding folks to vote.
"Get out there and vote," said Nowell, who voted Saturday. "Everyone's vote counts, it's so important to do so."
Ariel Parrella-Aureli is a freelance contributor to WTTW News: @ArielParrella
---