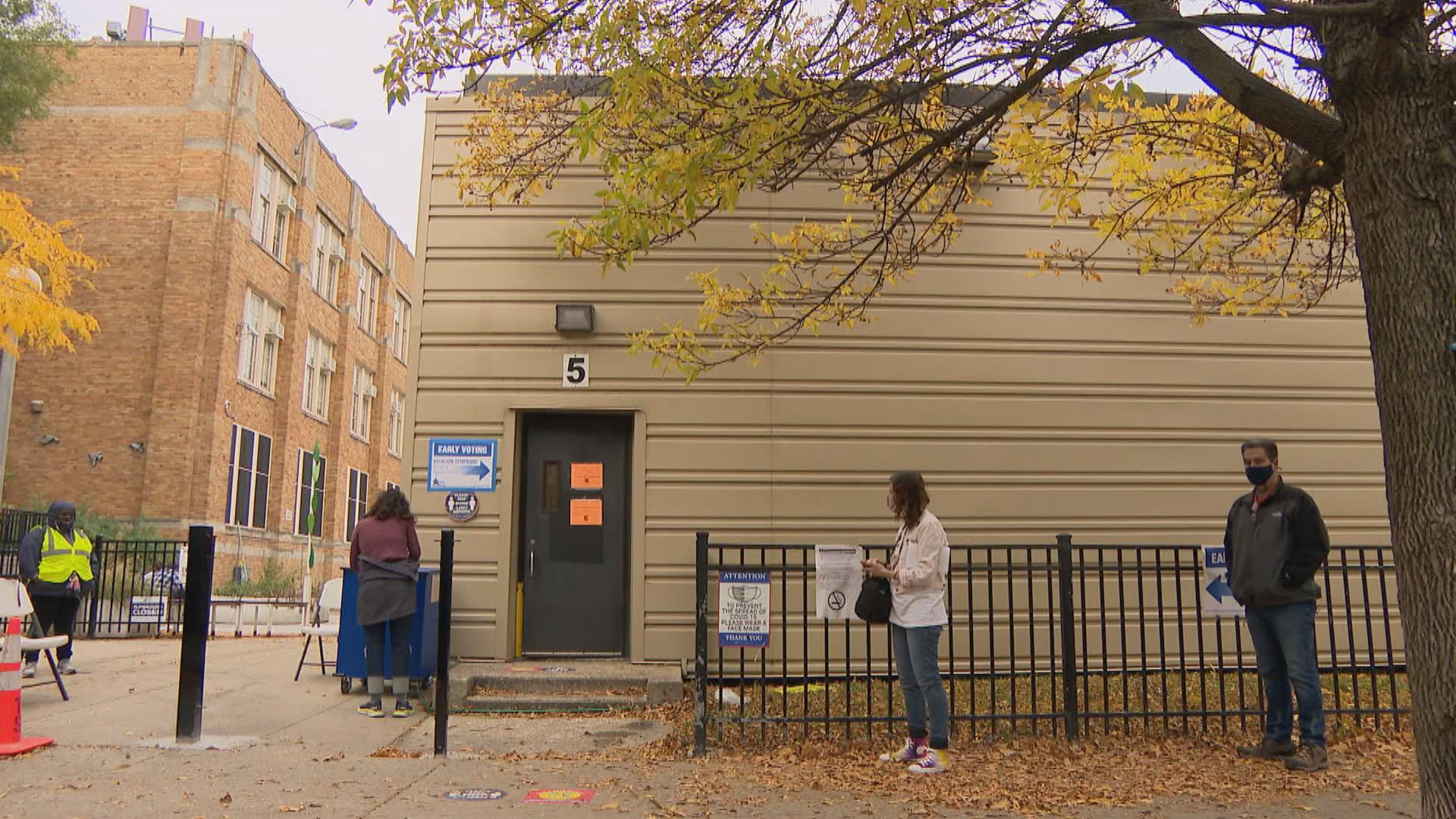 People line up for early voting in Chicago on Wednesday, Oct. 14, 2020. Amid the pandemic, many residents in the city and state have requested mail-in ballots for the Nov. 3 election. (WTTW News)
State health officials reported 4,245 new cases of the coronavirus on Sunday after processing more than 79,000 specimens in 24 hours, and a slight increase in the statewide test positivity rate to 5.3%.
The Illinois Department of Public Health also reported 22 deaths Sunday as a result of the virus.
Officials reported more than 3,600 new cases of the virus on Saturday and 27 additional deaths, bringing totals to 344,048 confirmed cases and 9,214 related deaths since the first infection was reported in Illinois in late January.
Eighteen residents of Cook County were among the deaths reported Saturday and Sunday, including a woman in her 20s.
The rolling seven-day statewide positivity rate of 5.3% is an increase from 4.2% a week ago. The rate in Cook County is 6.7% and in Chicago it is 5.2%, according to the latest data available.
Health officials have said that a test positivity rate above 5% indicates rapid spread of the virus. The last time the state's test positivity rate was more than 5% was in June, as the initial peak of the pandemic eased, according to state data.
Trump: 'Illinois could use a new governor'
After being criticized for his handling of the coronavirus by President Donald Trump at a rally Saturday in Wisconsin, Gov. J.B. Pritzker fired back Sunday morning on the CNN show "State of the Union." 
"Frankly, the president has made it nearly impossible for states to open up any more than they are now," Pritker told CNN host Jake Tapper. "It is dangerous right now. … Of course, we've already opened up much of our economy, but we have to maintain certain capacity limits and make sure that our people are safe and healthy."
Pritzker also noted that by not wearing a mask himself in public, Trump is "modeling bad behavior." 
"He has rallies where they don't encourage people to wear masks in public," Pritzker said. "People are not following the mitigations because the modeling is so bad at the leadership level — at the federal level. We are trying to continue to convince people to do the right thing but it is the president's allies in our state, all across the state, who are simply saying to people, 'Don't pay any attention to the mitigations, don't follow the rules.'"
On Friday, Pritzker warned residents of a surge in COVID-19 infections across Illinois, where 34 counties are now considered to be at a warning level for the virus, including Will, Kane and McHenry.
A county reaches a warning level when it experiences an increase in at least two COVID-19 risk indicators from the state's resurgence mitigation plan, according to IDPH.
Note: This story was first published Saturday, Oct. 17, 2020. It was updated Sunday with the latest data from state and local health officials.
---