Even veteran voters may be going into the 2020 election – now just 20 days away – with questions about how to exercise their right to vote. That's reasonable given that some aspects of the practice are different this year because of the coronavirus pandemic.
As Chicago kicked off expanded early voting Wednesday in each of the city's 50 wards, Chicago Board of Elections Chairwoman Marisel Hernandez told voters to make sure their early voting location hadn't changed.
"Most of our early voting sites for this election have been relocated in order to ensure they're large enough and safe for all staff and voters," Hernandez said.
Map: Early Voting Locations in Chicago for the 2020 General Election
Polling places may also look different because of the coronavirus.
"We have strict social distancing measures in place to ensure voting is safe, easy and secure. Voters can expect to see 6 feet of distancing between polling stations, plexiglass dividers, hand sanitizers and masks at every polling site," she said.
Many people don't plan to vote in person at all, either to avoid the risk of COVID-19 infection or out of sheer convenience.
The Illinois legislature this spring passed a law, which will only be in place for the Nov. 3 election, intended to steer people to vote by mail.
Illinois State Board of Election spokesman Matt Dietrich says 70% of votes are typically cast on Election Day. This year, they're projecting that total to be about 50% because so many voters will have voted early or cast their ballots by mail.
Already more than half a million voters have opted to mail in their ballots – even weeks away from the general election, that's more than the total of mail-in votes cast for the 2016 general election.
If you want to go that route — you still can. Technically, you can request a mail-in ballot through Oct. 29.
But Dietrich doesn't recommend waiting until then.
"The problem with waiting until Oct. 29 is that, that's only five days until the election. You're cutting it really close. Your election authority may not be able to get your ballot to you before Election Day for you to mark, and then get properly postmarked or deposited in the drop box," Dietrich said.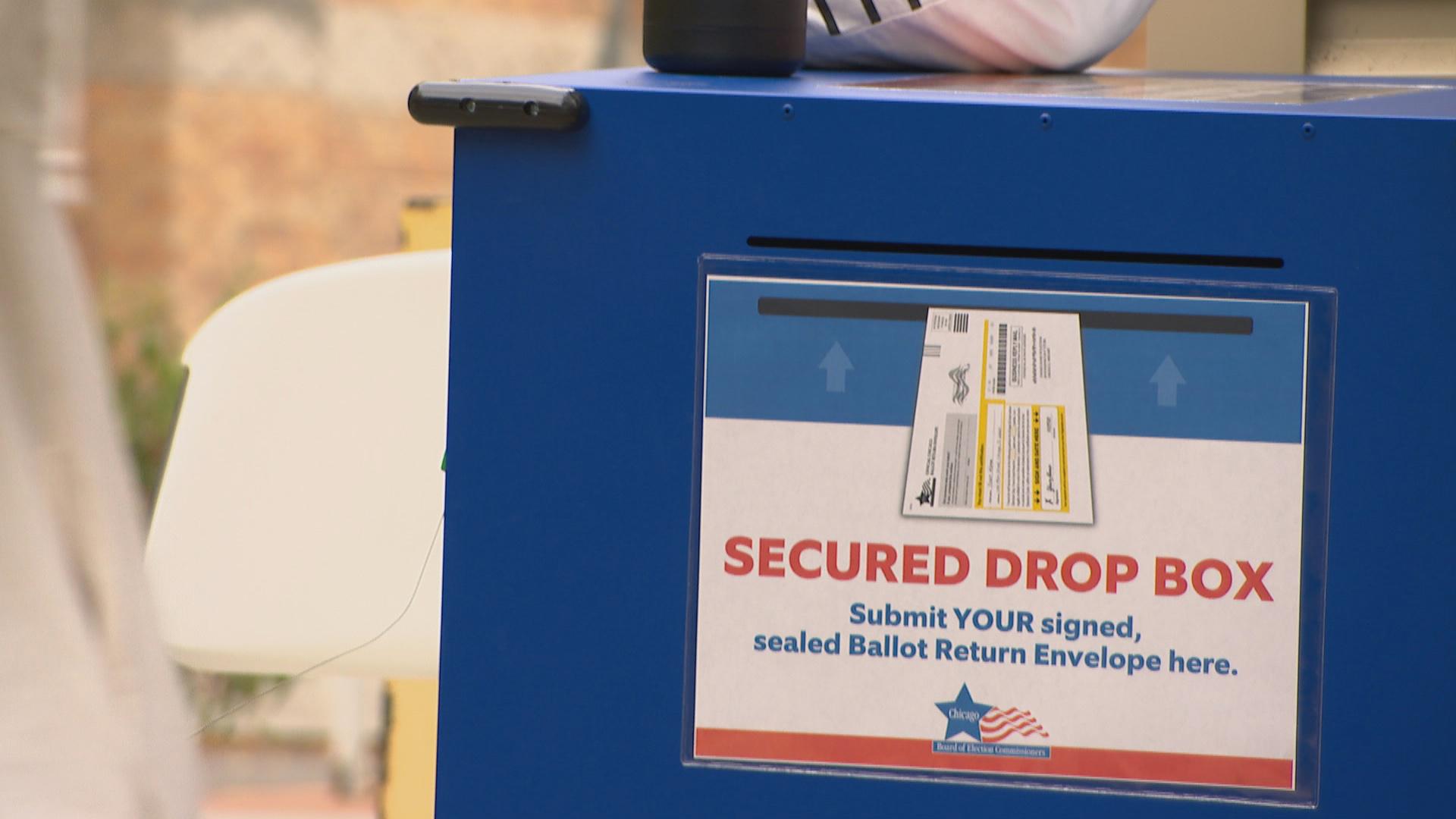 (WTTW News)
Drop boxes are an alternative for those who received ballots by mail; instead of mailing them back voters can drop them in secure ballot drop boxes.
They aren't available statewide as some local election jurisdictions decided not to offer them, but Chicago has them at each early voting location, and is putting them at libraries.
Whether dropped off or mailed back, ballots should be signed and sealed before they're returned.
In Chicago you can trace your ballot's location online at the city's elections website.
Dietrich said there's no problem if a voter requests a mail-in ballot but either damages it or decides to instead vote in person. But there is an important step to take.
"But take that ballot with you, surrender it at the polling place and you'll be given a regular ballot to vote in person," he said. "What you don't want to do, if you have received your ballot, don't go into an early voting location without it. Be sure you take it with you."
Otherwise, you'll have to use a provisional ballot, which means your vote is not counted immediately to give authorities time to check the mail-in ballot was not also submitted.
Trying to vote multiple times is against the law.
If you requested a vote-by-mail ballot, authorities say to give it time to arrive.
But if you get eager and want to vote in person before your requested mail-in ballot has arrived, Dietrich has this advice: "If you've applied for a vote-by-mail ballot, the election judge will know that because there will be a note by your name in the poll book and you'll simply tell them 'I didn't receive it yet' and then you'll sign an affidavit to that effect, and then you'll be given a ballot to vote in person," he said.
Dietrich says Illinois law requires local clerks and elections authorities to notify the voter if there is a problem when they receive a mailed-in ballot, like if a signature is rejected or you didn't use the security envelope.
He says that's another reason to get your ballot in as soon as possible, as election authorities and voters alike need time to remedy any potential hiccups.
Those who are not registered to vote can do so online until Sunday. Illinois does allow same-day voter registration up to and through Election Day, but starting Oct. 19 that can no longer be done over the web.
Follow Amanda Vinicky on Twitter: @AmandaVinicky
---
More voter resources: 2020 Voter Guide to the General Election
---