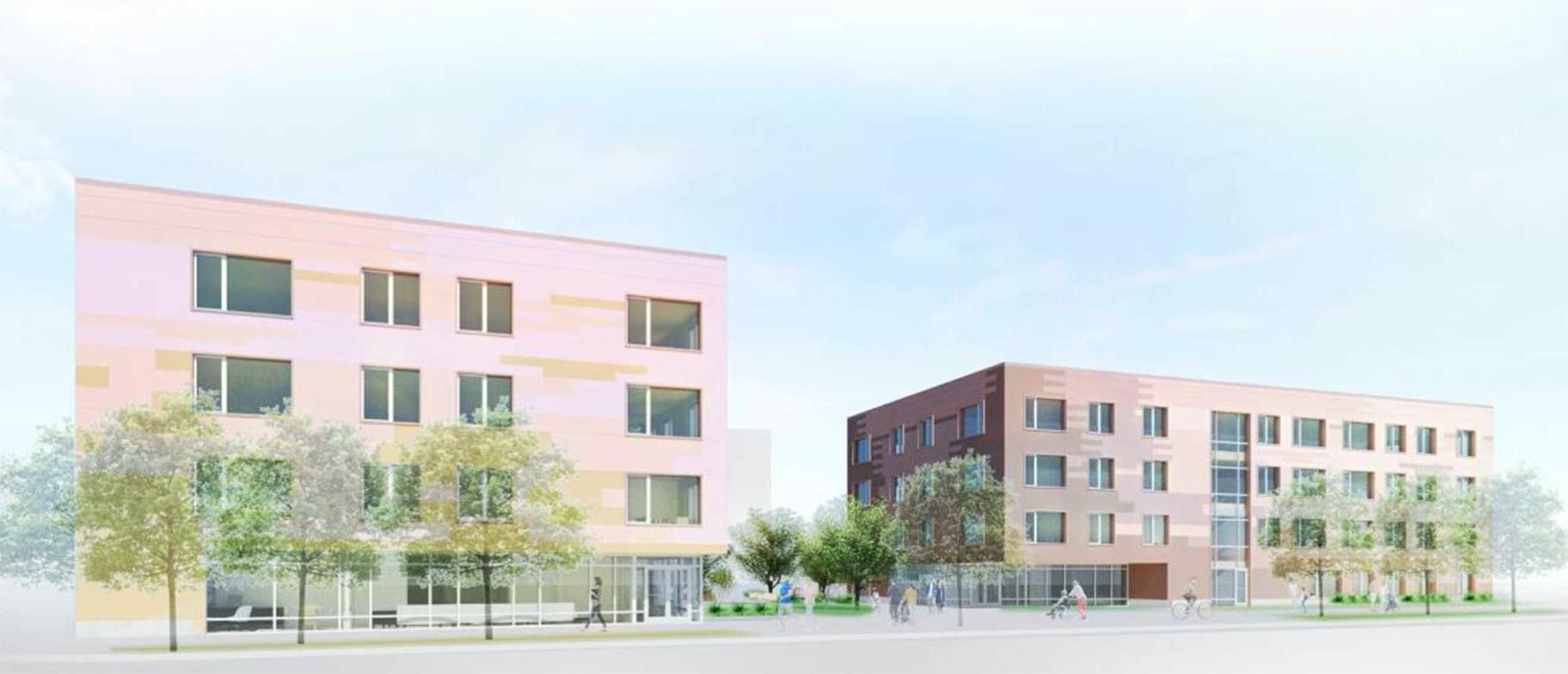 A rendering of the proposed apartment complex near Lawrence and Austin avenues in Jefferson Park. (Credit: Canopy Chicago)
Aldermen sided with Mayor Lori Lightfoot on Tuesday in a dispute over a proposal to build a 48-unit affordable housing complex in Jefferson Park, turning back an effort by Ald. Nicholas Sposato (38th Ward) to block the development.
The City Council's Zoning Committee took no action on a measure from Sposato that would have blocked a plan from Full Circle Communities to transform a long-vacant lot in Jefferson Park into an apartment complex using $1.5 million in Low-Income Housing Tax Credits from the Illinois Housing Development Authority.
The plan from Full Circle Communities calls for two four-story buildings with 48 units to be built near Lawrence and Austin avenues on the Far Northwest Side, where many residents pride themselves on a lack of multifamily unit housing and relish the suburban-like vibe of their community.
While Lightfoot and Housing Commissioner Marisa Novara backed the proposal that reignited the furious debate surrounding Chicago's massive affordable housing shortfall, Sposato said the plan was too dense and had too few parking spaces.
The proposal at 6001 W. Lawrence Ave. would be the second development from Full Circle Communities in Jefferson Park. Construction is underway on a 75-unit complex at 5150 N. Northwest Highway — but only after years of highly charged debate and controversy that contributed to former 45th Ward Ald. John Arena's defeat in 2019.
Full Circle Communities CEO Joshua Wilmoth said he was "pleased that we get the opportunity to continue our work with the city and Alderman Sposato to bring this development to fruition under the current zoning, and hope that we will be given that chance."
Construction is scheduled to start in the spring, Wilmoth said.
Sposato said he was disappointed but not surprised that his colleagues sided with Lightfoot, violating the unwritten, decades-old practice of giving aldermen a veto over developments in their wards, known as aldermanic prerogative.
"It is what it is," Sposato said. "Everyone was worried about a lawsuit."
Sposato said he would work with Full Circle Communities to craft a project that will "benefit the entire neighborhood."
However, Sposato said he still believed the project was too dense, although he was pleased that nine parking spaces had been added to the original proposal.
Lightfoot's promise to end aldermanic prerogative was at the center of her 2019 mayoral campaign, and Tuesday's action represents a rare victory in her effort to fulfill that promise, which has advanced only in fits and starts.
Groups working to desegregate the city by building more affordable housing on the North and Northwest sides have blamed aldermanic prerogative for concentrating housing designed for the poorest Chicagoans on the South and West sides of the city.  
Contact Heather Cherone: @HeatherCherone | (773) 569-1863 | [email protected]
---