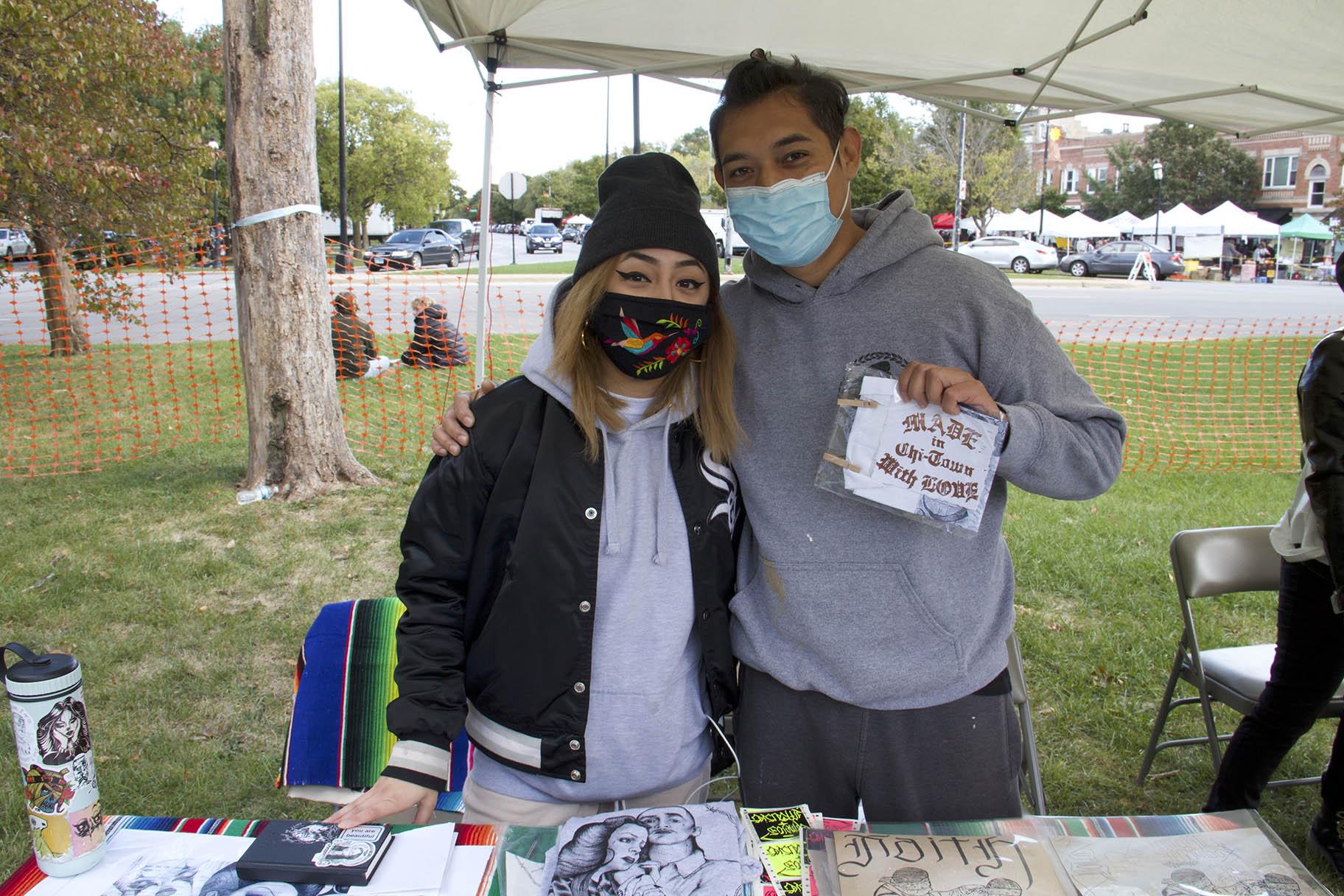 Artists Michelle Vega and Sir Charles at Zinemercado in Logan Square on Sunday, Oct. 4, 2020. (Ariel Parrella-Aureli / WTTW News)
It looked a little different this year due to the coronavirus pandemic, but an independent zine fest brought a steady stream of customers, vendors and artists together Sunday in Logan Square to experience art in person, some for the first time since March. 
Zinemercado, a nonprofit organization started in 2016, celebrates mostly Latinx DIY artwork with a focus on zines, homemade mini-publications that are usually take on specific, often unconventional subjects. Every year, the festival brings together 40 artists from the U.S. and Mexico at Comfort Station, 2579 N. Milwaukee Ave., offering a way to connect with and support independent zine artists.
Founder and organizer Oscar Arriola says he knew he had to find a way to keep the fest going this year, especially since several art conventions, print shows and trade exhibits were canceled due to the pandemic, throwing a wrench in expected income for DIY artists. 
Together with Comfort Station, Arriola devised a socially distant version of Zinemercado, which is usually held outdoors. Safety guidelines this year included a fenced-in area, a one-way walking path for crowd control, an entrance and exit and hand sanitizer at display tables. While more than 40 artists usually set up individual tables at the fest, this year, two to three artists showcased the work of about 10 artists at each of five tables. In total, work by more than 50 artists was on display.
"I'm happy people are able to come out and experience humans with each other," Arriola said. "It's hard to describe the feeling because we have been so cooped up this whole year and scared of what is the right thing to do. Even with this fest, we discussed it heavily."
Nando Espinosa Herrera, a volunteer with Comfort Station who has worked as the liaison for Zinemercado since its inception, said the team had doubts about whether this year's fest would happen at all. But after their proposal was approved, organizers crossed their fingers for a good turnout and nice weather — and they got both, Espinosa Herrera said. 
Although it's too soon to say how outdoor events like Zinemercado will fare next year, he said it might look the same, given how well people followed instructions. 
Artists manning tables Sunday said Zinemercado was their first in-person art show since the pandemic hit. They were eager to meet new customers, see old faces and show off work created during the pandemic.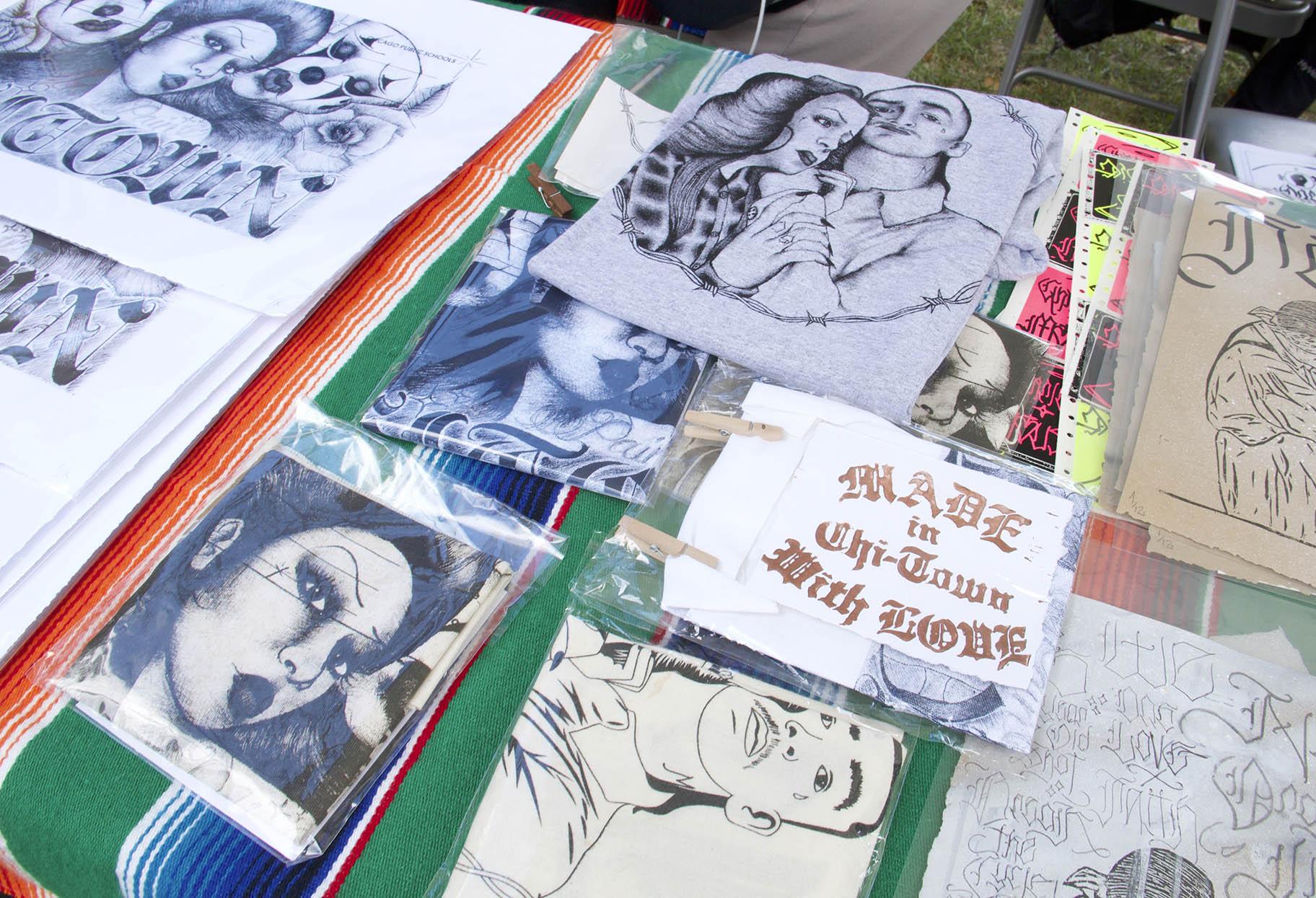 Artwork by Made in Chi-Town With Love. (Ariel Parrella-Aureli / WTTW News)
Michelle Vega and Sir Charles, founders of the art collective and advocacy platform Made in Chi-Town With Love, were happy to share their artwork after a long hiatus and cancellations that hit them hard. The collective, in partnership with other local printing studios and presses like Fuerza Creative, aims to bring awareness to the internal struggle, oppression and lack of resources that lead to gang violence in South Side communities. The artists mentor youth to break the cycle of violence through art. 
"Our work is pretty serious as it is but if we take the seriousness away and actually take a look at the artistic, now we can teach somebody from the hood that you can do a linoleum block [art piece]," Charles said. "If you don't have access to a printer, we can get you access to tools. We use this to continue to tell the narrative and use [artwork] as samples to help guide other people."
Vega remembers traveling to Los Angeles for an art show right before the pandemic hit. When shows were canceled or postponed, she turned to social media, but it wasn't the same.
"It was hard and upsetting because as artists, we're dependent on pop-ups," Vega said. "[But] the pandemic pushed us to think of having a backup plan and creating a safety net for ourselves."
For artist Jonathan Banderas, the pandemic was a time to create and reflect on the events of 2020. When the pandemic hit, he drew a devil character in a hazmat suit with a flame thrower in hand and Chicago's skyline in the background. After summer weekends of protests and rioting, Banderas created a face crying out in anguish to represent the chaos he felt. 
He also displayed his first zine, called "Machinations of the Mind," a collection of all of his original ink sketches. The back features a sketch of a bruised and bloodied face — a reminder that even with issues of systemic racism and inequities that have been at the center of recent protests, expressing those lived experiences and mirroring what is happening using art is important.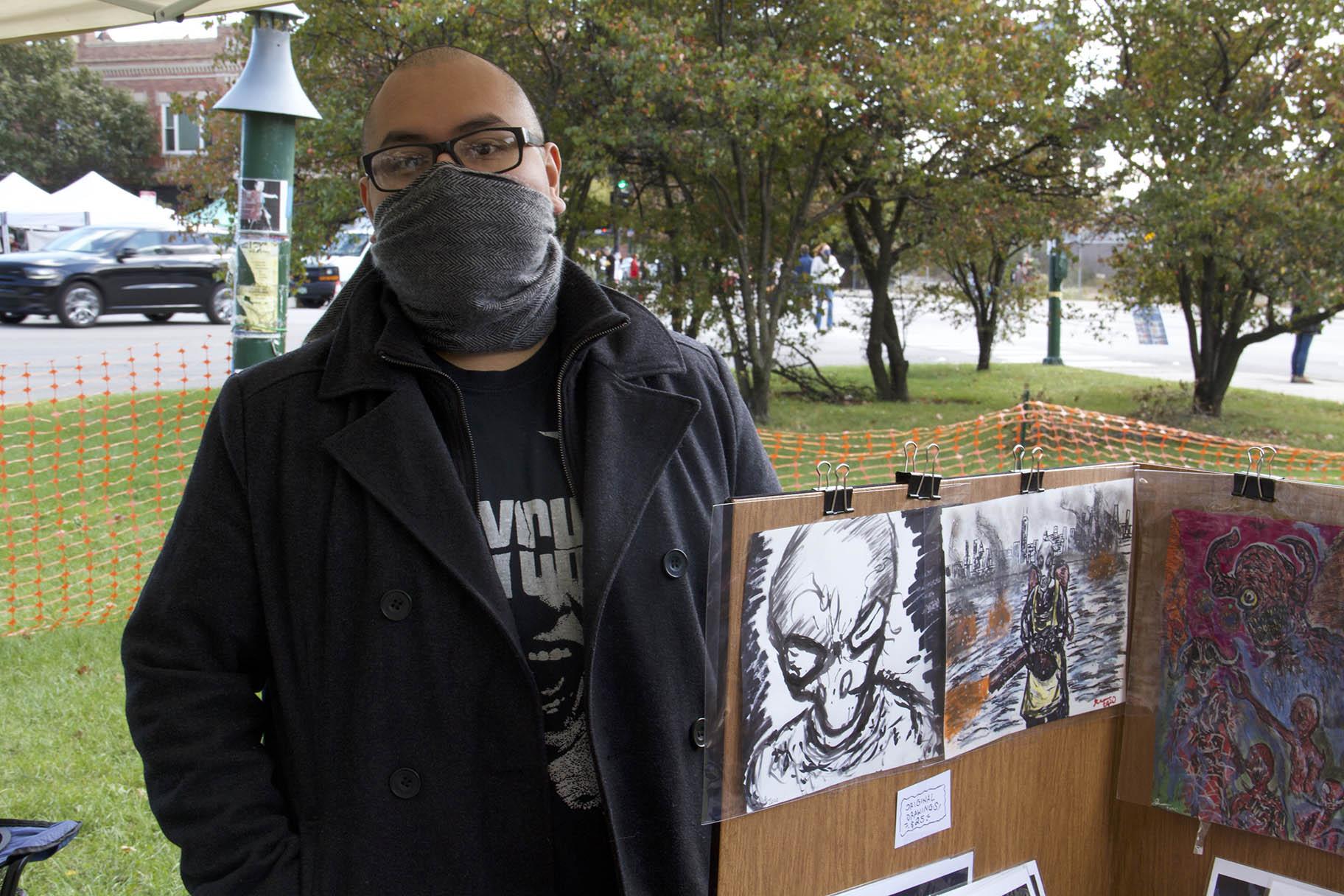 Jonathan Banderas (Ariel Parrella-Aureli / WTTW News)
"No matter how you bear it, all the scars on your body, you get back up," Banderas said. "It's a reminder of what you have lived through."
That resiliency in the art community runs deep, especially in times of hardship. For zinesters, Sunday's event was a chance to bring that sentiment to life beyond social media. 
The support of the artists and the excitement around the in-person festival made all the extra work worth it, Arriola said. 
"Despite everyone being trapped in their homes, it's nice to be able to share work from so many artists from all over," he said. "Some of these zines were created in the last week so it's very topical."
Ariel Parrella-Aureli is a freelance contributor to WTTW News: @ArielParrella
Note: An earlier version of this story incorrectly identified one of the organizations that approved the 2020 plan for Zinemercado. The story has been updated.
---