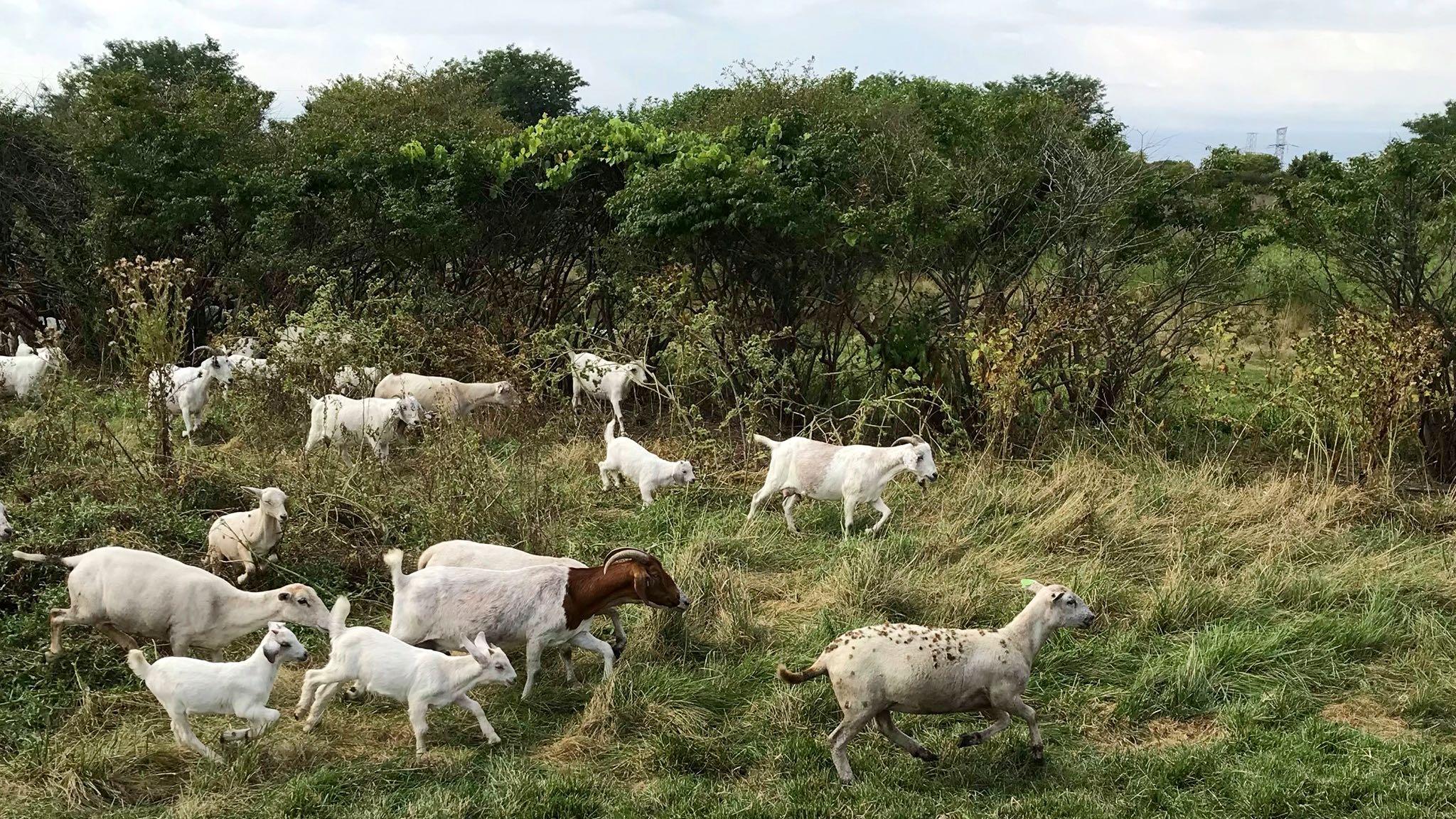 Goats and sheep on the job at MWRD's Calumet plant. (Metropolitan Water Reclamation District of Greater Chicago / Facebook)
To maintain several acres of prairie restoration that surround its Calumet Water Reclamation Plant, the Metropolitan Water Reclamation District brought in an unusual landscaping crew — or should we say, herd.
Sixty-five sheep and goats took the place of mowers this summer, grazing on invasive species in hard-to-reach places as part of an eco-friendly approach to land management, according to the MWRD.
The animals were supplied by Wisconsin-based Vegetation Solutions, which has been contracted for similar work at O'Hare International Airport.
"We're decreasing our usage of herbicides and pesticides, and we're also using less fuel because, of course, we're not using those huge lawn mowers," Kari Steele, president of the MWRD board of commissioners, said in a video highlighting the animals' work. 
MWRD gave the animals a trial run in 2019 at the district's Lemont plant and based on the success of that pilot brought them to Calumet in 2020.
"We're in the middle of a large city, and you get to see goats out here grazing," said Aruch Poonsapaya, the Calumet plant's managing engineer, who's also featured in the MWRD video.
The Calumet plant sits on approximately 400 acres and treats anywhere from 230 million gallons to nearly 500 million gallons of water a day, Poonsapaya said.
Prairie restorations help with stormwater absorption, but require management to control invasive weeds, grasses and other non-native species.
Goats and sheep will eat almost anything that's edible, including poison ivy and pesky buckthorn, said Ben Robel, owner of Vegetation Solutions, who used the video to debunk the myth that goats eat tin cans.
The two animals complement each other out in the field, he said.
"Goats stand on their back feet and can reach seven, eight feet. Sheep eat more of the ground-level plants," Robel said. "They eat, sleep and ruminate all day long. They get up, eat for a few hours, take a nap, ruminate (digest their food), and just constantly repeat the process all throughout the day."
---
Contact Patty Wetli: @pattywetli | (773) 509-5623 |  [email protected]