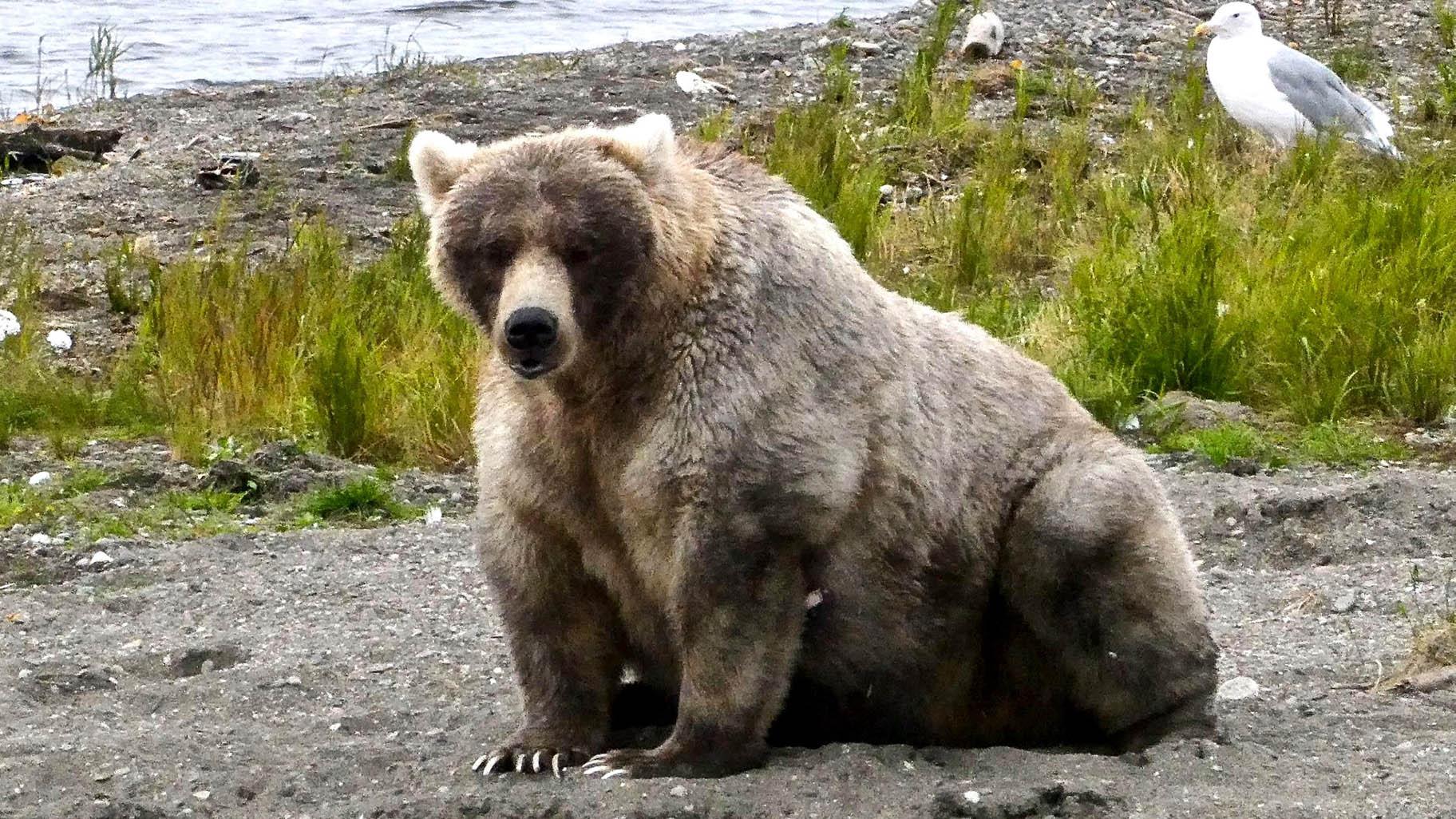 Holly, the 2019 Fat Bear champ, is looking to defend her crown. (Katmai National Park & Preserve / Facebook)
The Monsters of the Midway have got nothing on the monsters of Brooks Falls.
We're talking about the brown bears that make their home in Alaska's Katmai National Park and Preserve. Compared with these enormous creatures, Matt Nagy's crew looks like a peewee squad. 
After beefing up all summer, gorging on salmon snatched from the Brooks River between naps, Katmai's most famous residents (courtesy of a live webcam) are now facing off in one of the most highly anticipated competitions of the year: Fat Bear Week.
Fat Bear Week is like March Madness, except instead of college hoops squads squaring off on the court, bears "campaign" for votes in this single-elimination tournament. 
So, not like March Madness at all, except for the brackets.
The tourney kicks off Wednesday and runs through Oct. 6, when this year's winner will be crowned (metaphorically, not up close and in-person, because … bears). Voting is open daily from 11 a.m. to 9 p.m. for head-to-head matchups.
While the tongue-in-cheek competition is hosted by the National Park Service, Fat Bear Week also provides an opportunity to educate the general public about these magnificent animals that are as playful as they are fearsome.
The Katmai National Park's Facebook page is loaded with information about the bears' lifestyle and hierarchy, the latter of which actually dictates the spot where they fish on the river. This summer, the Brooks bears feasted on nearly a million sockeye salmon that spawned in the river. According to rangers: "It was even easier for the bears to fill up on their favorite food than previous summers. This created ballooning boars, swollen sows, and chubby cubs all vying to be crowned #FatBearWeek Champion!"
Profiles of the competitors can be found on the Fat Bear Week website. Among the top contenders is last year's champ Holly, she of the toasted marshmallow-colored coat and distinctive pale claws. There's also Chunk, who's been dubbed "enigmatic" by rangers due a tendency to play nice with others even though he could crush them all; Otis, a two-time champ and one of the oldest bears on the river; and fan-favorite 747, a bear so huge, tipping the scales at 1,400 pounds in 2019, he doesn't even need a name. 
Catch programming about the bears and the competition, including ranger talks, online at explore.org, which also hosts the Brooks Falls webcam.
All kidding aside, a fat bear equals a healthy bear, according to park rangers. 
During their monthslong winter hibernation, adult brown bears won't eat or drink a thing and will lose one-third of their body weight. During late September and October, they experience hyperphagia, a suppression of the cues that say, "stop eating, you're full," which enables them to pack on the pounds they need to survive. Like the COVID 15 times 50.
Here are the 2020 Fat Bear contenders: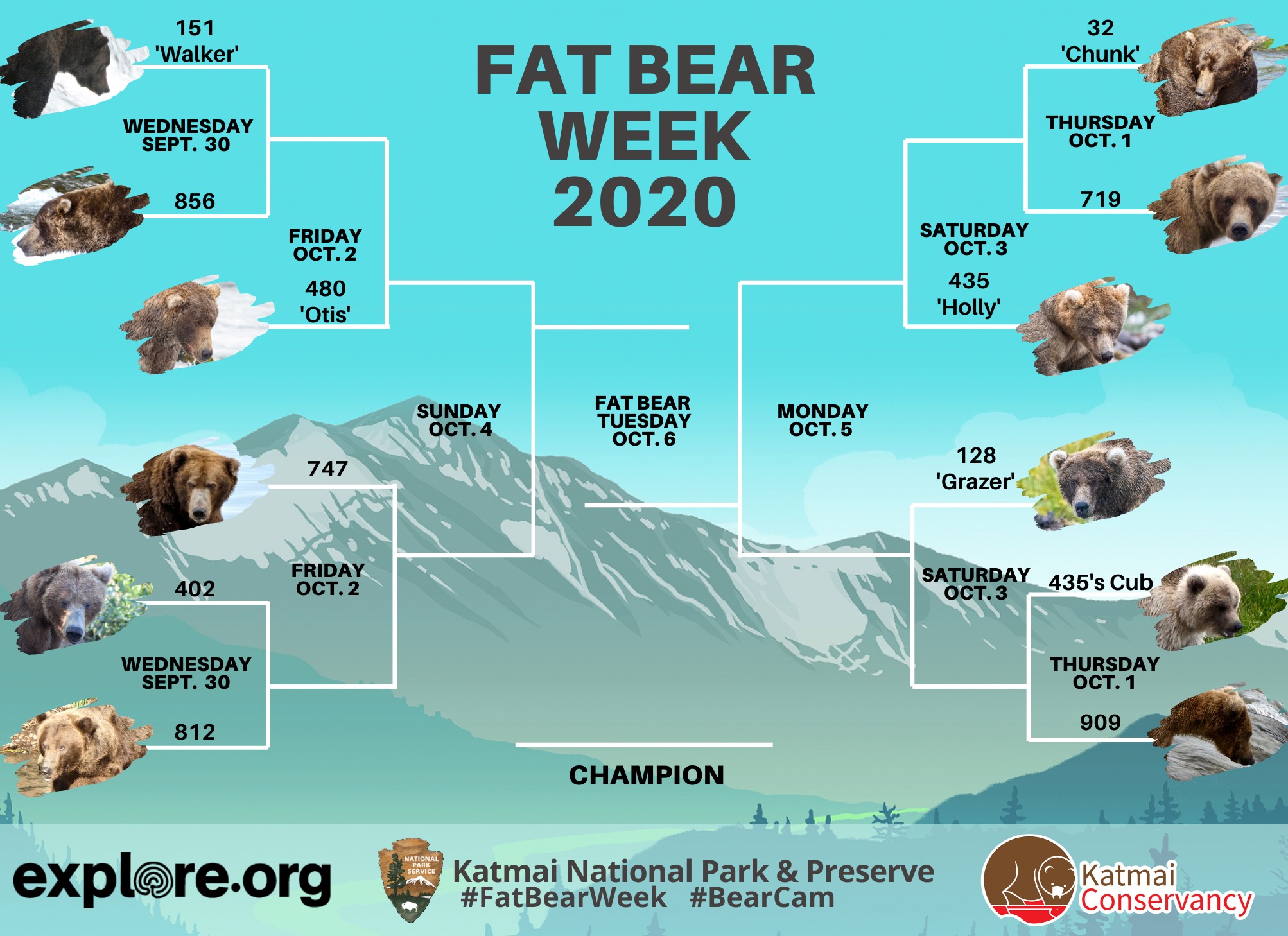 (Courtesy of Explore.org)
Contact Patty Wetli: @pattywetli | (773) 509-5623 |  [email protected]