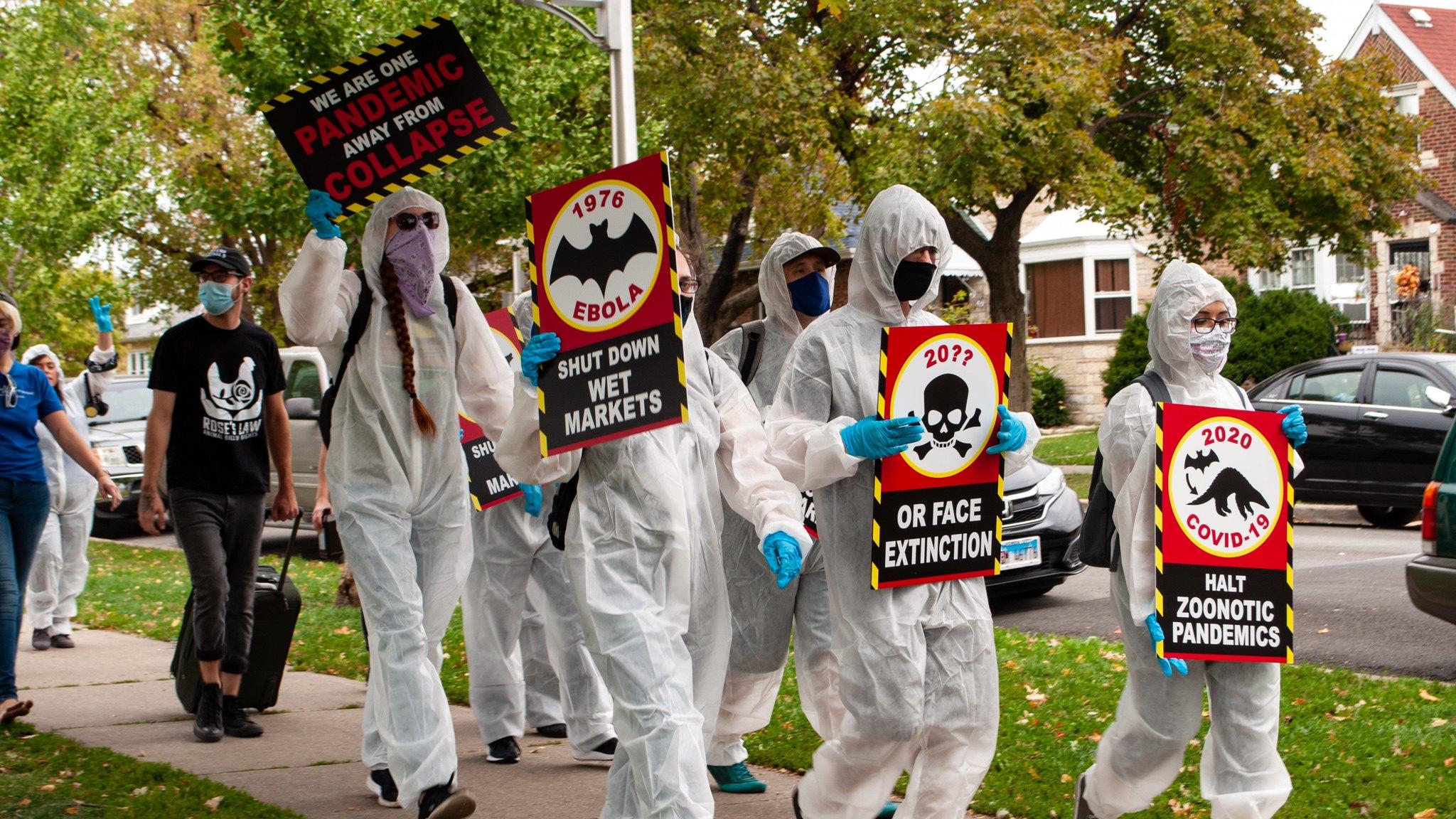 Animal rights activists protest Sunday, Sept. 27 in Belmont Cragin. (Grace Del Vecchio / WTTW News)
Activists with the animal rights group Direct Action Everywhere gathered Sunday in Belmont Cragin's Riis Park to kick off a week of action filled with vigils, teach-ins and protests.
Cosponsored by animal rights organizations, including Slaughter Free Chicago and Animal Rebellion, the weeklong #CancelAnimalAgriculture campaign seeks to close all city slaughterhouses and prohibit new ones from opening, among other things.
Activists planned to protest outside all 15 Chicago slaughterhouses over a 24-hour period between Sunday and Monday. Dressed in white coveralls, with some wearing gas masks, protesters marched Sunday morning from Riis Park to John's Live Poultry and Egg Market.
Protesters lined the corner of Austin Boulevard and Fullerton Avenue in front of John's market, holding signs linking animals to viral outbreaks, like Ebola and COVID-19. One sign simply read: "We are one pandemic away from collapse."
"Every slaughterhouse in this city is in violation of at least one Chicago city law," said Ilir Sulejmani, an organizer who has worked with Slaughter Free Chicago which has researched the state of Chicago slaughterhouses.
Among the group's findings is that at least nine of the city's 13 bird slaughterhouses are in violation of a rule which requires them to be at least 200 feet from other businesses and residences.
In addition to closing all slaughterhouses, activists want the city to support a transition to a plant-based food system by cutting financial ties with animal agriculture corporations and committing to passing an animal rights billed dubbed Rose's Law.
Named for a chicken that was rescued in 2018 from a poultry farm alleged to have treated animals cruelly, Rose's Law seeks to protect sentient animals from being owned as well as exploited, abused or killed by humans.
Along with their concern for animals and the environment, protesters want to see Rose's Law enacted because of public health reasons. 
"A majority of emerging diseases are zoonotic, coming from animals and our interactions with animals, especially in confinement like in slaughterhouses, is actually a huge factor in that," said Anastasia Rogers, an organizer with Direct Action Everywhere. "When we have these animals in tight spaces, the diseases spread between the animals very rapidly."
Zoonotic diseases, or those that are caused by the spread of germs between animals and people, make up 75% of emerging diseases, according to the National Center for Biotechnology and Information. Both the coronavirus and Ebola virus are zoonotic diseases.
Direct Action Everywhere has chapters across the country, including Berkeley, California, where activists have received a commitment from officials to divest from animal agriculture. Chicago organizers seek to follow in their footsteps.
Grace Del Vecchio is a freelance contributor to WTTW News: @delvecchiograce
---