Video: Reaction to the grand jury decision on "Chicago Tonight" with Aislinn Pulley of the Chicago Torture Justice Center and Black Lives Matter Chicago; Charlene Carruthers of the Black Youth Project 100; and David Stovall, a University of Illinois at Chicago professor. (Produced by Blair Paddock)
---
Mayor Lori Lightfoot urged Chicagoans to observe a moment of silence at 7 p.m. Wednesday to honor Breonna Taylor, hours after a Kentucky grand jury declined to indict three police officers for their role in her death.
Lightfoot urged all Chicagoans to say Taylor's name after the moment of silence, and recommit themselves to fighting to end systemic racism.
The grand jury charged fired Officer Brett Hankison with three counts of wanton endangerment for firing gunshots from a parking lot through an obscured window into two apartments adjacent to Taylor's home.
However, Attorney General Daniel Cameron said Hankinson and two other officers were justified when they shot Taylor, because her boyfriend, Kenneth Walker, opened fire when officers burst in, hitting one officer. Walker said he did not know it was police officers who entered the apartment when he fired.
Gov. J.B. Pritzker called that decision a "gross miscarriage of justice."
Lightfoot called the decision "absolutely heartbreaking."
Lightfoot, Pritzker and Cook County Board President Toni Preckwinkle called for calm, and urged those moved to protest the ruling to do so peacefully.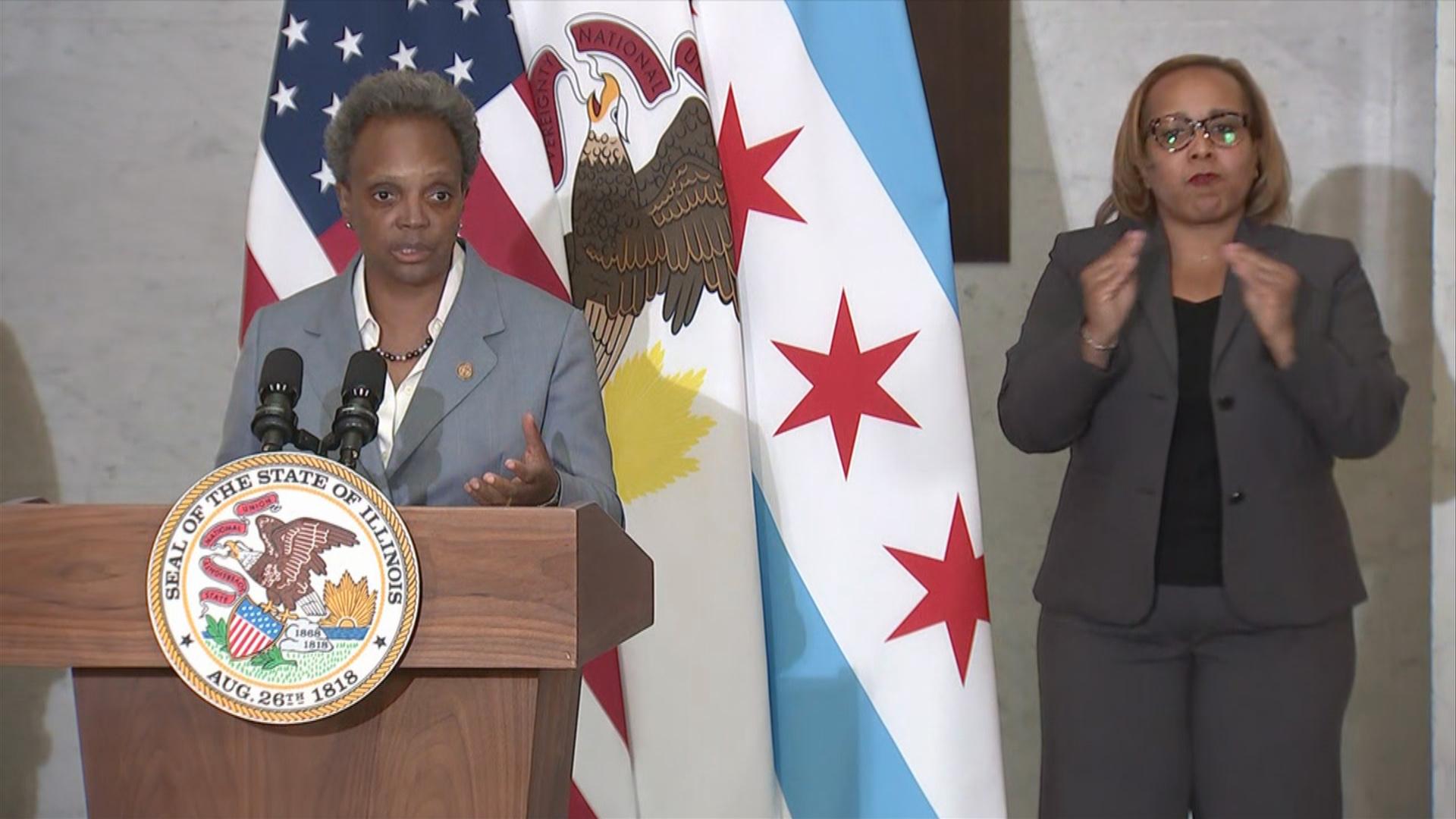 Mayor Lori Lightfoot speaks at a press conference after a Kentucky grand jury released its findings on the police shooting of Breonna Taylor on Wednesday, Sept. 23, 2020. (WTTW News)
"We must rise to this occasion and be worthy of Breonna's legacy," Lightfoot said.
Peaceful protests are the only way to change the "deeply flawed" criminal justice system, Preckwinkle said.
"Throughout our history, Black and Brown people have been killed by police with impunity," Preckwinkle said. "Now is not the time for violence."
Pritzker ordered the Illinois National Guard to a state of readiness on Tuesday evening, and said they would protect those who want to exercise their First Amendment rights while preventing unrest.
Lightfoot activated the safety plan developed in the wake of protests over the death of George Floyd in Minneapolis police custody that turned violent in late May and early June. Approximately 300 garbage trucks will be used to block off commercial districts and protect businesses the city deems "critical," like pharmacies and grocery stores.
Officials are prepared to stop anyone who is determined to take advantage of the protests to commit crimes, Pritzker said.
"We're not there, but if we need to be there, we'll be there," Lightfoot said.
Contact Heather Cherone: @HeatherCherone | (773) 569-1863 | [email protected]
---