In the aftermath of George Floyd's death and other police killings of Black Americans, calls to defund and reform the police have intensified. 
At the same time, the city is grappling with the coronavirus and a drastic increase in shootings. 
Chicago police Sgt. Jermaine Harris and Officers Rashida Young and Malcolm Brooks talk about what it's like to be Black cops in the current political climate — and amid contract negotiations between the city and police union.
"There's really no separation," Harris said. "I don't get to take off being a Black man and becoming a police, those things are interchangeable, so those roles are really one. As I do them it's really with that integrity of understanding my community and bringing in those benefits of being able to relate and connect to the people we serve. I think that's a great benefit with being an African American police officer."
Brooks said he joined the police department three years ago to help make a change. 
"I want to see more of a combined, unified effort with community and police because we can't do this job without the community, so for me change would be the community working better with the police and the police working better with the community," Brooks said. 
He said the relationship is moving in the right direction, but a lot more needs to be done. 
Meanwhile, in recent months, Young said she now feels a greater responsibility to intervene.
"Not to say that I wasn't intervening in the beginning, but I'm helping out a lot more because if you're not born and raised in the city of Chicago what tends to happen is you don't understand the people that live here," Young said. "Being an officer, I'm stepping up to the plate more to help out with the community as opposed to the community versus the residents or the citizens of Chicago. I'm intervening more because a lot of the times the residents aren't understood by the officers in Chicago."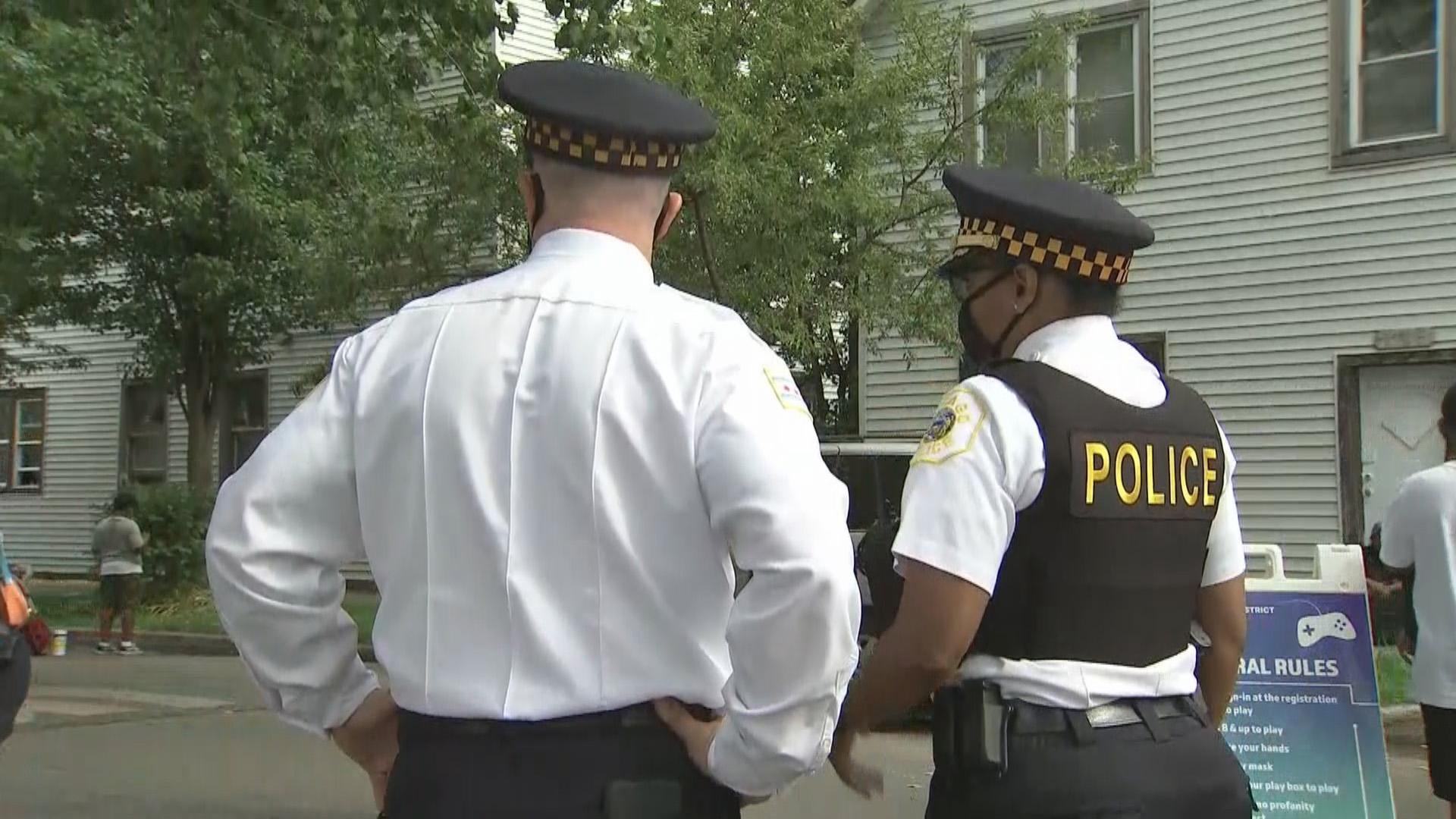 (WTTW News)
When it comes to defunding the police, Harris said the terminology distracts from the meaning. 
"Saying the word 'defund' police, it's a polarizing statement to make," Harris said. "I think the trouble with that is that we're getting lost in the wording and not really understanding what it means."
The term means using resources more effectively to help residents, Harris said. 
"As officers, as a Black officer, the three of us, we all agree that resources need to be spent properly," Harris said. "If we can get past the idea of turning this into a political topic and really get to serving our communities and what's really needed there, that's something I can get behind."
Meanwhile, ongoing contract negotiations between the FOP and the city have been contentious — leading the FOP to storm out of talks last week. The most recent proposal included a 10% raise and changes to the handling of disciplinary issues involving allegations of misconduct. 
Some current and former police officers have pushed back against FOP President John Catanzara Jr., including for threatening to remove officers who kneel with protesters following the Floyd's killing. Chicago police Officer Julius Givens left the union earlier this summer.
Brooks said he feels represented by the union and had a positive interaction with Catanzara. 
"I do feel like I'm represented, but my interactions with him or my interactions with FOP may not be the interactions that other people may have," Brooks said. 
The number of Black cops is likely to decrease as officers retire, according to the city's Office of Inspector General Public Safety Section's annual report, which came out in May.
"The community is saying they would like to see people that look like them," said Young. "That's what we hear a lot of times, we've had several community conversations and they want people to be able to understand them."
This story also aired Sunday, Sept. 27 on "Black Voices." See more from that show here.
---