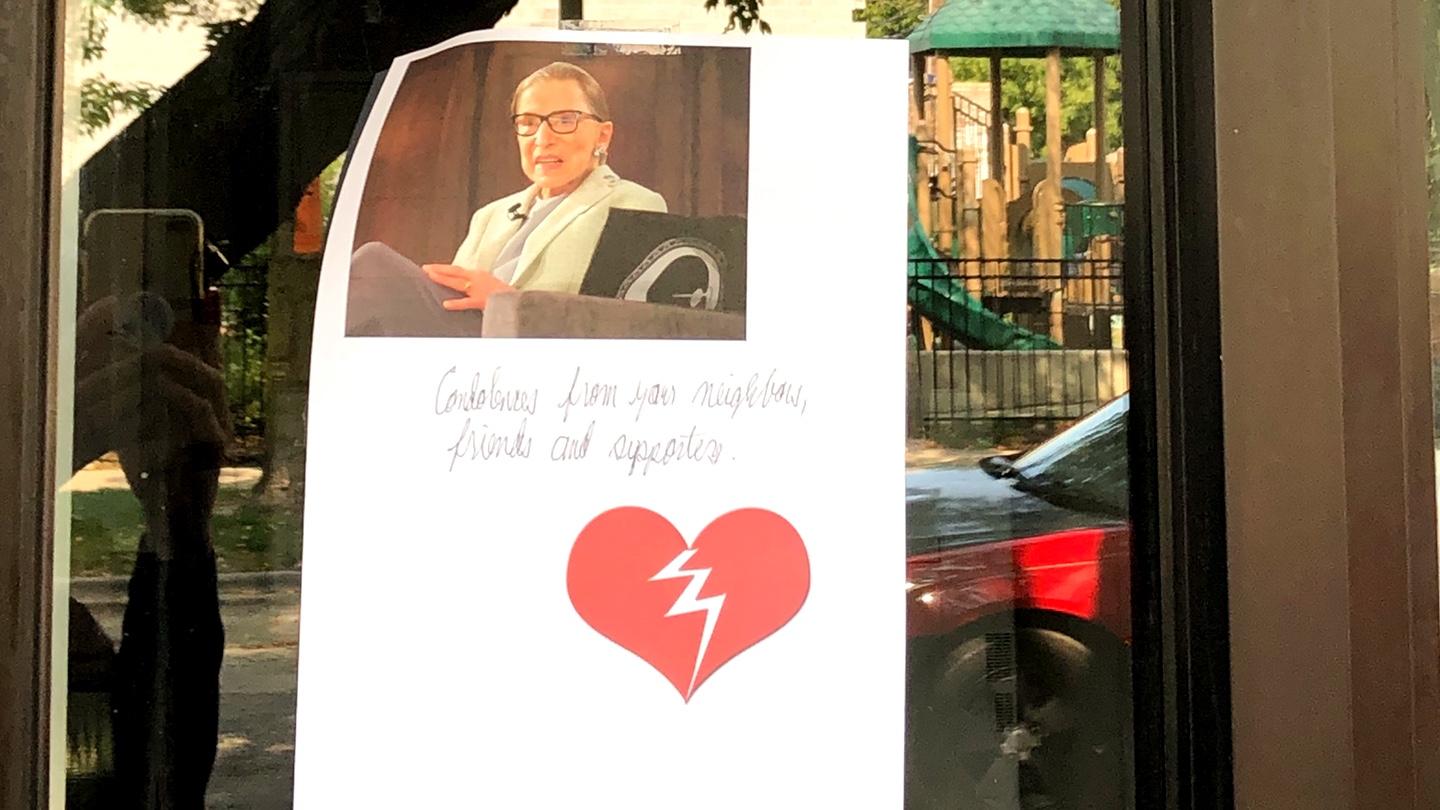 A small memorial for Ruth Bader Ginsburg, outside the Edgewater offices of Cedille Records, owned by the son of the late Supreme Court justice. (Patty Wetli / WTTW News)
As the nation mourns the death of Supreme Court Justice Ruth Bader Ginsburg, a small memorial to the trailblazing jurist has popped up in an unlikely place: Edgewater.
Since her death Friday, people have been leaving notes and flowers outside the offices of Cedille Records, a classical music label founded by her son, James Ginsburg, that's tucked away in an unassuming building on Balmoral Street off Broadway. 
The notes offer condolences and gratitude for Ginsburg's life of service. One shared an oft-repeated quote from Ginsburg: "Fight for the things that you care about, but do it in a way that will lead others to join you."
Cedille staff posted a notice thanking visitors for their sympathy, adding that flowers were being cared for. Bunches of blooms could be seen in vases on a table in the office's entryway.
During a 2020 interview with WTTW News, James Ginsburg said he had been introduced to classical music at a young age by both his mother and father, Martin Ginsburg. His love of the genre inspired him to start Cedille in support of artists likely to be overlooked by larger labels.
In 2015, Ginsburg paid a visit to WTTW's sister station WFMT, where she played DJ for an hour, choosing recordings from Cedille's catalog. 
Contact Patty Wetli: @pattywetli | (773) 509-5623 |  [email protected]