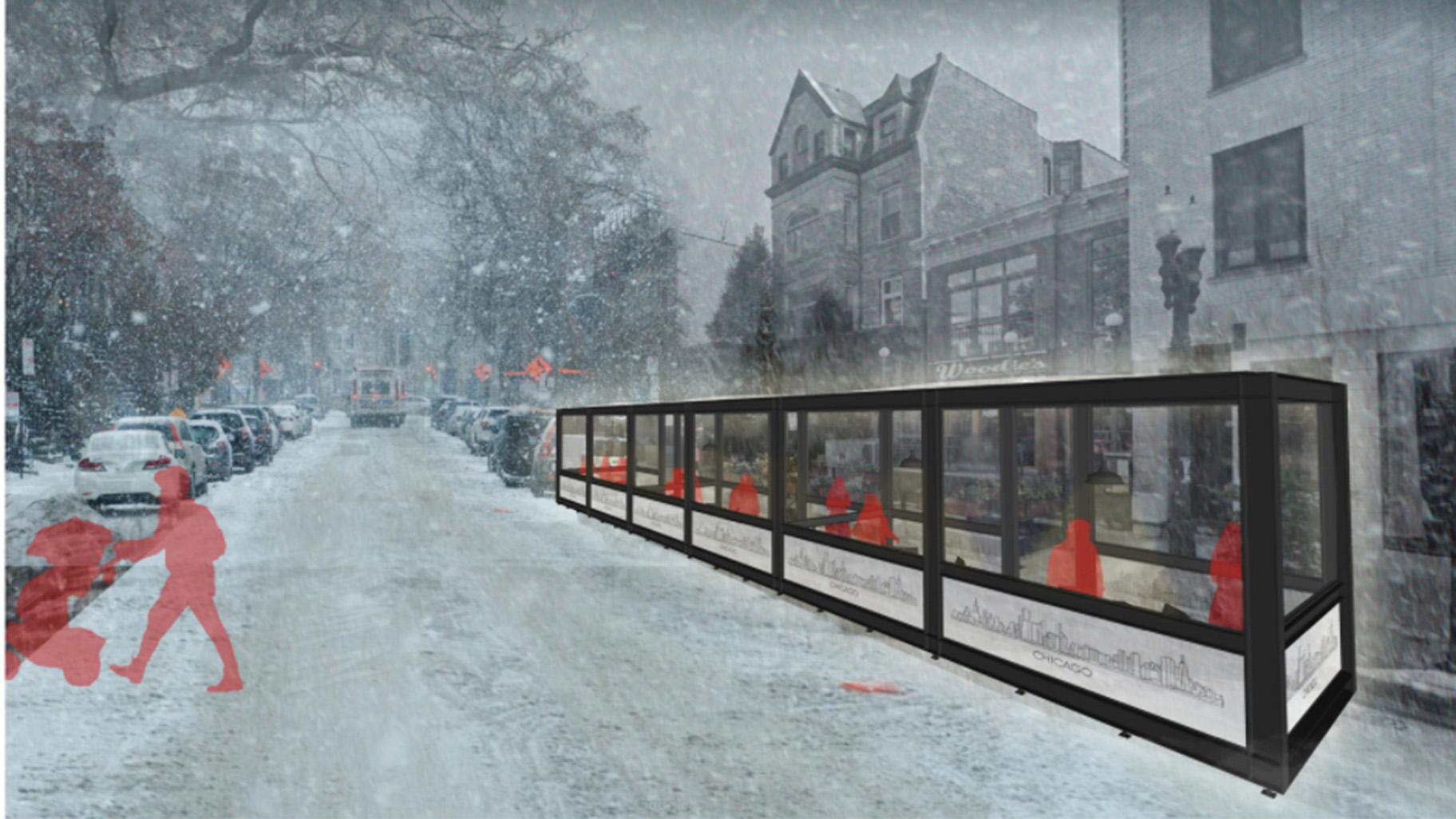 Chicago's winter dining design challenges drew more than 600 submissions. (Courtesy of Edward Peck Design)
The city asked for creative winter outdoor dining ideas, and Chicagoans delivered.
The Winter Design Challenge, launched at the end of August, received 643 submissions brimming with ways to extend Chicago's outdoor dining season into the depths of winter, all while adhering to COVID-19 safety protocols.
A number of common themes emerged, including heated seats, creating pop-ups in parks and other large public spaces, and deploying modular enclosures that could be configured to suit myriad space restrictions.
Though a fair number of submissions were clearly intended as jokes — like the one that recommended putting radiators on rats — many were well-thought-out proposals from urban planners and architects, complete with schematics and material specifications. There are snow globe-inspired "Nosh Pods," patio umbrella extensions that create tent-like structures, and greenhouses with solar lighting and portable heaters. 
Among the more whimsical concepts in this vein: Ferris wheels with meal service.
Other folks thought outside the enclosure box and went the outerwear route instead. One submission suggested having heavy-duty outdoor gear — like the sort worn by scientists stationed in Antarctica — handed out at restaurants like menus, while multiple people suggested turning all outdoor dining into a BYOB experience, as in bring your own blanket.
And then there were the submissions that took a marketing approach. One proposed a "Mealathon" challenge, a riff on the Chicago Marathon, in which prizes and incentives would be offered to encourage people to eat out at 26.2 restaurants. Another suggested a Monopoly-style game in which people would collect tickets every time they ate out at a participating restaurant.
There were some submissions, however, that rejected the idea of dining out altogether, arguing in favor of federal assistance that would keep restauranteurs afloat during the pandemic and provide payroll relief to restaurant industry employees, rather than asking anyone to risk their health for a meal.
But the most "Chicago" of all the ideas had to be the "Dibs Dining" submission: "Sitting on an old, rusty folding chair while eating a Polish sausage while your Old Style sits on a ironing board in the bitter cold — that is the outdoor dining experience that reflects the best of Chicago. Not heated yoga tents."
The submissions are now under review by a panel of local restaurateurs and community members, with winners to be announced in October. 
Contact Patty Wetli: @pattywetli | (773) 509-5623 |  [email protected]
---