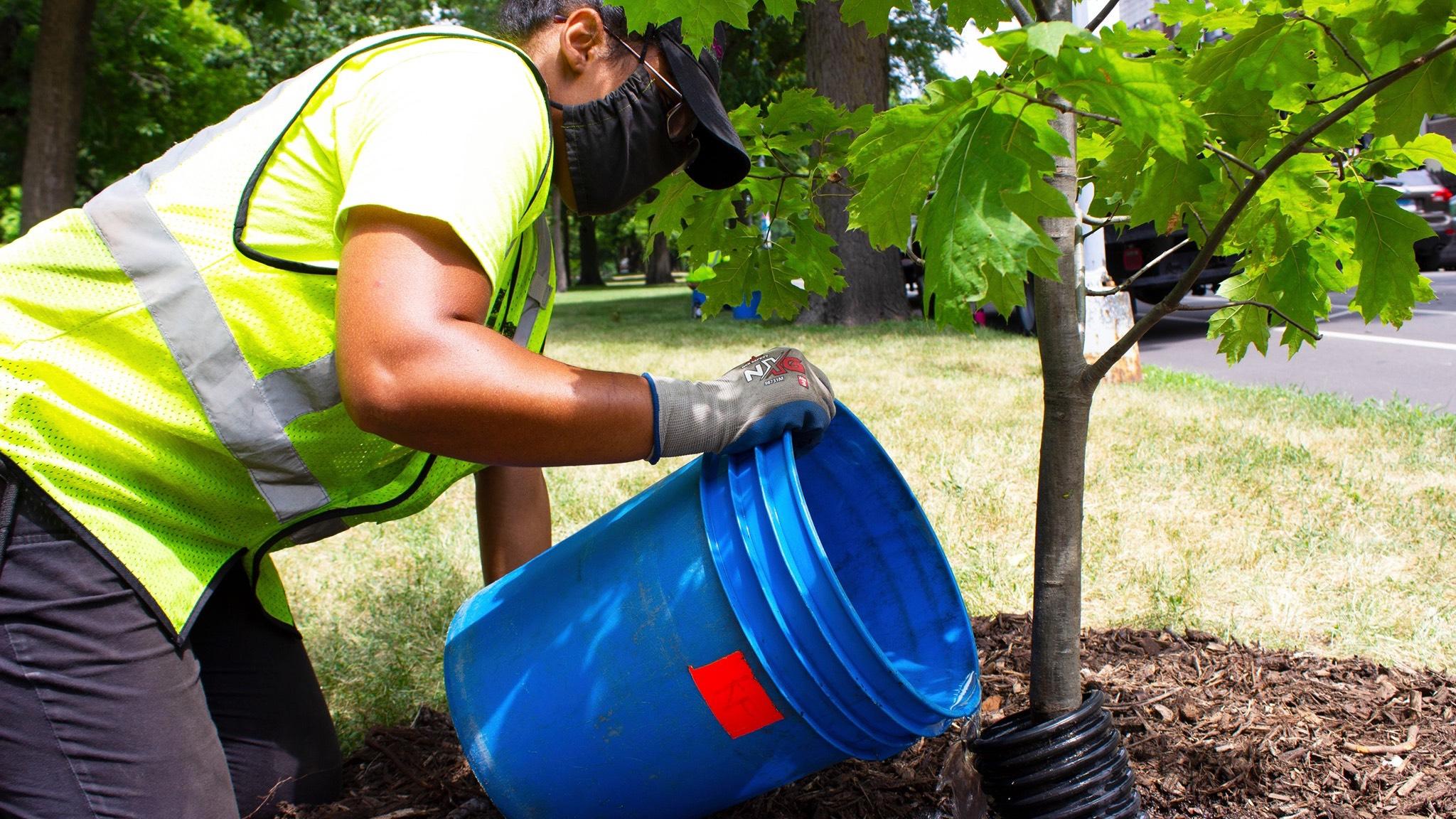 The original Civilian Conservation Corps planted billions of trees. A renewed CCC could do the same. (Openlands / Facebook)
Borrowing a page from Franklin Roosevelt's New Deal, U.S. Sen. Dick Durbin (D-Ill.) is proposing creation of a 21st century Civilian Conservation Corps as a way to put people to work in the U.S. while also directing resources toward the nation's long neglected conservation projects.
If the corps is approved by Congress, Chicago stands to benefit in the form of trees planted, gaps filled in biking and walking trails, brownfield remediation, green schoolyards, native ecosystem restorations and more, said Jerry Adelmann, president and CEO of Openlands Chicago, which collaborated with Durbin on the revamped CCC concept.
"There are so many projects that are shovel-ready now," he said. "People have plans, but they don't have the funds they need or the manpower."
A new CCC would provide both. "Given how everyone has embraced nature during COVID, what an opportunity," Adelmann said.
The original CCC, arguably the most successful and well-received of the New Deal programs, was established in 1933 and enlisted men ages 18-25 for six-month stints at minimum. Over the course of 10 years, members of the corps planted 3.5 billion trees and built more than 700 state parks, among the program's many accomplishments.
On Tuesday, Durbin introduced the RENEW Conservation Corps Act, a bill that would create a new CCC, employing a million Americans — men and women, 16 years or older — over a five-year period, backed by $55 billion in federal money. The funding formula laid out in the bill is designed to ensure that dollars flow down to nonprofits and grassroots organizations versus being hoarded by federal or state agencies. 
"This bill is a straightforward approach to creating one million jobs that can address maintenance and restoration of our greatest natural resources and recreation areas. This is an investment to protect the beauty of America's natural treasures," Durbin said in a statement. "If we are to leave these natural gifts to the next generation, we have to take responsibility in protecting them."
The seed for the legislation was planted back in the spring, when a team from Openlands Chicago met virtually with various staffers from Illinois' congressional delegation as part of an advocacy day sponsored by the Land Trust Alliance.
The last person on Openlands' call sheet for the day was Durbin's environmental aide. In addition to lobbying for the Great American Outdoors Act (which passed this summer), Openlands tossed out the idea for a modern-day CCC, and found a receptive ear, said Adelmann.
During the past several months, Openlands worked closely with Durbin's staff to develop a tenable business model for the corps, one that would work equally well in urban and rural parts of the country, tackling projects in locations ranging from remote wilderness areas to vacant city lots.
"This is a program that's been fleshed out. The business plan is there," Adelmann said.
Participants would be paid at least $15 per hour and sign up for 12 weeks, 24 weeks or a year. All would receive two weeks of training, a key component of the program, Adelmann said, and the yearlong participants would be eligible for $5,000 stipends to further their education beyond the corps.
"This is a jobs bill, not a capital bill. This is for unemployed people," he said. "The beauty is that it's focused on the people. It could introduce people to green careers" in areas such as forestry, agriculture or ecology. In that sense, the CCC would be much more than a stopgap measure to address the massive unemployment associated with the coronavirus pandemic, it would have long-term effects beyond the five-year time frame, said Adelmann.
Of course, all of this is theoretical. The reality is that no new environmental legislation is likely to be passed before the November election, Adelmann acknowledged. 
The strategy, he said, is to use the bill to generate a broad base of support for a new CCC among both the general population and influential organizations such as the Sierra Club, which in turn can pressure legislators to back the concept.
It's the kind of program that many expected or hoped for following the 2008 economic collapse, but never materialized. The time is ripe now in a way it wasn't then, Adelmann said.
"Our outdoor spaces are beloved. There's an awareness and appreciation I've never seen before. I think it (a new CCC) resonates because of that heightened recognition of the value of nature," said Adelmann.
Putting people to work while simultaneously rebuilding, improving or creating additional natural resources has the kind of appeal that crosses party lines, he said.
"Even with I talk about it (a new CCC) with conservative Republicans, they say, 'We could live with that,'" Adelmann said.
Contact Patty Wetli: @pattywetli | (773) 509-5623 |  [email protected]