Two famous Germans take up permanent residence in Chicago, only to witness the evolution of a West Side neighborhood. Geoffrey Baer goes long on two enduring Humboldt Park statues.
---
Do you know if a statue of the German writer Fritz Reuter is still standing in Humboldt Park? I read that a statue of this writer was erected in Humboldt Park sometime in the 19th century. Reuter was at that time famous as a writer of Low German (Plattdeutsch) prose and poetry.
— Steven Livesey, Palos Heights
The Fritz Reuter statue is indeed still standing in Chicago's Humboldt Park.
He's an obscure figure today, but Reuter was a household name in Chicago's large German-American community during the late 1800s.
And his popularity is reflected in the bronze statue's larger-than-life size – nine feet! – and prominent location overlooking Humboldt Drive, just north of Division Street in the West Side park.
Reuter was famous for his poems and novels of traditional German village life, often written in Low German – or Plattdeutsch – a dialect originating in Northern Germany that is still spoken today.
Some of his famous titles include "Ut Mine Stromtid" – published in English as "From My Farming Days" and "Ut Mine Festungstid" or "During the Time of My Incarceration." He was jailed for high treason for political activity in his student days but his sentence was later commuted.
The Chicago Tribune called him the "people's poet of Germany" – and many have compared his writing and fan base to Charles Dickens in England.
Reuter died in 1874, but his fame stretched on for decades. In the early 1890s, a group of Chicagoans created the "Fritz Reuter Monument Association," to raise money for a memorial and statue.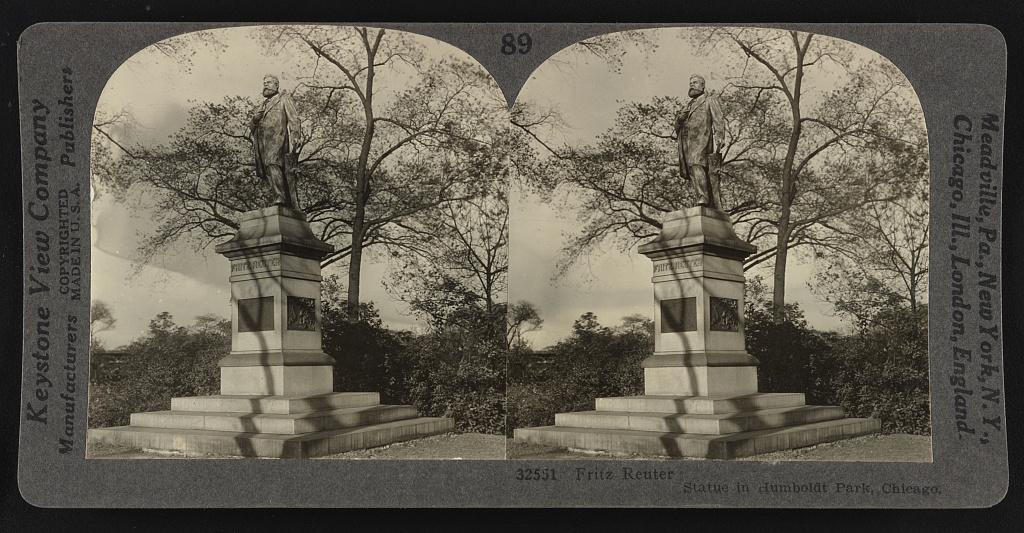 They hired sculptor Franz Engelsman, whose statue of Reuter was unveiled in May 1893 – when reports say more than 50,000 people attended the dedication ceremony in Humboldt Park. 
And Reuter isn't the only German memorialized in the area.
The park's namesake Alexander von Humboldt has his own statue just north of Reuter's, near the Humboldt Park boathouse.
Humboldt was a famous German naturalist and explorer, and has been called the "forgotten father of environmentalism."
His extensive career took him all over the world, including to South America where he meticulously recorded plant geography and mapped the harmful effects colonial plantations had on the environment.
And scientists today are still using Humboldt's findings, including this stunning illustration he did of the layers of vegetation on a volcano in Ecuador.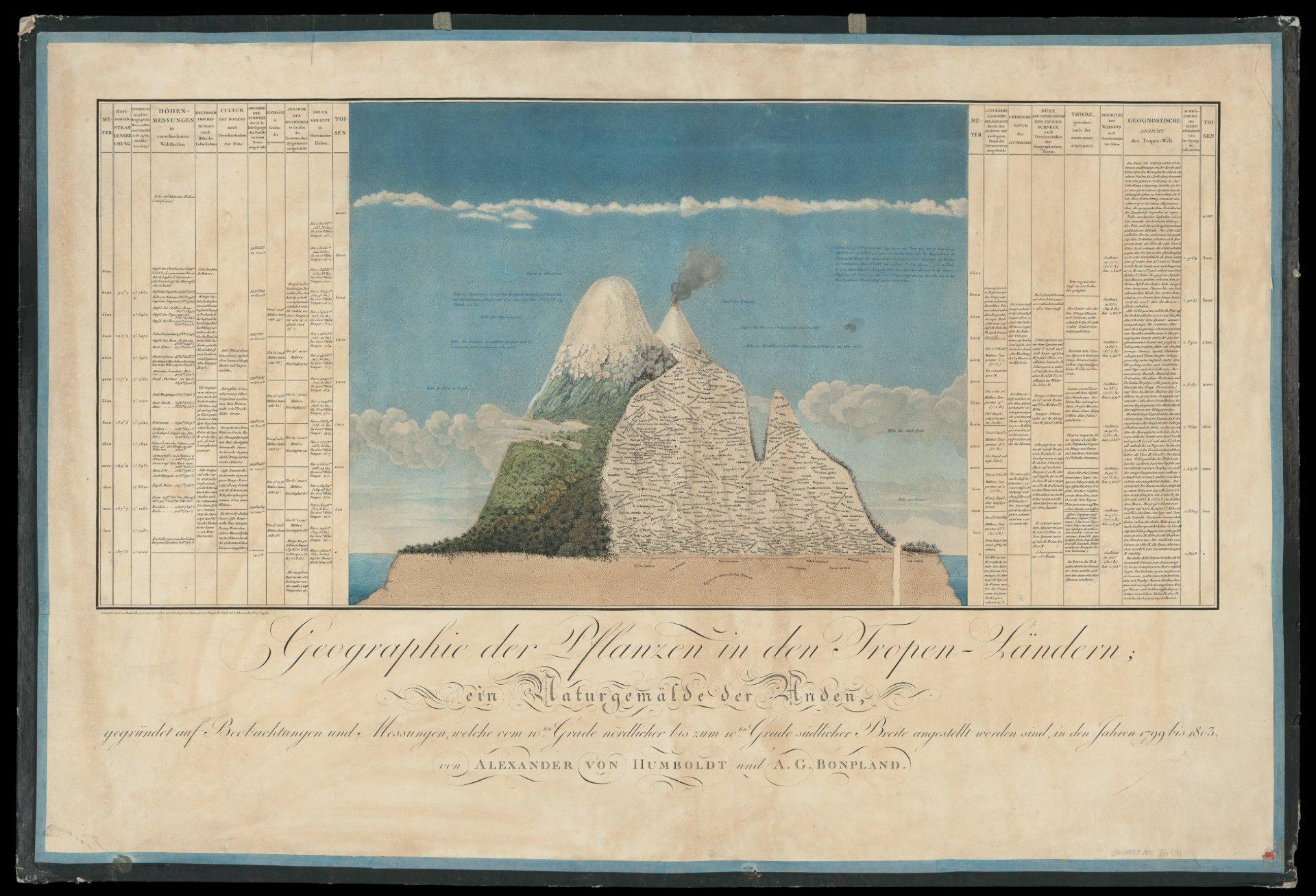 Only a few year years ago, a scientific study cross-referenced Humboldt's accounts to track how plants on that same volcano have migrated upward over time to cooler ground as temperatures warmed. 
Like Reuter, Humboldt was another national icon for German immigrants in the United States. His statue was unveiled a year before Reuter's in 1892.
Today, Humboldt and Reuter are still standing – but the neighborhood surrounding the park has changed quite a bit.
Like so many Chicago neighborhoods, Humboldt Park has been home to a plethora of different cultures and populations over the past century.
Germans and Scandinavians settled there in the mid-19th century, they were followed by Poles, Italians, and then Russian-and-German Jews.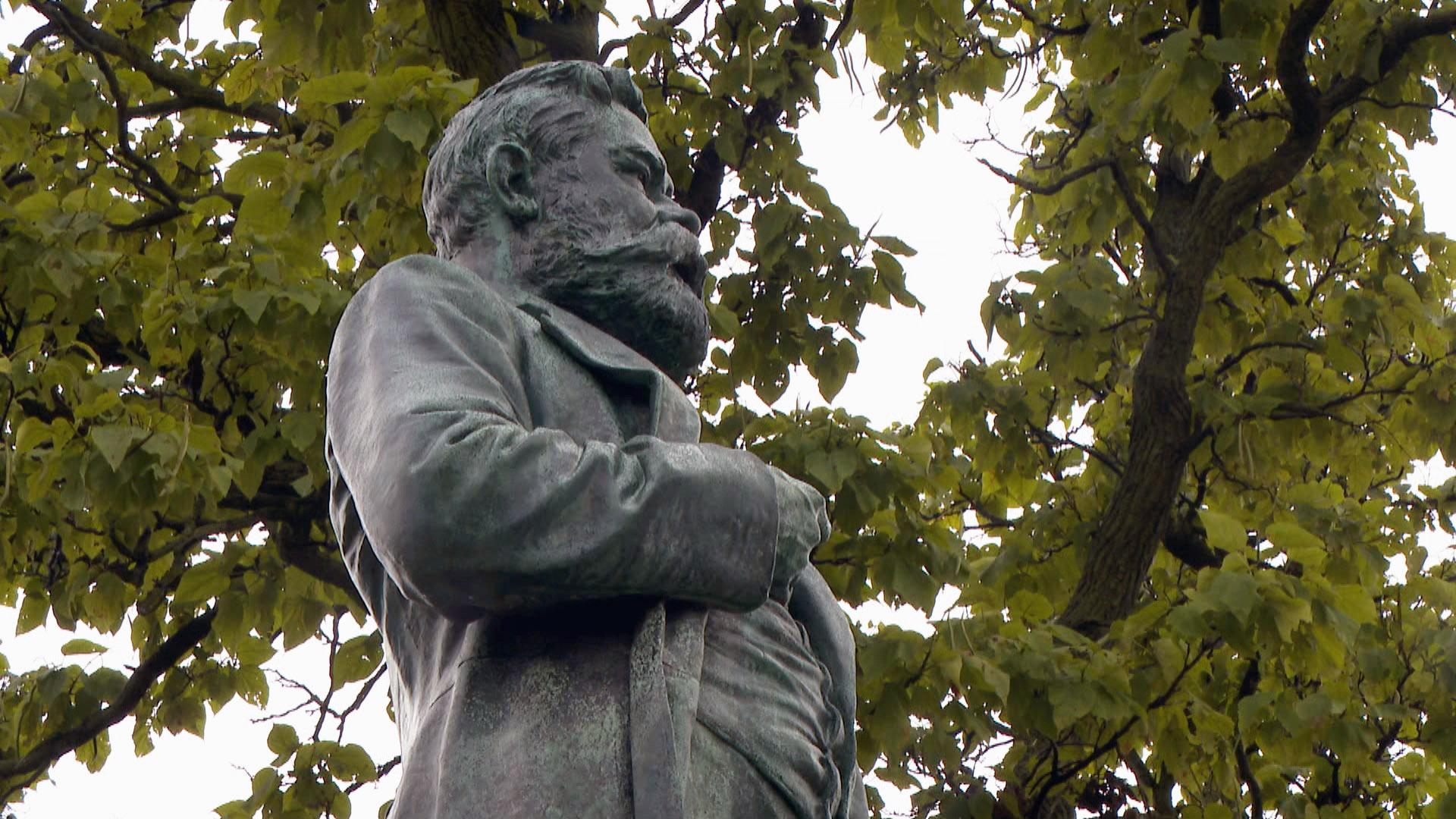 (WTTW News)
By the 1960s, Humboldt Park had become the epicenter of Chicago's Puerto Rican community, as it remains today.
The "Paseo Boricua" on Division Street is marked by these massive steel Puerto Rican flags, found near Western and California avenues.
You can however still see the German influence in some of the park's architecture. Here are the park's stables, currently home to the National Museum of Puerto Rican Arts and Culture. 
This question on German history comes at a good…or maybe a bad, time this year.
This weekend would have marked the 100th anniversary of Chicago's "German American Oktoberfest" celebration, held every year in the Lincoln Square neighborhood. Ach du lieber! it's been canceled due to COVID-19.
But if you still have a hankering for your sausage fix, DANK Haus, the German American Cultural Center, is offering "Oktoberfest in a Box" – which includes samplings of German fare.
---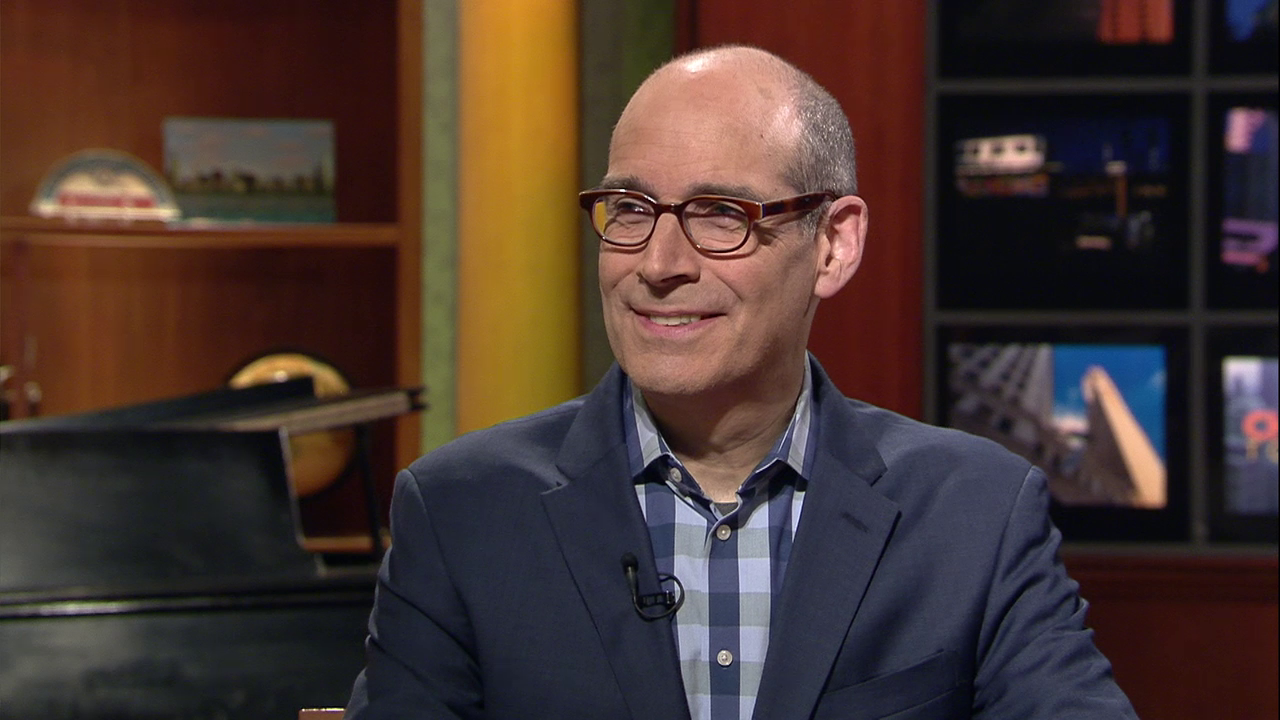 Did you know that you can dig through our Ask Geoffrey archives? Revisit your favorite episodes, discover new secrets about the city's past, and ask Geoffrey your own questions for possible exploration in upcoming episodes. Find it all right here.
Do you have a question for Geoffrey? Ask him.
---