Chicago is home to more Claude Monet paintings than any city other than Paris. That's because the works of the famous French impressionist made a strong impression on local collectors beginning in the 1880s. 
Paintings from the Art Institute collection and from private collections have come together in a show called "Monet and Chicago." 
TRANSCRIPT
Marc Vitali: Stepping into the world of Claude Monet, you see the play of light in his famous series of stacks of wheat, landscapes and gardens.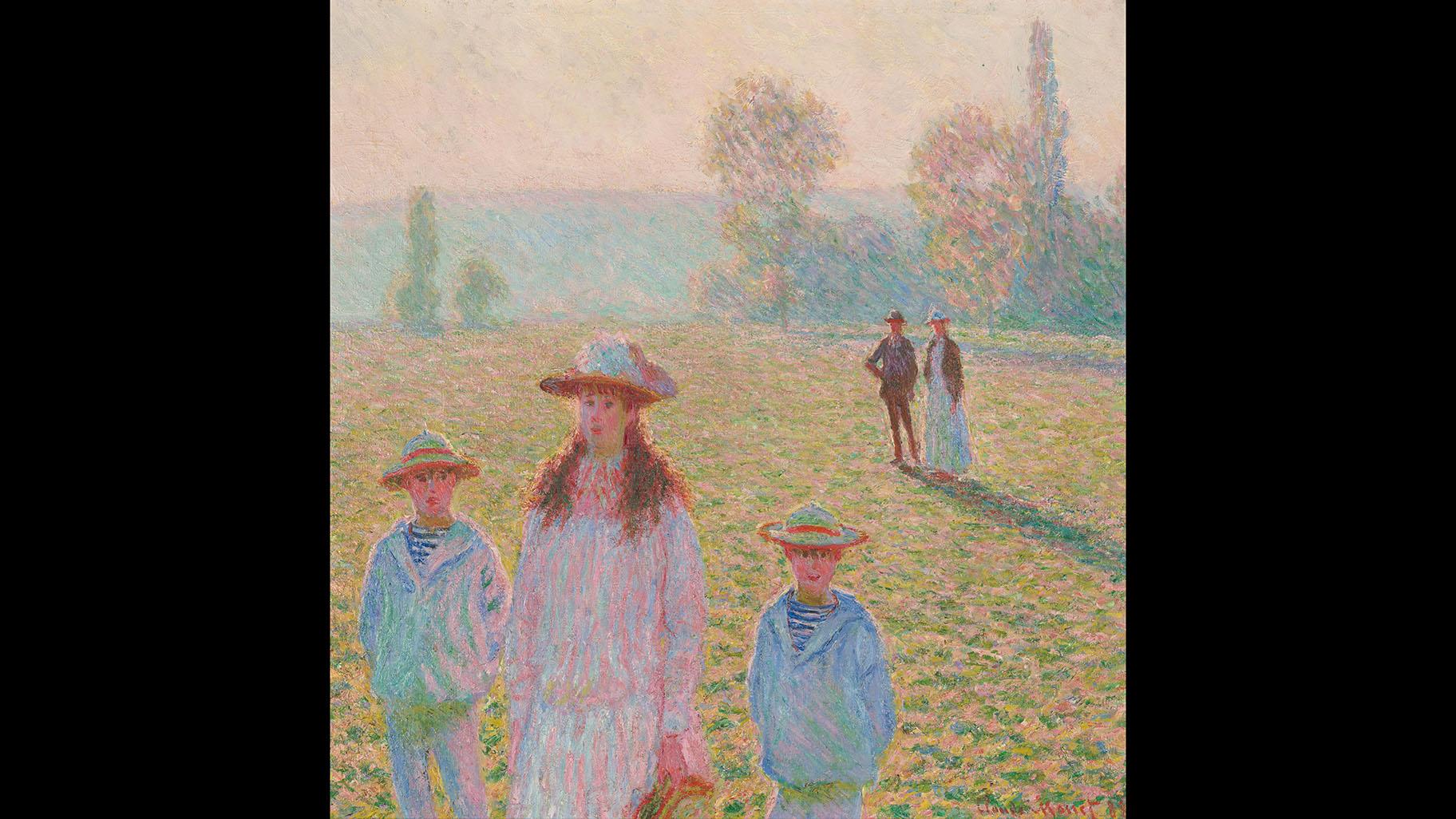 Claude Monet. Landscape with Figures, Giverny, 1888. Private collection.
The paintings he made in the late 19th and early 20th centuries were radically different and very modern. They appealed to the well-heeled citizens of a young city that saw itself as modern.
Gloria Groom, Art Institute of Chicago: Monet never came to Chicago but his influence is everywhere in the museum, and I think Chicago even associates itself with the French impressionists. We wanted to celebrate that because we take it for granted that we have 33 Monets in our collection, and so Chicagoland collectors were very generous. We have 34 works from private collections so those are extremely exciting when you put them in dialogue with paintings that we've known about since the 1890s.
Vitali: Scores of Monets were collected by the Palmer and Ryerson families. An 1888 review in the Chicago Tribune asked: "Why go to Paris since Paris has come to Chicago?"
Claude Monet. Apple Trees, Vétheuil, 1878. Private collection. Photo by Jamie Stukenberg, Professional Graphics Inc.
Groom: When you're looking at a Monet you're thinking of an artist who doesn't use the intermediary of drawing to get to where he's going. That was one of the innovations of the impressionists — they didn't spend the time to make careful drawings that they'd then enlarge into a tableau, a painting.
Everything looks like it was done in one go. We know that he was all about observation, that he painted en plein air – outdoors – but after we've looked at them with infrared, with X-rays, with all of these scientific tools that we have at our fingertips now, we're finding out that, oh my gosh, this was an artist who struggled, who changed his mind, who came back in the studio and that's where the magic happened. The first impression becomes something quite different.
Vitali: Monet famously spent years painting his gardens at Giverney near Paris. This exhibit has a companion show in a garden at Garfield Park Conservatory, where a horticultural team found inspiration in the French painter.
Peter Vrotsos, Garfield Park Conservatory: I took elements from his paintings, the colors, the textures, specific flowers that were in his paintings and in his garden.
He loved his nasturtiums so we had to include those, and he always let them sprawl out into the pathways, just to break up the lines a little bit. Some things I found in his paintings, some things I found that were in his garden such as tithonia here which is a Mexican sunflower, this is a dwarf variety. Dahlias, he loved his dahlias so I had to include dahlias.
Vitali: The Monet Garden at the conservatory is all outdoors and will last until the weather changes.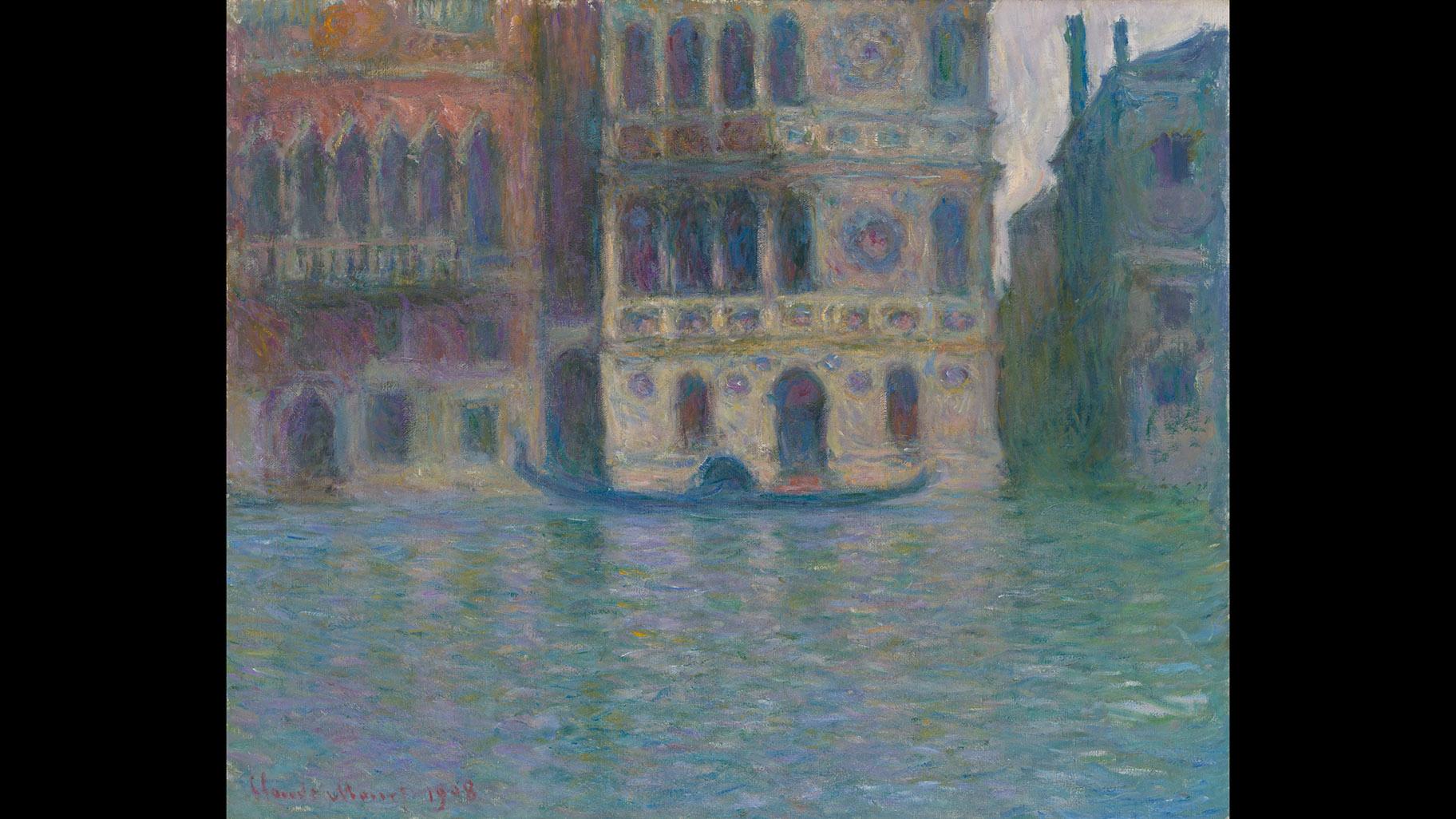 Claude Monet. Venice, Palazzo Dario, 1908. The Art Institute of Chicago, Mr. and Mrs. Lewis Larned Coburn Memorial Collection.
Indoors at the Art Institute, the show – which had been scheduled to open in May – had to adapt to the new reality.
Groom: We really had to reconceive how it was going to be experienced. We have a certain way of doing things – I like benches, we don't have benches. I like dramatic lighting in dark rooms and of course you don't want that. You don't want people bumping into each other.
Vitali: And they added extra space between paintings to encourage social distance.
Groom: I think that people who know our collection are going to be astounded and see the collection in a much different light and also, for Chicagoans, this is the exhibition about their city and about their museum.
---
A 2021 update to this story
We first published this story on Sept. 9, 2020.
Since then, the exhibition at the Garfield Park Conservatory has closed.
The exhibition at the Art Institute is called "Monet and Chicago" and as of this Feb. 8 update, it runs through June 14. Tickets to visit the museum must be purchased online in advance.
Follow Marc Vitali on Twitter: @MarcVitaliArts
---