The former home of Emmett Till and his mother, Mamie Till-Mobley, cleared its first hurdle Thursday on the way to receiving an official landmark designation.
Members of the Chicago Commission on Landmarks unanimously approved preliminary landmark status for the building, calling the red brick two-flat at 6427 South St. Lawrence Avenue a "modest home that is monumentally important." Additional steps in the landmark process include approvals from the Plan Commission, Zoning Committee and a City Council vote.
The Tills were living in the Woodlawn home when Emmett Till traveled with extended family from Chicago to visit relatives in Mississippi, where he was brutally murdered in 1955. Till-Mobley continued to live at the St. Lawrence Avenue house until 1962.
The commission's approval came on the 65th anniversary of Emmett Till's funeral service, which was notable because of Till-Mobley's decision to allow an open casket that laid bare the violence her son had suffered.
Images of Till's brutalized body galvanized the civil rights movement in the U.S., and continue to fuel the push for justice and equity for Black Americans, commissioners said.
"The historic importance of these events still reverberates today," said Rafael Leon, chairman of the commission and executive director of the Chicago Metropolitan Housing Development Corp. "Designating Emmett Till's former home as a landmark is the least we can do in order to make sure we always remember the suffering of the Till family. Let this small recognition remind us that no human being deserved what Emmett Till endured. Not then, not now, not ever."
Prior to the commissioners' vote, Mary Lu Seidel of Preservation Chicago read statements from two of Till's cousins who lent their support to the landmark designation, including Ollie Gordon who also once lived at the St. Lawrence Avenue house.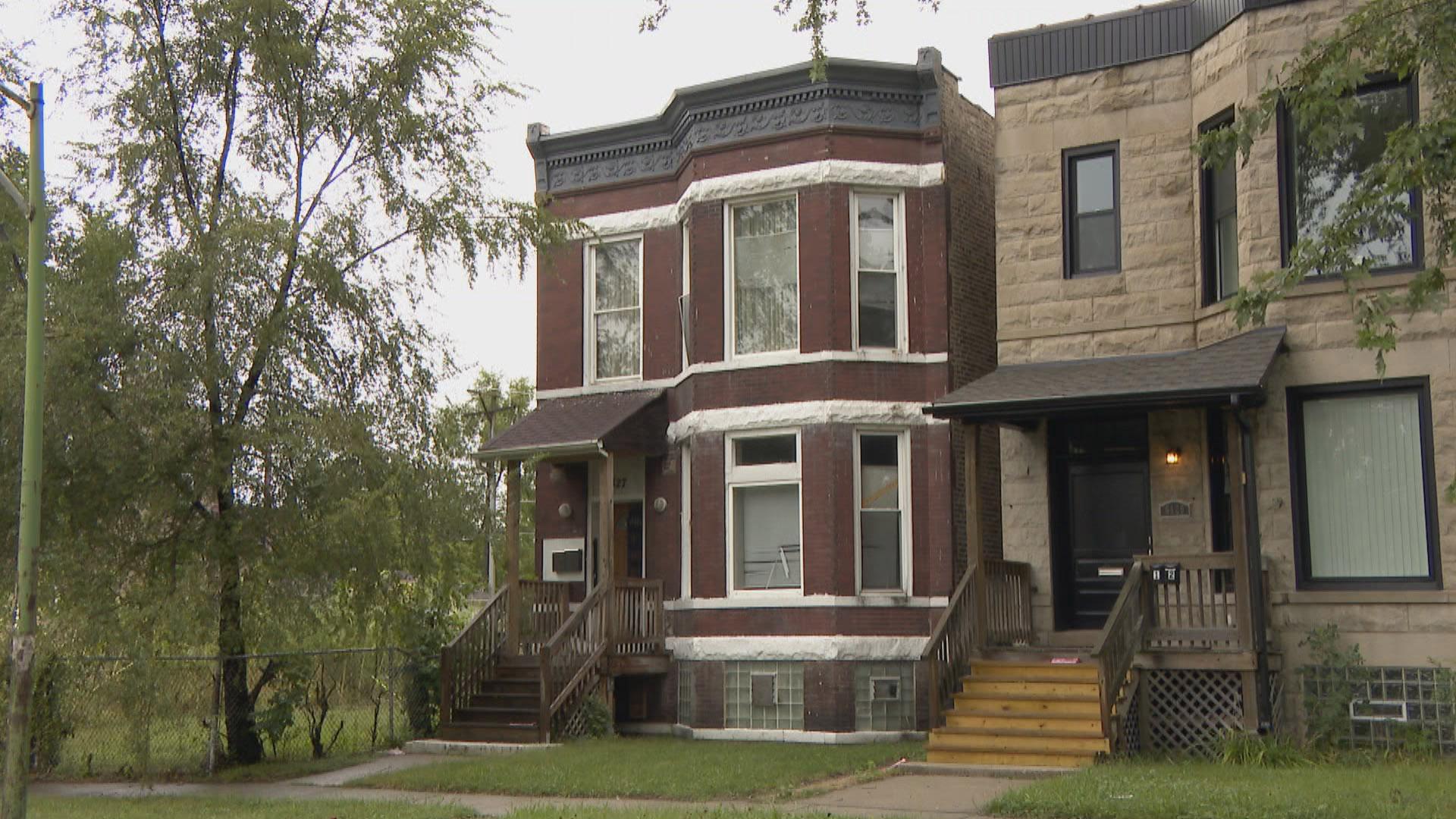 The former home of Emmett Till and his mother, Mamie Till-Mobley, at 6427 S. St. Lawrence Ave. in Chicago's Woodlawn community. (WTTW News)
"The final home of Emmett Till should and must be a Chicago landmark. Why? Because it was the beginning of the end of the journey that Emmett faced. He left that location to meet his tragic death, and his death was a springboard for the Civil Rights movement," Gordon said in a written statement. "If people travel to this site, they can imagine a 14-year-old boy playing and enjoying life. Emmett Till's legacy will always be visible and his spirit can be felt when visiting this place."
Wheeler Parker Jr., who traveled to Mississippi with Till, wrote: "Sixty-five years ago, he was brutally murdered and no one has paid for it. Justice can have many faces, and preserving the home of Emmett Till is a face of justice."
Commissioners acknowledged the Till home bore little resemblance to most other buildings under consideration for landmark status. There's no grandiosity to the structure, no famous architect attached to lend importance. The significance resides entirely with Till and Till-Mobley, and the potential for the home to become a pilgrimage site.
Approving it on those merits represented a leap forward for the commission, said Commissioner Tiara Hughes, a senior urban designer with Skidmore, Owings & Merrill.
"We absolutely have to preserve this history and this context," said Hughes. "This is a monumental moment for us."
Jumping several steps ahead of themselves, commissioners, including Department of Planning and Development head Maurice Cox, debated the future of the home. Should it be used as a museum, house a nonprofit, be leased to residential tenants with a simple placard out front? 
"What is going to become of the property?" Cox asked.
The owner, Blake McCreight, took part in the commission's hearing. He purchased the building a year ago, with no idea of its connection to Till, McCreight told commissioners.
"The honest answer is, no, I don't have an actual plan of what to do," he said, while adding he's "100% on board" with the landmark push. "I'm open to pursue what this should look like. I understand the importance and significance. I want to work with the community."
Contact Patty Wetli: @pattywetli | (773) 509-5623 |  [email protected]
Note: This story was originally published Sept. 3, 2020. It has been updated to include our interview with Lee Bey on "Chicago Tonight." 
---