Two years ago, his album "Universal Beings" landed on many Top 10 lists for album of the year, so his new project comes with great expectations.
Chicago-based drummer and producer Makaya McCraven has been called a beat scientist. He mixes live performance with studio wizardry to make music that spans the globe and defies easy categories.
TRANSCRIPT
Marc Vitali: New music accompanies a documentary shot in London, New York, Los Angeles, and Chicago. It's the latest from percussionist and band leader Makaya McCraven, the subject of the film.
Makaya McCraven: Music and art is best with a healthy dose of truth, honesty, and vulnerability. The music comes out of spontaneity and from the personalities of the musicians I'm working with. So it's very collaborative and everybody who is performing with me kind of is a co-writer in this process. And I take that kind of moment in time and freeze it or encapsulate it by using looping and different techniques to use that audio now as bits and pieces to make new composition or create form out of what came out of chaos.
Vitali: McCraven was born in Paris. His father is an American jazz drummer and his mother is a Hungarian folk musician. They raised him in Massachusetts.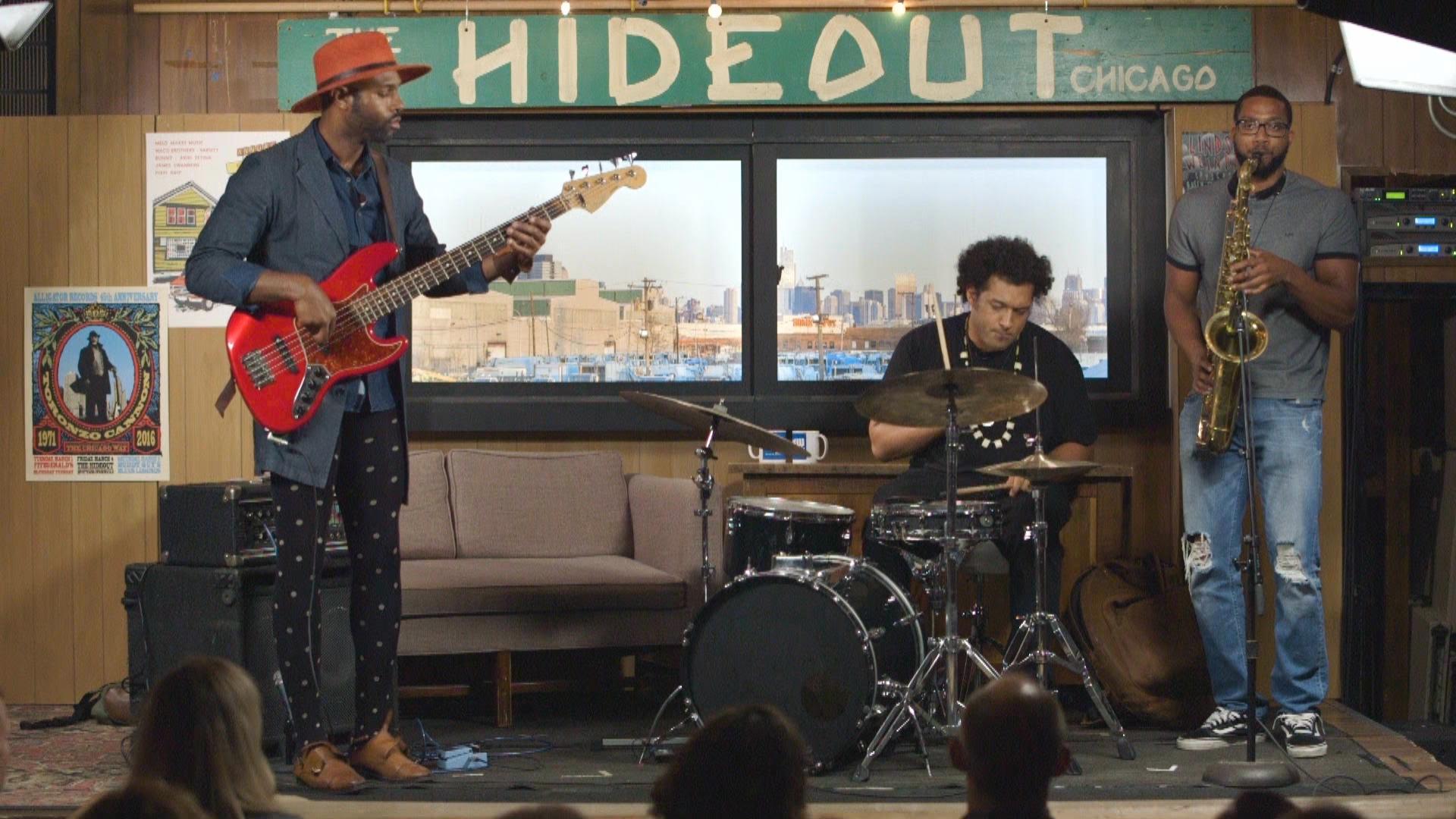 McCraven: I was heavily influenced by the music in the house. There was always music being played in the house, and my parents had eclectic tastes too. I feel really fortunate to grow up in a household surrounded by music and art, and different types of people and lifestyles. It's really kind of given me the opportunity to have a broad perspective.
Vitali: His latest recording is "Universal Beings, E and F Sides." It's a musical sibling to his four-sided album from 2018, the highly praised "Universal Beings." Some of the new music was recorded live at the South Side cultural hub, Co-Prosperity Sphere.
McCraven: One of the reasons I really like to record live is that then you can capture this kind of spirit in the room, something that's intangible, that's hard to catch in a more sterile recording environment, like a studio. But if we go to London we play a concert in cool space or do something at Co-Prosperity Sphere in Chicago and people are standing all around us and there's an incredible vibe, you know, being able to capture that in the recording is like a snapshot of the moment. And it's a fleeting moment.
Vitali: We asked this very international musician how he's dealing with being stuck in the United States.
McCraven: Mainly I've been trying to focus on my family and taking care of my kids and my wife and being a unit. And you know with what I've seen is really a lot more challenging times ahead of us. I'm just trying to lean into all the silver linings I can find about this kind of uniquely challenging time and make the most of what I have to be as strong as I can to carry forth in the coming times, so I can be operating from a position of power and be able to help other people as well.
---
More on this story:
By the way, McCraven moved to Chicago 16 years ago when his girlfriend at the time – now his wife – became a professor at Northwestern. Another fun fact – McCraven was captain of his high school football team and played both offense and defense. For more on McCraven's "Universal Beings," visit International Anthem's website.
Note: This story was originally published Sept. 1, 2020. It has been updated.
---