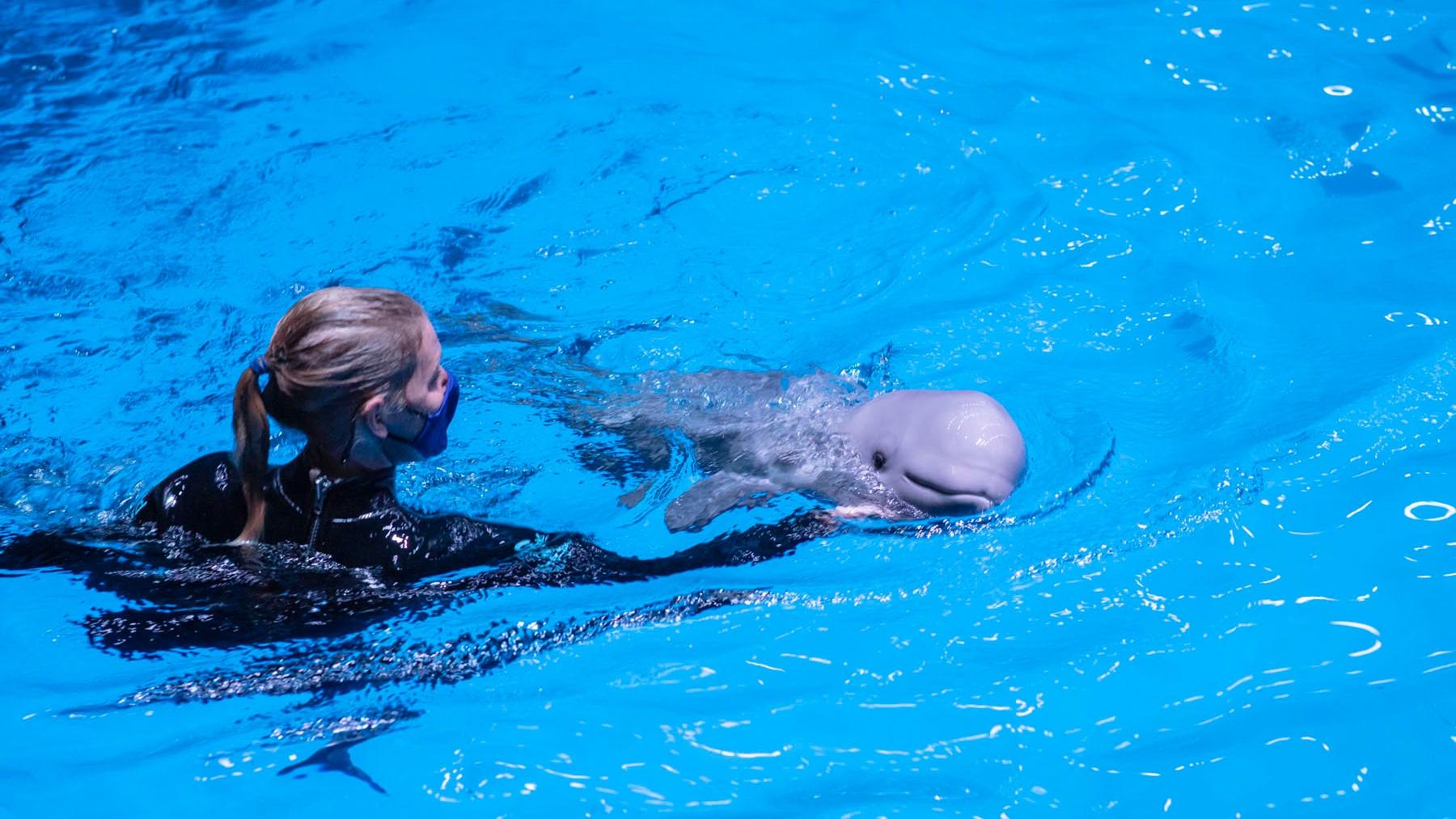 Shedd Aquarium's animal care team is keeping a close on a new baby beluga, born Aug. 21. (Shedd Aquarium / Brenna Hernandez)
The Shedd Aquarium's animal care team is working overtime in the labor and delivery department lately, with one baby beluga just born, another on the way any day, and a Pacific white-sided dolphin also due to give birth.
Last week, 14-year-old Bella, a beluga whale born herself at the Shedd, welcomed her first calf, a bouncing boy weighing in at 139 pounds. Mom and calf are spending time alone behind the scenes bonding.
While first-time beluga moms like Bella often experience higher calf mortality, Shedd staff said they are encouraged by what they have seen so far and are cautiously optimistic about the newcomer's survival.
Most belugas are born tail first — allowing them to unfurl their flukes before the final push and swim to the surface for their first breath — but Bella's calf arrived head first. Despite this, the calf immediately powered itself to the surface, according to a statement from the Shedd.
The calf is not yet independently nursing, so the care team is assisting with feedings every three hours.
Shedd staff are also keeping a close watch on Naya, a 31-year-old beluga whale, who is due to deliver a calf in the coming days. Katrl, the Shedd's Pacific white-sided dolphin, is pregnant as well.
The Shedd is posting updates on social media and its website. 
Watch the birth in the video below.
---
Contact Patty Wetli: @pattywetli | (773) 509-5623 |  [email protected]