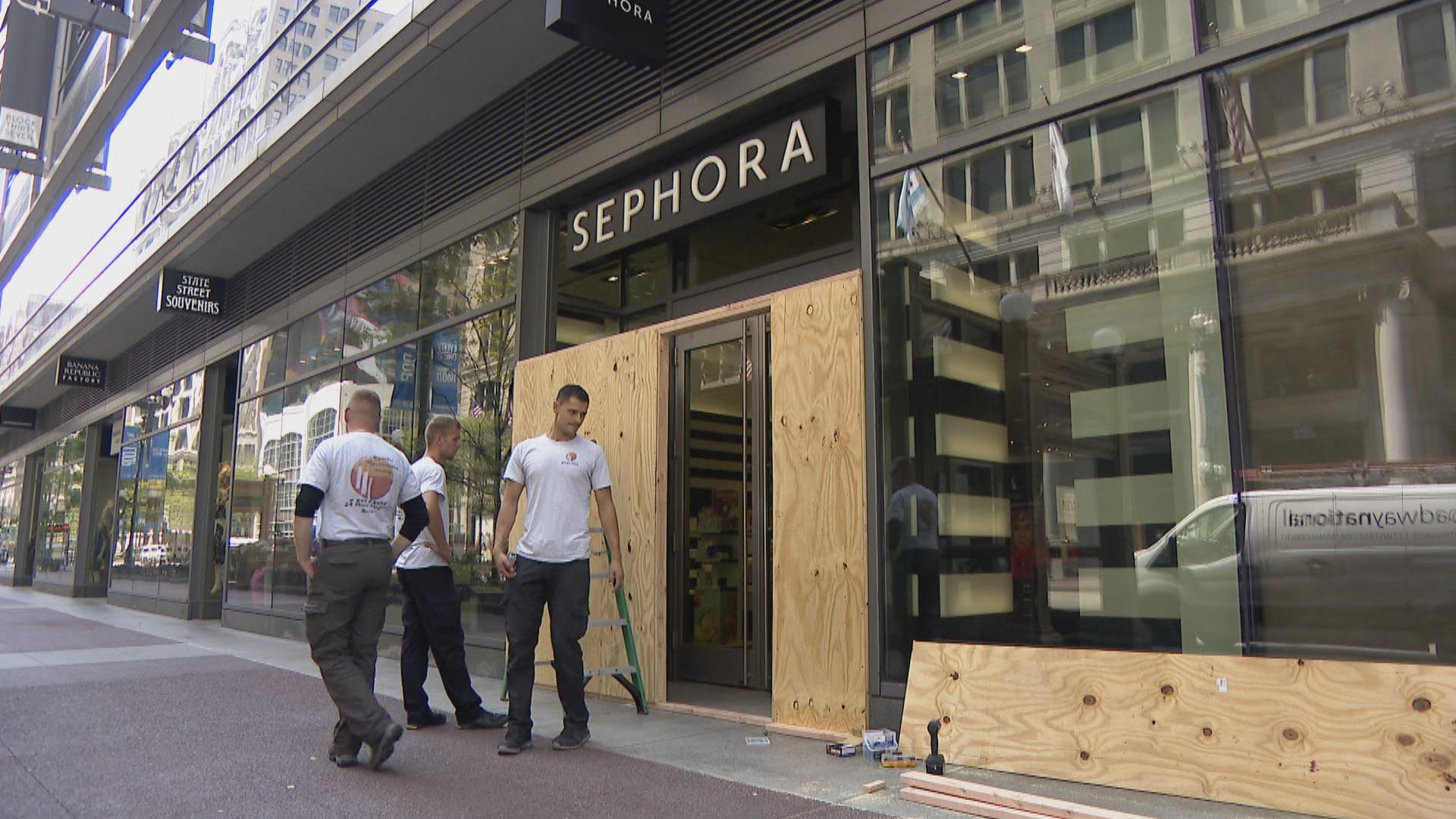 Windows at a Sephora in downtown Chicago are boarded up following looting on Sunday, Aug. 9, 2020. (WTTW News)
A bid by several aldermen to demand that Gov. J.B. Pritzker deploy the Illinois National Guard to Chicago in an effort to reduce escalating violence and sustained protests amid the coronavirus pandemic failed on Friday at a special meeting of the Chicago City Council.
Although Mayor Lori Lightfoot dismissed the effort by Alds. Leslie Hairston (5th Ward), Anthony Beale (9th Ward), Raymond Lopez (15th Ward) and Anthony Napolitano (41st Ward) earlier this week to force the special City Council meeting as a stunt and an example of "grandstanding," 47 aldermen attended the virtual meeting, ensuring it took place. 
Veteran City Council observers could not recall a similar attempt by aldermen to force a special meeting of the City Council to take place. Special meetings are typically called by the mayor.
But Lopez and Beale — the two aldermen who most frequently criticize Lightfoot — could not marshal enough support to block a vote on their call for the National Guard to be sent to Chicago. Instead, the measure was sent to the City Council's Public Safety Committee for a hearing.
Public Safety Committee Chair Ald. Chris Taliaferro (29th Ward) said he resented his colleagues' decision to force a special City Council meeting rather than working with him to schedule a hearing through the normal rules of procedures. Taliaferro, a former Chicago Police sergeant, said Lopez and Beale were motivated by personal animus toward Lightfoot.
"I would rather not be used as a pawn," Taliaferro said.
Both Beale and Lopez denied their effort was designed to politically wound Lightfoot, but to help the city reeling from multiple crises.
"This is not grandstanding, this is a Hail Mary to save the city of Chicago," Beale said.
In all, 17 aldermen voted to hold a debate and vote on whether to ask the governor to send the National Guard to Chicago.
However, that included seven aldermen who have called for the Chicago Police Department's budget to be reduced and have criticized Lightfoot's approach to recent protests as too heavy-handed and not respectful enough of Chicagoans' First Amendment right to protest.
Ald. Carlos Ramirez-Rosa (35th Ward) said in a tweet that he wanted to vote against the resolution calling for the National Guard to be sent to Chicago, calling it "misguided."
Ald. Matt Martin (47th Ward) said in a tweet that Chicago should focus on real solutions to stopping violent crime, not "scare tactics and sensationalism" or the National Guard.
After the meeting, Lightfoot said she opposed calls to deploy the National Guard to Chicago for the second time since May 31, when protests against police brutality and systemic racism triggered a wave of unrest that swept the city. National Guard troops were used to block off the Loop and Central Business District, but troops did not police the city.
Lightfoot, an Ohio native, said her childhood was marked by the May 4, 1970 killing of four Kent State college students during a protest of the Vietnam War.
"And while I absolutely understand the concerns of those across our city who are worried about their safety, what I know from that experience, and what I know now, is that the National Guard has a very different set of training. A very different perspective on force," Lightfoot said. "They're military."
National Guard troops were deployed to other cities this summer with "disastrous consequences," Lightfoot said.
"I don't want a circumstance where we bring in a tool that isn't the right tool for the moment," Lightfoot said. "The National Guard is not a panacea."
Aldermen aligned with Lightfoot also blocked a debate and vote on a call to order the Budget and Government Operations Committee to hold monthly subject matter hearings on public safety spending.
Ald. Pat Dowell (3rd Ward), the chair of the Budget Committee, said none of the aldermen who called for Friday's special meeting consulted her about their plans.
"I'm deeply disappointed and somewhat offended," Dowell said.
Only four aldermen — Lopez, Beale, Ald. Ed Burke (14th Ward) and Ald. Byron Sigcho-Lopez (25th Ward) — voted for a debate on that issue. 
Sigcho-Lopez has also frequently clashed with the mayor, and was one of several aldermen to object to what they said was the mayor's practice of leaving them out of major decisions and failing to consult with them.
Immediately after that vote, Ald. Greg Mitchell (7th Ward) — a close ally of the mayor — moved to adjourn the meeting, over protests from Lopez and Beale who had asked police Superintendent David Brown, Cook County State's Attorney Kim Foxx and Cook County Circuit Court Chief Judge Tim Evans to report to the City Council on "their unified efforts to address safety in Chicago."
When the meeting adjourned, one of Foxx's deputy state's attorneys was prepared to testify to the City Council, said Foxx spokesperson Alex Sims.
Lopez called Lightfoot's decision to end the meeting before hearing from Foxx's office "outrageous and disrespectful."
While Lopez and Ramirez-Rosa are often at odds personally and on polar-opposite sides of most contentious issues before the City Council, they agreed Friday's meeting signaled a new chapter in the relationship between the City Council and Lightfoot. An analysis of City Council votes in April found Lightfoot has just a "fragile" hold on a City Council majority that allows her to govern the city.
"City Council is coming out of the mayor's shadow," Lopez said.
Ramirez-Rosa, a member of the Chicago chapter of the Democratic Socialists of Chicago, agreed.
"Today was an important step forward for democracy in Chicago and an independent legislative branch," Ramirez-Rosa said.
Contact Heather Cherone: @HeatherCherone | (773) 569-1863 | [email protected]
---