Democratic lawmakers are returning to the capitol to vote on stimulus funds for the embattled U.S. Postal Service.
Their efforts come as a record number of mail-in ballots are expected to be cast in November's election amid the pandemic, and as the new postmaster general has instituted a series of cuts to hours and overtime, and an elimination of some sorting machines and mailboxes to address the billion-dollar losses the agency faces each year.
Adding to the alarm among Democrats was a letter sent by the USPS to Illinois and 45 other states warning that some mail-in ballots may not be counted because of "certain state law requirements and deadlines (that) appear to be incompatible with the Postal Service's delivery standards."
The letter was a follow-up to a more extensive election kit released earlier this year and part of an ongoing education campaign, according to the agency. It highlights, for example, how mail-in voting procedures in many states set unrealistic turnaround times for ballots. In Illinois, a voter can request a mail-in ballot up to five days before Election Day.
READ: You've Got Mail: 5 Things to Know About Voting by Mail
Still, USPS spokesman Tim Norman says the agency is prepared for Election Day.
"The Postal Service has ample capacity to adjust our nationwide processing and delivery network to meet projected Election and Political Mail volume, including any additional volume that may result as a response to the COVID-19 pandemic," Norman said in a statement.
Mack Julion, president of the National Association of Letter Carriers Local 11, said postal workers will do their best to make sure ballots are returned in time to be counted. However, recent cuts will slow down the mail delivery process, especially as the Chicago-area postal service has been understaffed for the past year and a half, Julion said.
"I represent a very proud workforce," Julion said. "We're going to do everything that we can … but some of these changes that are being made … We're skeptical as for the rationale of him making these changes at this time."
Julion recommends that voters mail in their ballots as soon as possible in order to be sure they are counted.
"It is not just because of any possible mailing issues," Julion said. "I mean it's even like during the Christmas season. It's a very heavy season, we're trying to get things to places in a timely manner. The closer you get to the last minute, the more difficult it is for us to achieve."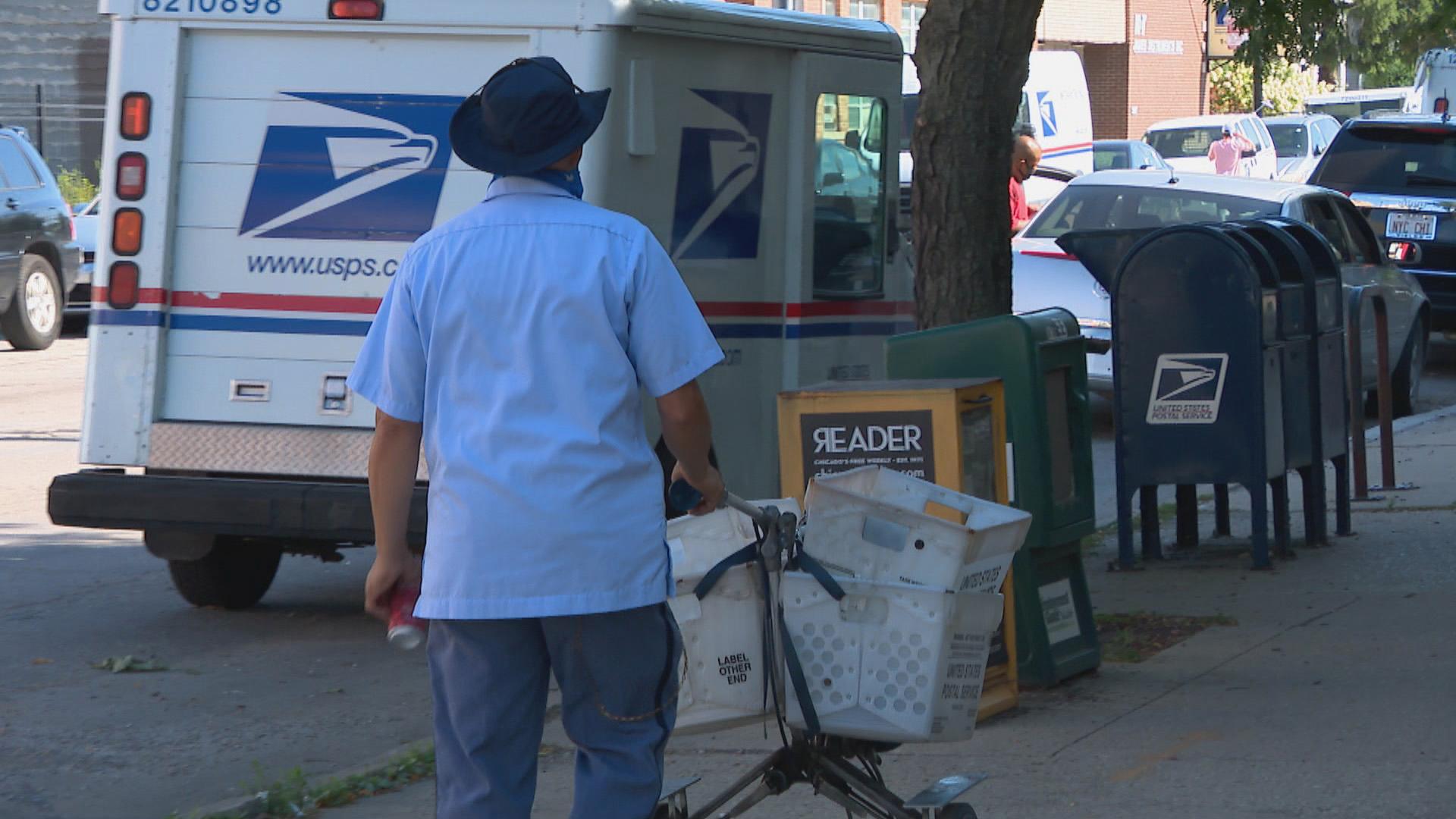 (WTTW News)
President Donald Trump is increasingly facing accusations that he has attempted to slow mail delivery before the general election — a charge the president denies.
Postmaster General Louis DeJoy has been asked to appear before the House Oversight and Reform Committee next week to discuss mail delays as concerns grow on both sides of the aisle.
Meanwhile, the Trump administration and Congress have not come to an agreement on the $25 billion planned to go to the Postal Service — funding Julion says the agency needs.
"The lost time of employees, the loss in mail value has caused a direct impact on the Postal Service," Julion said. "We want to focus right now on the money that is needed immediately to deal with the pandemic."
From receiving medication by mail to shopping online, Julion said the COVID-19 pandemic has shown the important role postal service has in the U.S.
"We're in a very essential business right now as it relates to the needs of the American people," Julion said.
---