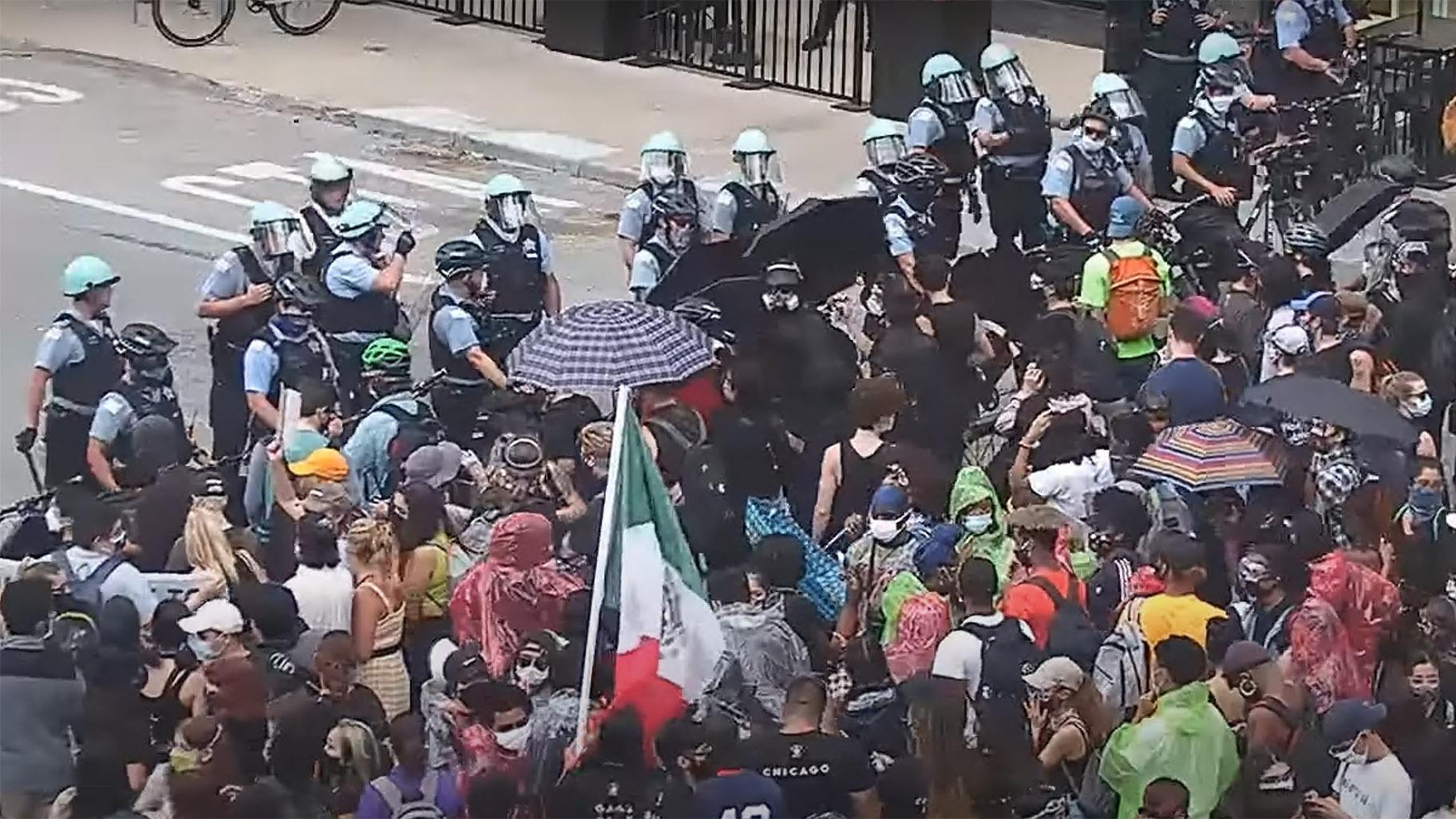 A still image taken from a video released by the Chicago Police Department shows a confrontation between protesters and police at Michigan Avenue and Wacker Drive on Saturday, Aug. 15, 2020. (WTTW News via CPD)
Facing criticism from aldermen and progressive groups, Chicago Police Superintendent David Brown on Monday defended the department's handling of a protest downtown Saturday evening after officers and demonstrators clashed, resulting in two dozen arrests and several injuries.
The Chicago Police Department will defend and protect Chicagoans' First Amendment right to "peacefully express their opinions," Brown said.
The group of people who gathered at Millennium Park "with the purpose of agitating police officers and the crowd," Brown said, praising officers for "maintaining their professionalism and composure" despite being verbally abused and pelted with "bottles and street debris."
Twenty-four people were arrested, according to police, including four on felony charges. Brown said 17 officers were also treated for non-life-threatening injuries, including an officer who was struck repeatedly with a skateboard.
Officers responded "proportionally and professionally," Brown said.
Department officials released video during the incident at Michigan Avenue and Wacker Drive that they said showed demonstrators donning ponchos and raising umbrellas to conceal their actions before marching in lockstep toward a line of police officers.
When the protest retreated south on Michigan Avenue, police officers forced the group west on Randolph Street. Demonstrators said they were "kettled" on LaSalle Drive north of City Hall and prevented from leaving for a time. Eventually, all were allowed to leave after having their bags checked by officers, according to media reports.
Brown said he had not heard any reports of kettling.
"You're entitled to your own opinion, just not your own facts," Brown said.
One person taken into custody was Alycia Kamil, a youth activist with GoodKids MadCity. She said at a press conference Sunday that she was thrown to the ground and beaten by six officers before being arrested.
"Officers sat and they laughed at us and they called us names, they called us prisoners for protesting, for peacefully protesting," Kamil said.
A group of 10 city aldermen and state legislators penned a letter Sunday condemning the "police crackdown" and stating they stand "wholeheartedly with the protesters who have taken to the streets to demand a future free of violence."
That group – which includes State Rep. Theresa Mah (D-Chicago), Ald. Carlos Ramirez-Rosa (35th Ward) and Ald. Jeanette Taylor (20th Ward), among others – criticized Mayor Lori Lightfoot and Brown for what they called "the continued escalation of surveillance, violence, and detention of protesters."
"We question the logic of spending police dollars on social media surveillance, pepper spray, and riot gear to beat teenagers, while the directives of the federal consent decree go unmet and the murder clearance rate remains abysmally low," the letter states.
Brown declined to respond to the letter.
"One thing I really like about professional law enforcement — we don't do politics," Brown said. "I'm going to try to keep it that way."
Contact Heather Cherone: @HeatherCherone | (773) 569-1863 | [email protected]
---