UPDATE, Sept. 18, 2020: Supreme Court Justice Ruth Bader Ginsburg Dies at 87
Ruth Bader Ginsburg is celebrating an anniversary this week.
Monday marked 27 years since the Supreme Court justice, now 87, was sworn in. 
In the years since, she's become a pop icon known to some as the "Notorious RBG" and the subject of a Hollywood film. There's even a local museum exhibit that explores her life and career.
In legal circles, Ginsburg is known as a trailblazer for women and a staunch advocate for gender equality. 
Last month, she announced her fifth bout of cancer for which she is undergoing chemotherapy. She said she has no plans to retire.
"She's doing really great actually. My sister is with her now, we've had a little family rotation pretty much since the COVID crisis started," said James Ginsburg, Ginsburg's son and the president and founder of Cedille Records, a nonprofit classical record label in Chicago. "The good news is the chemotherapy is doing what it's supposed to do, so tumors are shrinking, cancer cell numbers are going down, which is all we could hope for," he said.
Among her many accomplishments, Justice Ginsburg is known for her intensive daily workouts. She hasn't stopped that routine.
"It's amazing to me watching her do her exercise routine every day," James Ginsburg said. "She does the treadmill three times a day, she has a whole routine of core and upper body exercises, and she's really adamant about making sure she does them every day."
David Franklin, professor of constitutional law at DePaul University's College of Law, clerked for Ginsburg in 1999 and 2000, when she had her first bout of cancer.
"She was absolutely determined to take her seat on the bench in the first sitting in October, and she did that," Franklin said. "One of the main things I learned from her was just her resolve, her determination. She's a person who just puts her head down and does the work."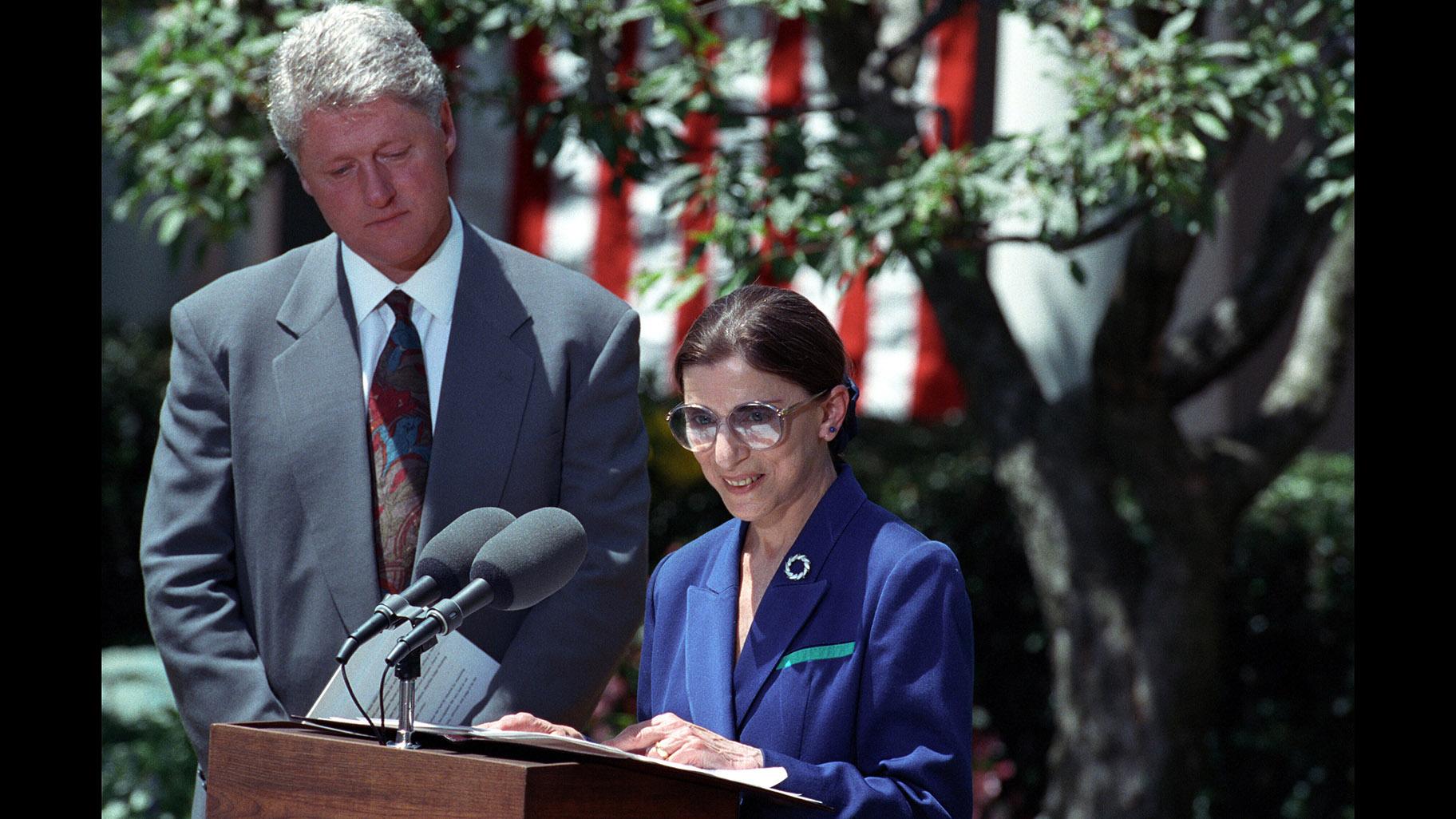 President Bill Clinton looks on as Ruth Bader Ginsburg speaks after the announcement of her nomination to the Supreme Court in June 1993. (Sharon Farmer / National Archives and Records Administration)
When James Ginsburg was growing up in the '70s, his mother was fighting gender discrimination, taking six cases to the Supreme Court and winning five of them.
"I think there was some sense she was doing important things," he said. "At the dinner table the conversation was usually about whatever case she was involved in and this may be in part by default because my father was a tax lawyer and nobody wanted to hear about tax cases." 
Ginsburg was also one of the co-founders of the American Civil Liberties Union's Women's Rights Project. 
Carolyn Shapiro, a law professor at Chicago-Kent College of Law and co-director of Chicago Kent's Institute on the Supreme Court of the United States, said while there Ginsburg paved the way for anti-discrimination litigation.
"She charted a litigation strategy that pushed the justices to change their approach," Shapiro said. "One of the ways she did that was by representing men in cases where if they had been women they might have gotten a slightly different benefit, and even better benefit."
Shapiro said she was "completely and utterly thrilled" when she learned President Bill Clinton had nominated Ginsburg to the Supreme Court in 1993 – not just because she's a woman, but because she made her name by promoting gender equality.
Ginsburg is the second woman to be on the U.S. Supreme Court, and in recent years she has become a pop icon, in part for her dissents.
"It's not an image she would have ever set out to garner for herself," Franklin said. "She is not by temperament a firebrand. She is temperamentally very conservative, and incremental as a person"
The court's shift to the right and the retirement of Justice John Paul Stevens placed her in that role, Franklin said, making her the senior liberal justice on the court.
Ginsburg says she will stay on the court as long as she is fit to do so.
"She will continue to do this job as long as she feels she can do it full steam, which she certainly does feel like now," James Ginsburg said. "I think she's going to continue to do the frankly amazing job that she's been doing for 27 years now."
---