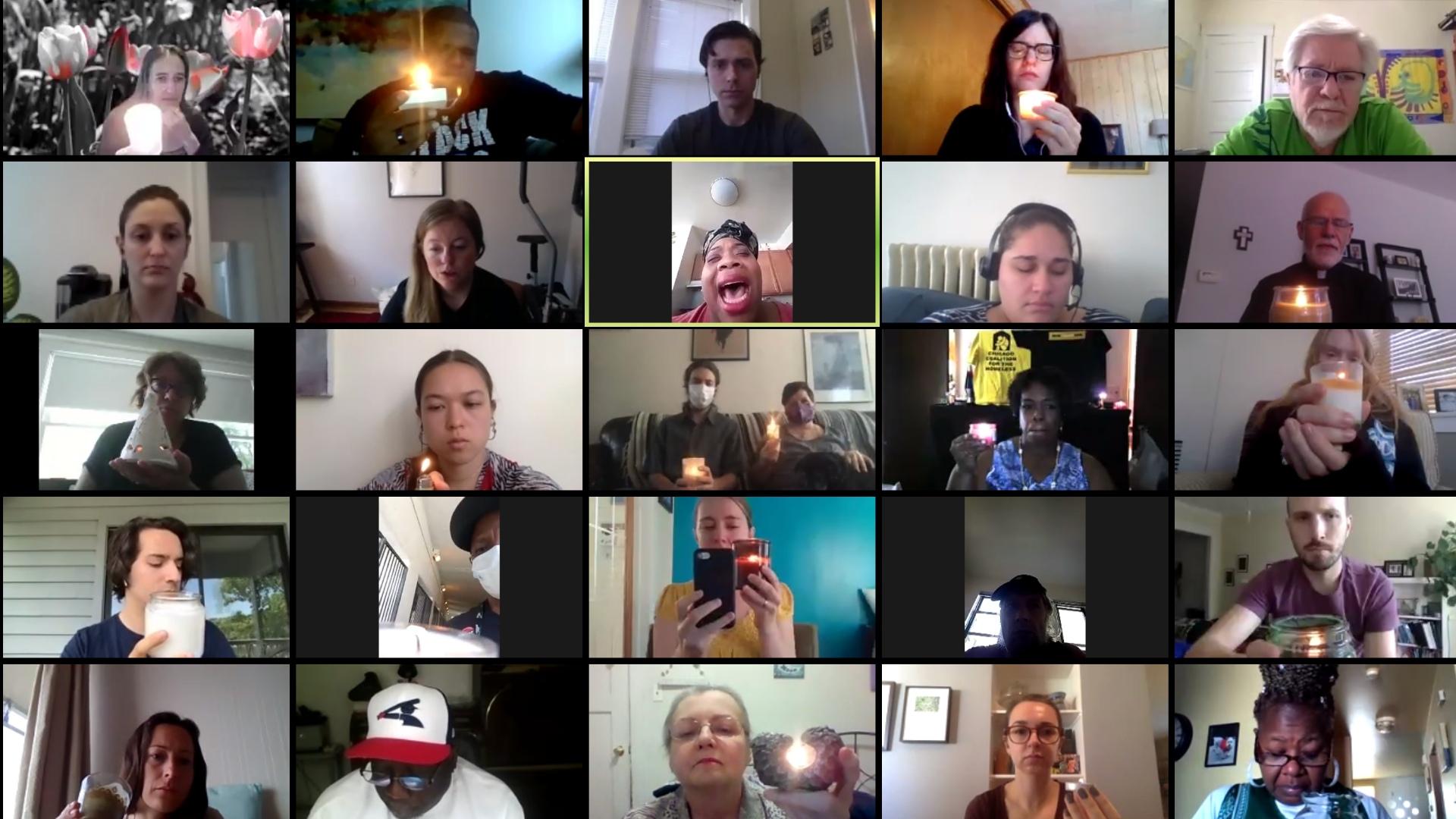 A virtual candlelight vigil is held Wednesday, Aug. 5, 2020 for Aaron Curry, who was killed in July while living in Grant Park. Advocates for homeless individuals are calling on the city to dedicate additional resources to housing. (WTTW News screenshot via Zoom)
Violence against homeless people is on the rise, according to advocates who hosted a candlelight vigil Wednesday morning to honor the lives of those lost, including Aaron Curry, who was fatally stabbed last month, and to call for more housing resources.
"He wasn't perfect, but he was near and dear to our staff and many out there on the streets," said Jill Keiser, community partner manager at Chicago Lights, where Curry first sought services years ago.
Curry was always willing to help and often brought other people without homes to the nonprofit to connect them with services, according to Keiser.
"I considered him our best PR person on the streets. Was he a saint? No," Keiser said, but Curry was respectful and kind, and he liked to tell jokes.
Curry was found stabbed to death on July 9 in Grant Park, where he had been living. Police were called to the scene after a woman reported seeing him in the same spot for the third day in a row, according to the Chicago Tribune. Less than two weeks later, another homeless man was stabbed while sleeping in Grant Park.
Also in July, three homeless encampments were set on fire in Avondale, destroying people's belongings, according to Block Club Chicago.
"Violence is something we experience a lot," said Tom Gordon of the Uptown Tent City and grassroots leader for the Chicago Coalition for the Homeless. "Homeless people are being shot. Our tents are being burned down and no one seems to care. It is not a crime to be homeless, but I feel like that is how people look at us."
Juanita Rodgers, a grassroots leader for the Chicago Coalition for the Homeless who has experienced homelessness herself, said homeless people are "more vulnerable to hateful acts."
"We need to continue to push our city officials so they can't ignore this," Rodgers said. "Protecting those experiencing homelessness and ensuring safety for all is not just a need for the city but a responsibility. The only way you create safety is through housing."
Nearly 80,000 Chicagoans currently lack housing, according to advocates; they expect that number to increase in the wake of the coronavirus pandemic.
"We are facing unemployment numbers our country has not faced before. The economic downturn will cause suffering we've not seen," said Mary Tarullo, associate director of policy and strategic campaigns at the Chicago Coalition for the Homeless. "Our government officials need to be doing everything they can to prevent an enormous increase in homelessness."
Tarullo and others are calling on the city of Chicago to commit an additional $100 million annually in funding to provide "permanent supportive housing" and services for homeless individuals. Advocates are reviving a proposal from few years ago: a transfer tax on residential and commercial properties that cost $1 million and up to generate those funds.
The Chicago Department of Family and Support Services said in a statement it provides over $30 million annually in funding to community-based agencies that support residents experiencing homelessness with shelter, prevention, outreach, rapid re-housing and flexible housing services. The agency also manages the infrastructure of the city's homeless response system. DFSS did not have a comment on the transfer tax proposal at this time, according to a spokesperson.
Advocates say they're also worried about a rise in evictions once a ban prohibiting them expires, citing the demand for rental assistance programs as a predictor of what's to come. "When the city opened up (its) rental assistance program in April, 83,000 applied for funding, so the need is absolutely enormous," Tarullo said. "If (the) eviction moratorium (were) to go away, imagine how much greater the need will be."
While the city has dedicated funding from the Coronavirus Aid, Relief and Economic Security (CARES) Act, to assist renters, 35th Ward Ald. Carlos Ramirez-Rosa says it won't be enough.
"We know there are so many people right now that are unable to pay their rent in Chicago," he said. "We have an (eviction) moratorium through Aug. 22, however, if we don't see any real type of relief provided to renters, we know we're going to see an avalanche of evictions."
Contact Kristen Thometz: @kristenthometz | (773) 509-5452 |  [email protected]
---