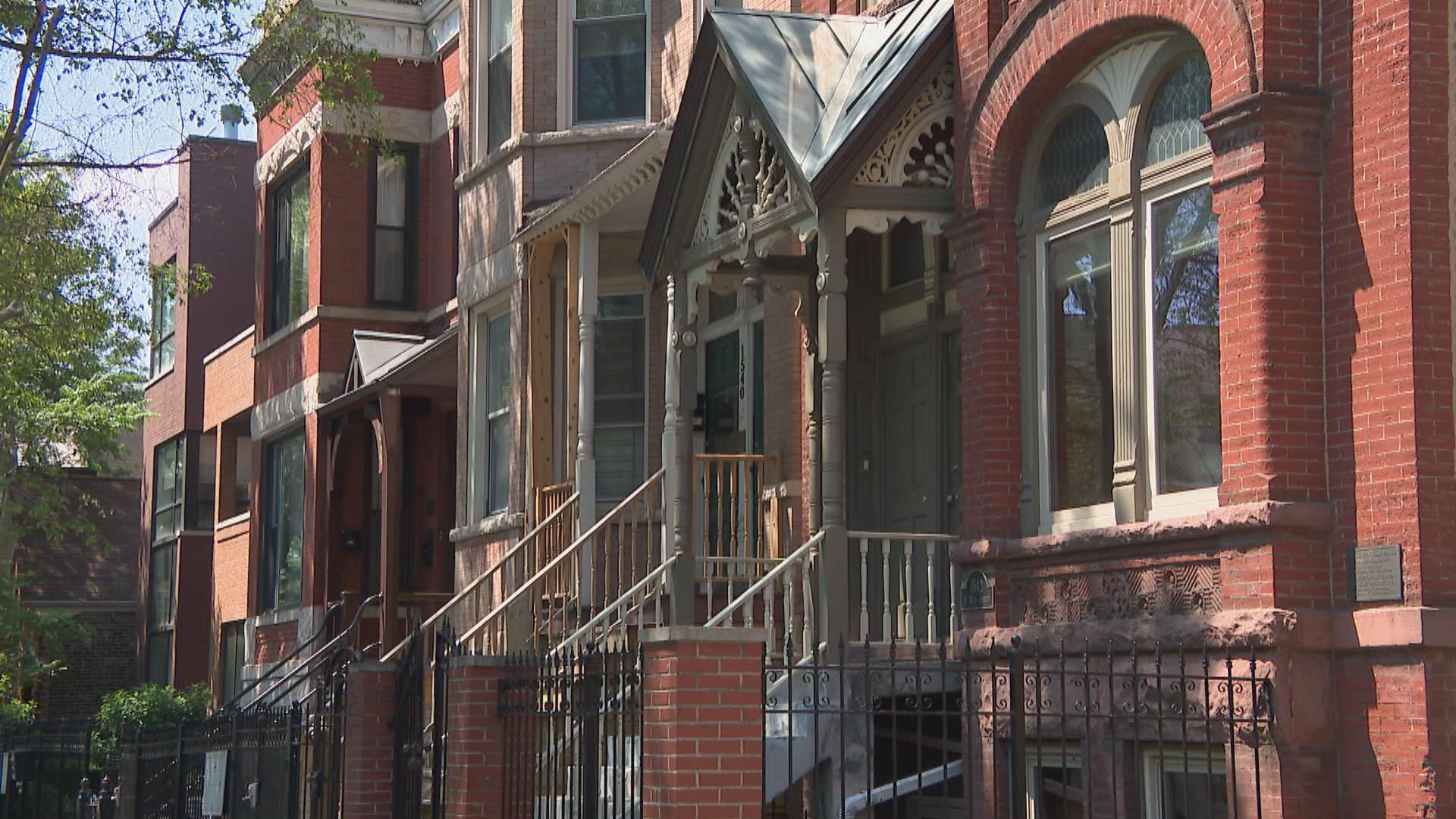 A residential street in Wicker Park in Chicago. (WTTW News)
Illinois' ban on evictions will expire Aug. 22. The three-week reprieve ordered by Gov. J.B. Pritzker allows state officials time to set up a program to distribute more than $300 million in help to landlords and tenants struggling to make ends meet during the coronavirus pandemic.
Although the ban had been set to expire July 31, state officials were not ready to launch a $150 million program through the Illinois Housing Development Authority that will allow tenants, who have been unable to pay rent, to enter a lottery for a $5,000 grant. Another $150 million is earmarked to help homeowners struggling to pay their mortgages.
Renters who need help can apply for emergency rental assistance between Aug. 10 through Aug. 21, said Andrew Field, a spokesperson for the housing development authority. Those who need help paying their mortgages can apply between Aug. 24 and Sept. 4, he added.
Those $5,000 grants would be paid directly to landlords on behalf of tenants, and to loan companies for property owners, officials said.
The program is designed to help 30,000 renters in Illinois, officials said.
Chicagoans who lost their jobs or found their paychecks scaled back because of the coronavirus pandemic are protected from evictions for an additional two months after the state's ban ends under a measure approved in June by the Chicago City Council.
A trio of landlords from Will and Winnebago counties sued the governor over the eviction ban in June after he extended the prohibition to July 31, even as the state entered the fourth phase of its reopening plan on June 26. Attorney James Noonan did not respond to a request for comment from WTTW News about the latest extension of the ban.
Lawyers for the governor argued that the ban was proper because it was designed to stop the coronavirus from spreading among newly evicted residents, who would have a hard time finding a new home, according to court records.
To be eligible for the grant, tenants must have fallen behind on rent in March, and certify that they lost income because of the coronavirus pandemic, Field said. The grant can be used to pay back missed rent, and cover rent payments through Dec. 31, he added. 
Applicants must earn less than 50% of the area's median income, officials said, which for a Chicago family of four is $44,500 per year, according to city data.
Landlords that receive a grant payment must agree not to evict the tenant through the end of the year, Field said.
As part of the state's budget for the 2021 fiscal year, state lawmakers earmarked $396 million in federal funds designed to help the state cover the cost of responding to the coronavirus pandemic for housing assistance.
A bill backed by progressive Democrats in the Illinois House that proposed canceling rent and mortgage payments statewide for 180 days failed to advance, and the additional assistance funds were included as part of a compromise during a four-day emergency session.
Officials plan to use $96 million to administer the plan, and to reach out to local community groups who can encourage their members to apply for the grants, Field said. Leftover funds will be returned to the assistance fund, he added.
Contact Heather Cherone: @HeatherCherone | (773) 569-1863 | [email protected]
---