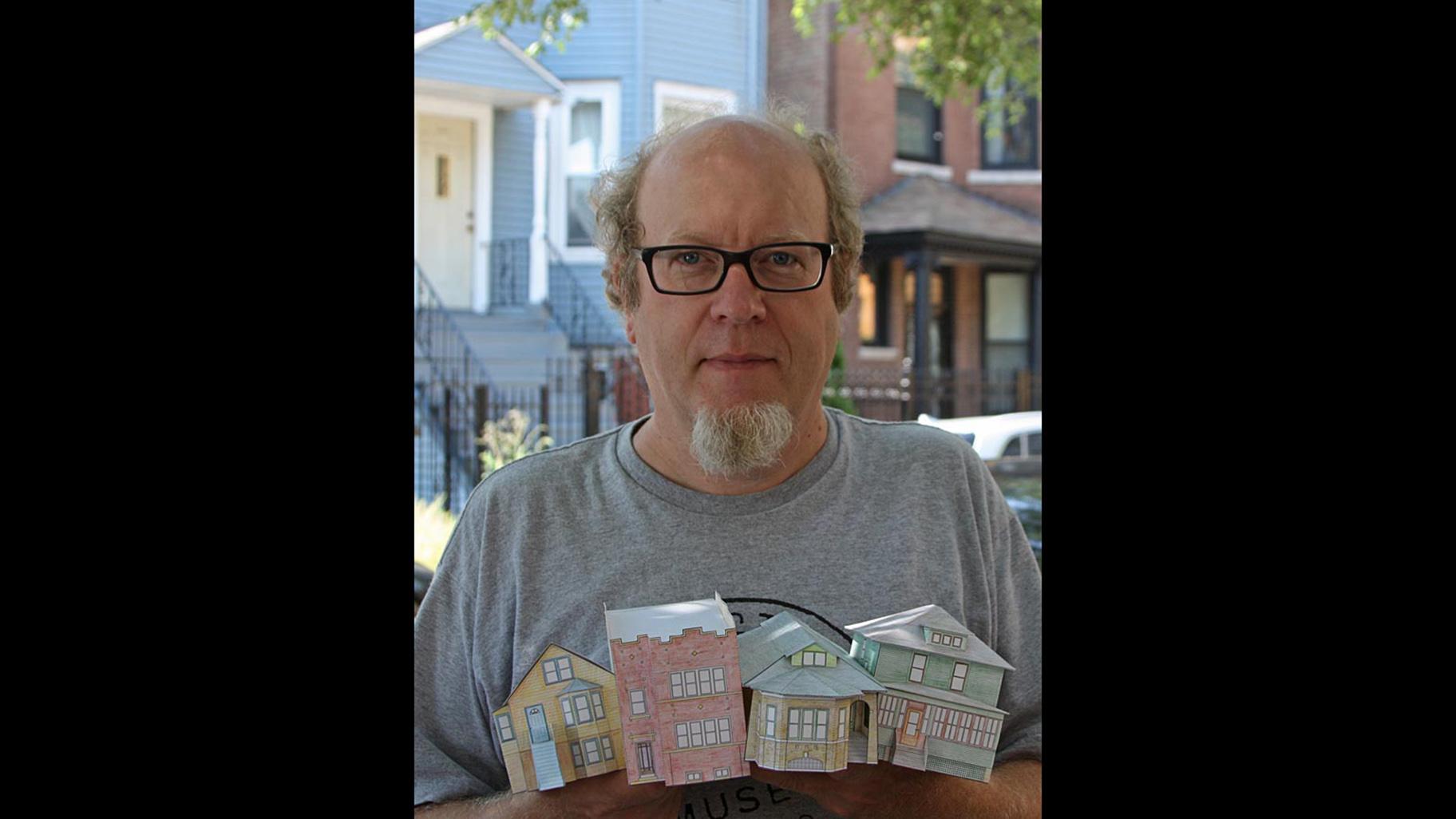 Matt Bergstrom (Photo courtesy of the artist)
Chicago's soaring skyline may have made the city an architectural star, but it's our enviable assortment of vernacular housing styles that knits the city together.  
And artist Matt Bergstrom wants Chicago kids to get to know the homes that make up those neighborhood blocks by building them with their own hands, one free printable model at a time. 
At Bergstrom's website Build Your Own Chicago, kids can print out plans for paper models that are simple enough to color, cut and assemble themselves. 
"I like the idea that maybe some kids don't know much about the houses on their block, and this would be encouragement to go look at the houses on your block and learn about them," Bergstrom said. "When you know the history of a building you walk past every day, it kind of helps you see it with different eyes."
Bergstrom chose five Chicago vernacular building types to model: the workers cottage, the four-square house, two-flats, bungalows and mixed-use storefronts. "I wanted to offer just enough for them to be able make a little street that has some variety to it," he said. 
The Build Your Own Chicago website also includes basic historical information about each building type. 
Bergstrom said the most challenging part of developing the models was keeping the construction easy enough for little hands to manage. He is also the creator of Build Your Own Chicago postcards, which can be cut and assembled into scale models of 31 of Chicago's best-known landmarks, including the Water Tower and the Baha'i temple. But he said the delicate details of his postcard models aren't really suitable for young children.  
"For a long time I'd been thinking I should make a simpler version. When the coronavirus happened, I thought this would be a fun project to do when kids are home," he said.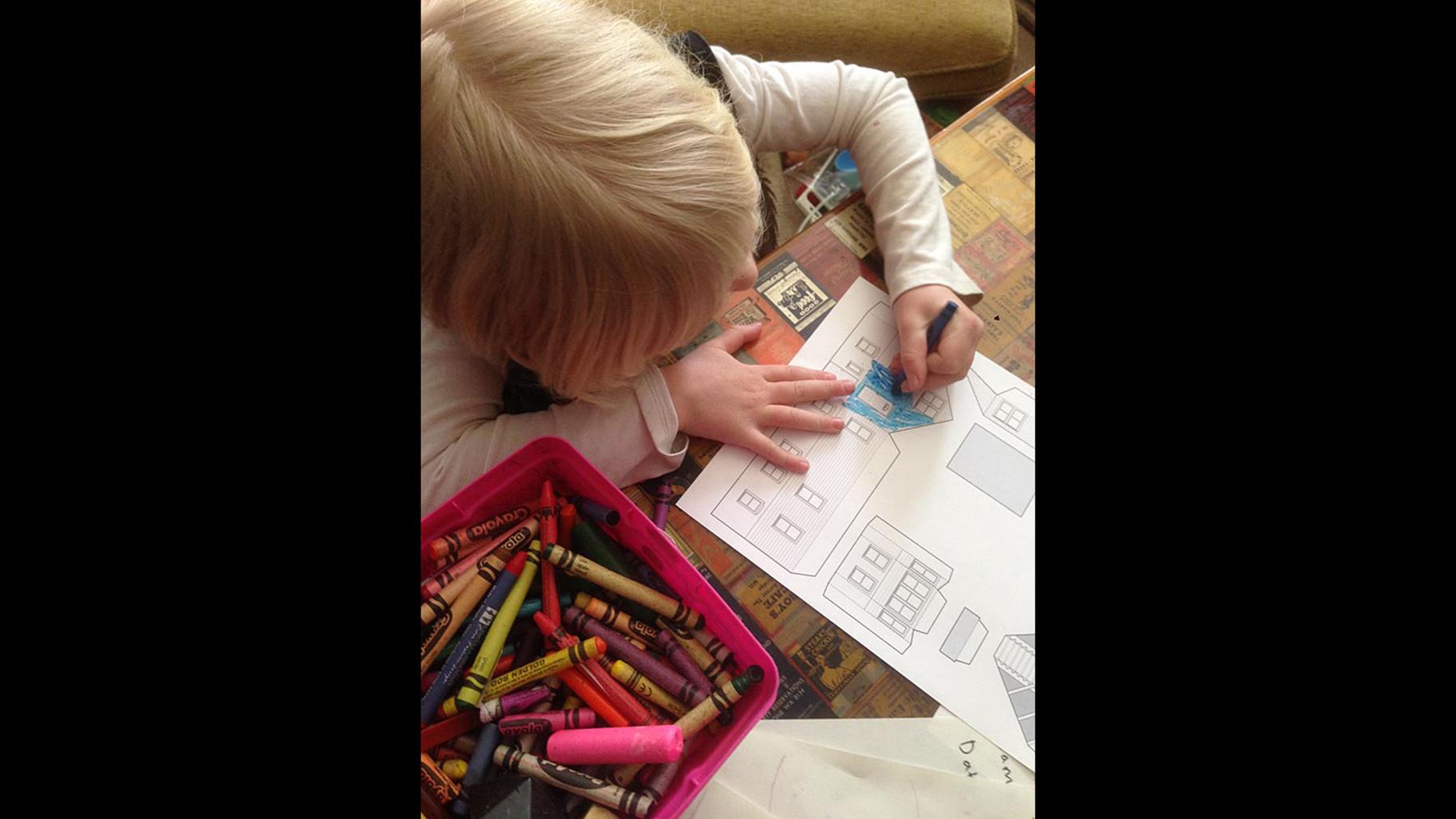 (Courtesy of Matt Bergstrom)
"The two-flat one, there are a lot of kinds of two-flats out there but I chose one that's very simple," he said. "The four-square one I originally had with an open porch, but it was getting too challenging. Just having the pieces be large and flat enough so if you don't fold it right on the dotted line, it won't mess it up too much." 
Bergstrom had to do some traveling around the city to develop the models, but he said much of the information he needed came courtesy of Google. 
"I rode my bike around looking for buildings, took a lot of pictures, but I was also looking online to try to find good examples and I found a real estate listing for a four-square house that I decided was very typical," he said. "I was able to find a satellite image of it and measure the dimensions from that. So I didn't actually go to the real house but that gave me just enough to make it look realistic and be a compact size. And for some of them I found dimensions by searching online for old plans." 
A past project about his own block in Logan Square led him to select the first type of home model he created: the workers cottage. That project began a few years ago, when Bergstrom had become dismayed by the demolition of historic workers cottages on his block of Lyndale Avenue.
"A lot of the buildings, starting about five years ago, have been knocked down one by one," Bergstrom said. "At first it kind of surprised me. I walked by these buildings every day, but then one would get knocked down, and about a month later I'd walk past and I couldn't remember what was there. So I tried to pay more attention to the houses, and I started drawing pictures of the houses." 
That idea blossomed into Lost Houses of Lyndale, a multidisciplinary project that documented the history of the demolished houses and some of the families who lived in them. Bergstrom also salvaged wood from the demolitions to create basic models of the homes. "I would put little things that I found in the houses – old pictures or toys that got left behind before they got knocked down – and they're hidden inside," he said. 
Bergstrom hopes that offering kids this easy and approachable craft project will spark affection and appreciation for their own homes – and perhaps also ignite some of the same preservationist spirit that motivated his Lyndale project. 
"Speaking from the experience of our street, where the buildings are being knocked down – I don't know how much power I have to stop that, but all I can think is that appreciating the old buildings could lead to some interest in saving them," he said.
---