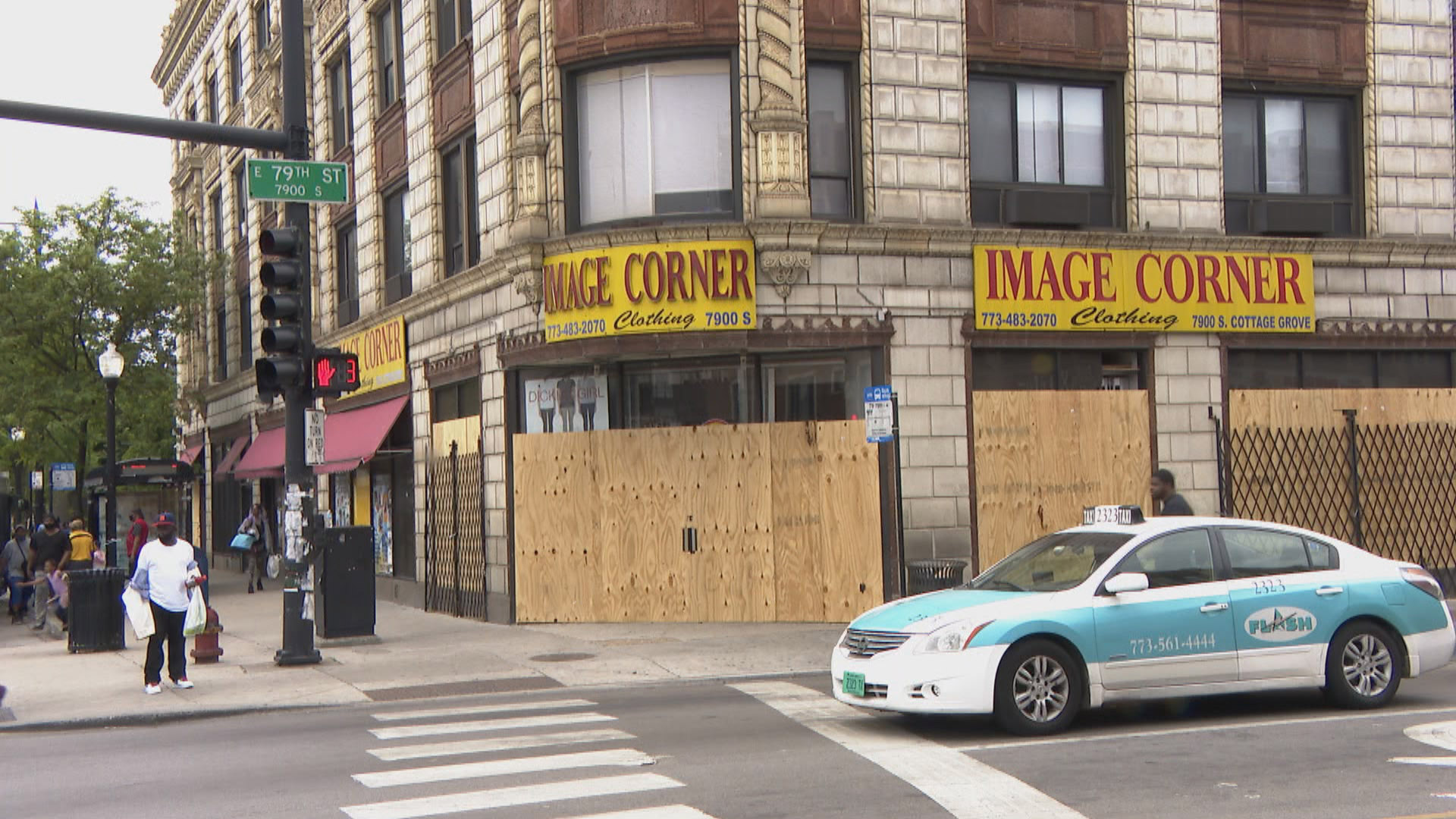 A business is boarded up in Chicago's Chatham neighborhood on the city's South Side on Wednesday, June 3, 2020, following unrest over the killing of George Floyd. (WTTW News)
Approximately 1,500 small businesses struggling to stay afloat during the coronavirus pandemic and recover from unrest touched off by police brutality protests will get city help to make ends meet, officials announced Friday.
In all, the city plans to use the $6.2 million Together Now fund, fueled by federal relief funds, city money and contributions from Chicago charities, to help small businesses.
"Our small businesses play a large role in contributing to the vibrancy of our city which is why it is essential that we continue to offer them assistance during what may be the most difficult time that many of them face," said Mayor Lori Lightfoot in a statement.
More than 4,000 businesses applied for a grant. Winners were chosen by a lottery, officials said.
"Our neighborhood businesses are the beating hearts of our communities," said Ald. Walter Burnett (27th Ward). "The first step to ensuring Chicago recovers from the impacts of COVID-19 is by supporting its smallest businesses that have been hurting over the past several months."
Businesses that saw their revenue drop by at least 25% during the pandemic were eligible for grants of up to $4,000 to cover operating costs, city officials said. Stores damaged during the unrest and protests were also eligible for infrastructure grants of up to $10,000 to make repairs.
Businesses owned by Black and Latino Chicagoans were given priority for the grants, since they are "more frequently uninsured or underinsured and live in South and West Side communities that have faced decades of disinvestment, both of which were considered in the decision-making process," according to a statement from the mayor's office.
The city grant will help Austin's RAZE Up Grooming Lounge stay open, owner Barnett Sizer said.
"We've never faced a bigger challenge or fallen on harder times than what we've experienced over the past months due to COVID-19," he said.
City officials plan to award a second round of grants to businesses in community areas that received a disproportionately low number of eligible applicants during the first round, officials said.
Contact Heather Cherone: @HeatherCherone | (773) 569-1863 | [email protected]
---