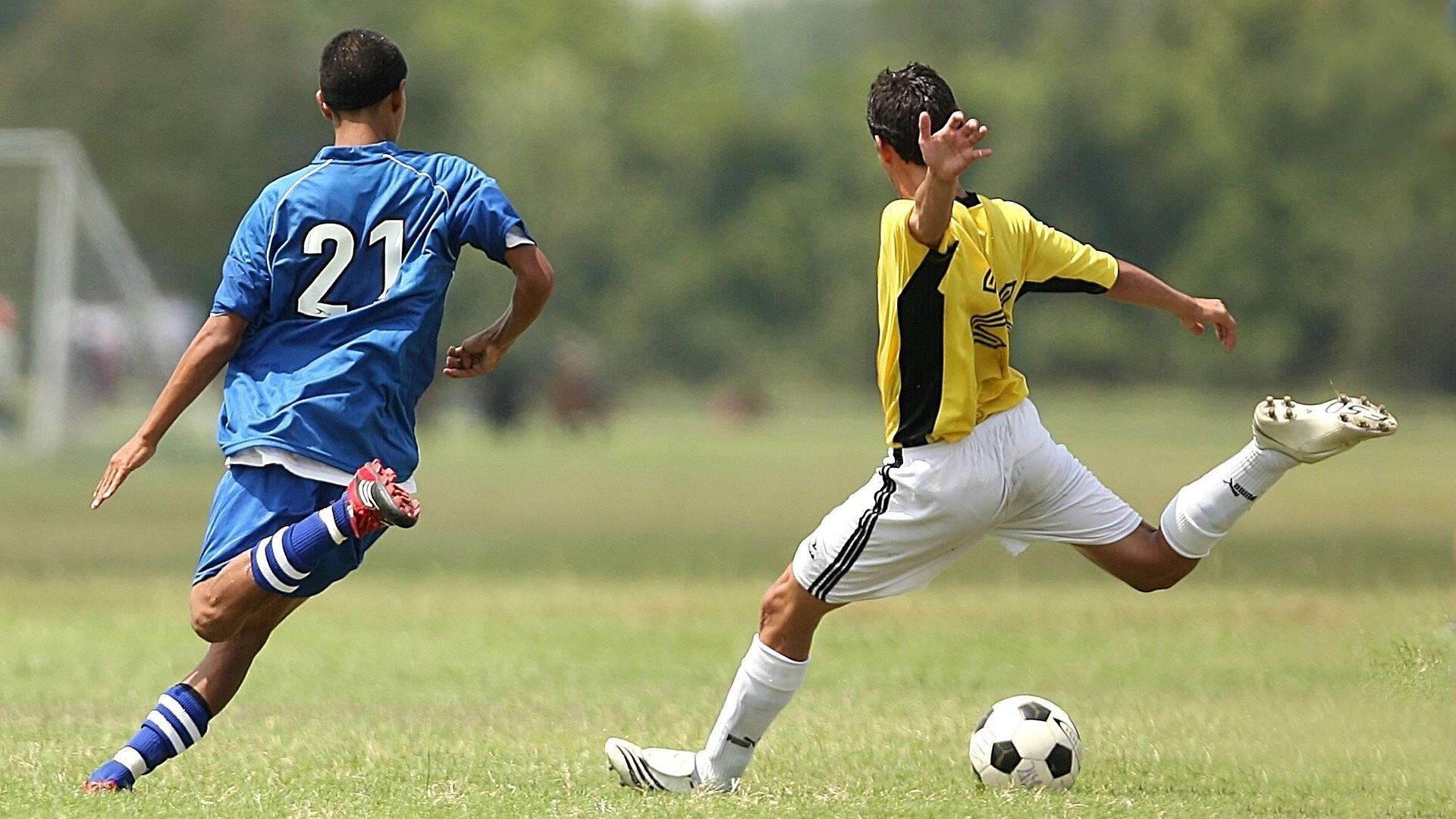 (Keith Johnston / Pixabay)
With the number of new coronavirus cases rising in Illinois and a handful of outbreaks linked to youth sports, Gov. J.B. Pritzker on Wednesday announced new guidance restricting youth and adults sports in an effort to stop the spread of COVID-19.
"I know our hearts break when we hear the word 'restrictions,' especially when it comes to our children's love for their sports. Whether this year is their first time on the court or it's their senior season – this isn't the news anyone wants to hear," Pritzker said. "But with rising rates of spread of the virus, with rising positivity rates throughout Illinois and the United States, this is a situation where the toughest choice is also the safest one. Therefore today, my administration is releasing new guidance restricting youth and adult recreational sports in Illinois."
Health officials on Wednesday reported 1,393 new COVID-19 cases and 18 virus-related deaths in the past 24 hours, bringing statewide totals to 175,124 and 7,462, respectively. The statewide positivity rate is 3.8%, according to the Illinois Department of Public Health.
IDPH Director Dr. Ngozi Ezike said not only are cases rising across the state, hospitalization rates are also up slightly. As of Tuesday night, 1,491 people were hospitalized with COVID-19, of which 355 were in intensive care units and 152 were on ventilators.  
The newly released guidance categorizes sports into three risk levels – low, medium, or high – based on the amount of contact between athletes and their proximity during play. According to the guidance, golf, tennis, bowling, baseball and gymnastics are among those designated as lower-risk sports; high-contact sports like boxing, competitive cheer and dance, martial arts, wrestling and football are considered higher-risk sports.
The guidance, which takes effect Aug. 15, also sets four levels of play based on the current public health conditions, though it's unclear which metrics will be used to determine those levels. In level 1, only no-contact practices and training are allowed. In level 2, intra-team scrimmages are allowed with parental consent for minors, but competitive play isn't allowed. In level 3, intra-conference, intra-EMS region or intra-league play is allowed as are state- or league-championship games for low-risk sports. In level 4, tournaments, out-of-conference/league play and out-of-state play are allowed.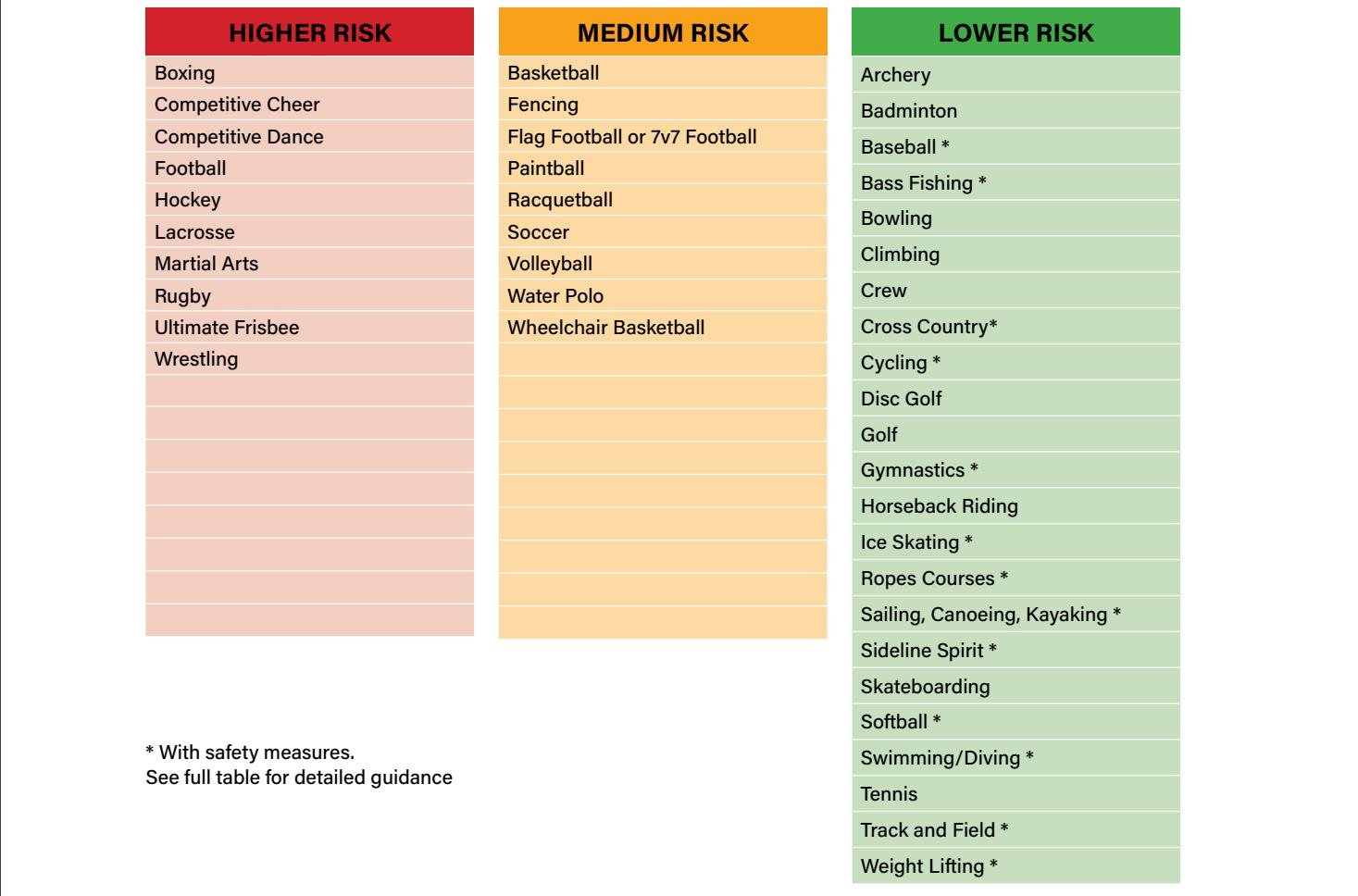 (Illinois State Board of Education, Illinois Department of Commerce and Economic Development)
Based on the current public health conditions, lower-risk sports can play at levels 1-3, medium-risk sports can play at levels 1 and 2, and higher-risk sports can only play at level 1.
The Illinois High School Association on Wednesday released a modified schedule for the 2020-2021 season due to the coronavirus pandemic, truncating fall, winter, spring and summer seasons. As a result, several sports will move to new seasons, including football, boys soccer and girls volleyball – all of which will move from the fall to the spring.
IHSA boys and girls golf, girls tennis, cross country and girls swimming and diving will remain fall sports, which are scheduled to begin Aug. 10 and conclude Oct. 24. The winter season is scheduled to run Nov. 16-Feb. 13, the spring season is slated for Feb. 15-May 1, and the summer season is set for May 3-June 26.
"This plan, like nearly every aspect of our current lives, remains fluid," said IHSA Executive Director Craig Anderson. "Changes may come, and if they do, we will be agile while putting safety and students first."
If there's a COVID-19 spike in the fall, Anderson says IHSA will do its best to allow the affected sports to be played during a later season, such as the spring season.
Schools conducting remote learning can participate in IHSA sports and activities, but Anderson acknowledges that not all schools may choose to participate. "We respect that," he said.

(Illinois State Board of Education, Illinois Department of Commerce and Economic Development)
According to state guidance, sports organizations should also make temperature checks available, monitor for symptoms of COVID-19, and keep attendance logs for contact tracing purposes. Anyone who is sick should not participate in sports. If multiple people have symptoms or test positive for COVID-19, coaches or organizations should alert the local health department, according to officials.
Indoor gatherings should include social distancing and be limited to the lower of two figures: a maximum of 50 people or 20% of the regular capacity of a space. Outdoors, multiple groups of 50 are allowed if 30 feet of space is maintained between groups for up to a maximum of 20% capacity of the space. Capacity limits apply to athletes, coaches, referees and spectators. Face coverings must be worn unless social distancing can be maintained, according to the guidance.
"There's no question the gathering limits make a lot of this very difficult if there's not some provision for added spectators," especially for indoor sports, Anderson said. "As a parent of a three-sport athlete, it's discouraging to think he may be out competing and I may not be able to attend and watch. I reflect with every parent across the state on how unfortunate that would be."
Athletic equipment, like bats and hockey sticks, should be cleaned between each use, according to state guidance. Other equipment, including personal gear, helmets, pads or gloves should only be used by one person and not shared, according to the governor's office.
And you can forget congratulatory high-fives or fist bumps, celebratory hugs, "go-team" hand raises and handshakes – those are prohibited per the guidance, which also bars spitting without a tissue.
"If sports were the only risk during this pandemic, we would've solved this problem a long time ago," Pritzker said. "We are far from out of the woods."
Both Pritzker and Ezike implored residents to wash their hands, watch their social distance and wear face coverings that keep both noses and mouths covered.
Of the state's 11 regions, six have had rising positivity rates for seven of the last 10 days, with the Metro East region dangerously close to having mitigations imposed by the state, such as closing bars and indoor dining options. The Metro East region has a 7.8% positivity rate, and per Pritzker's mitigation strategy, the state can implement additional restrictions once a region hits three consecutive days of an 8% positivity rate.
"We are asking all communities to look at what they're seeing and please identify what mitigation measure(s) you can implement to slow the spread," Ezike said. "We are still having to make sacrifices because the pandemic is not over."
While Pritzker warned of "danger signals" in neighboring states with double or triple the positivity rate of Illinois, he ruled out implementing quarantine orders, like the one Chicago Mayor Lori Lightfoot has implemented, which now includes Wisconsin.
Pritzker, a Chicago resident with homes in Racine and Lake Geneva, said he and his family "will follow the rules set out by the mayor."
---
Contact Kristen Thometz: @kristenthometz | (773) 509-5452 |  [email protected]
---