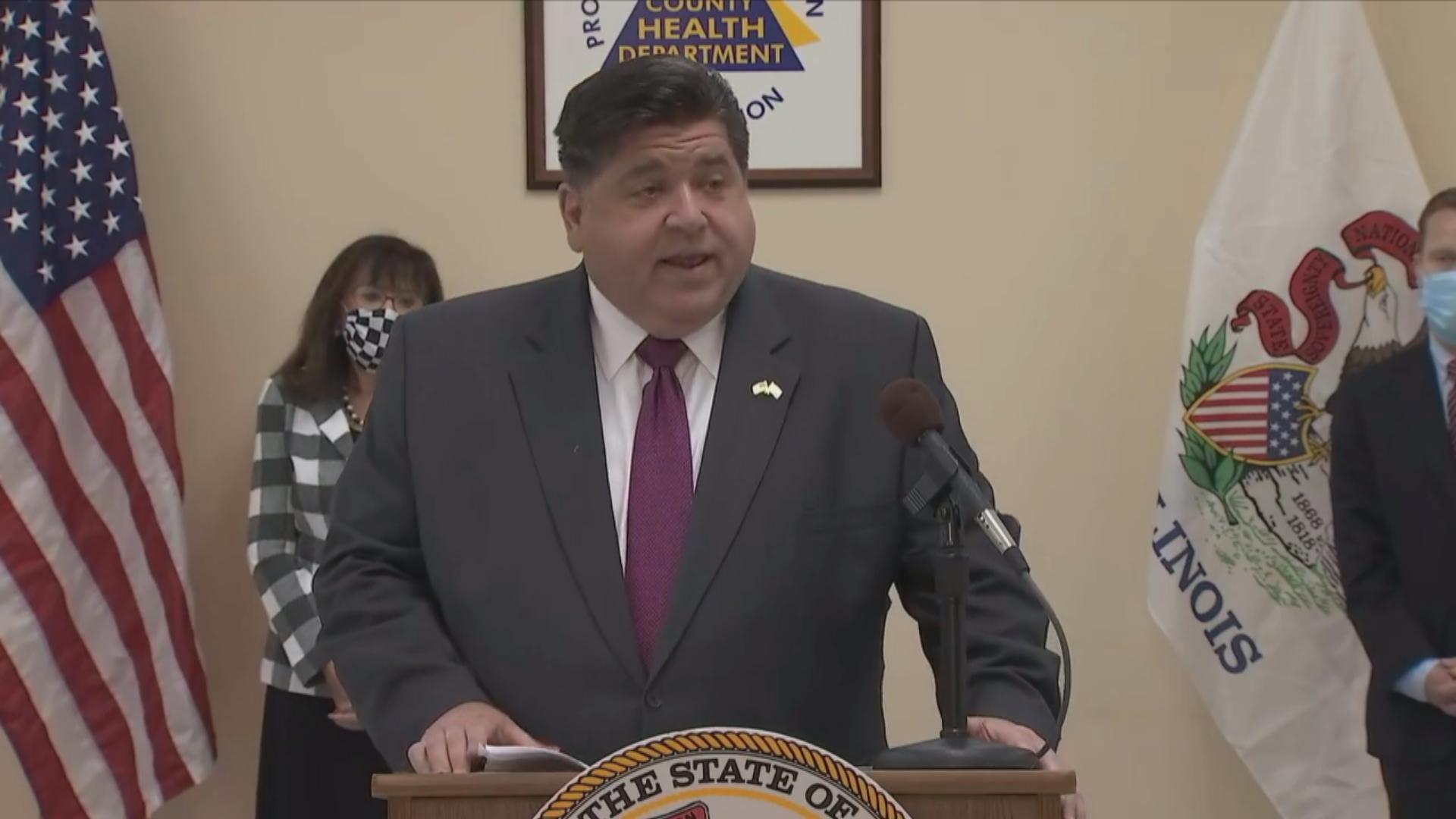 Gov. J.B. Pritzker speaks Monday, July 27, 2020 in Quincy, Illinois, about the coronavirus. (WTTW News)
For nearly a week, more than 1,000 new cases of COVID-19 have been reported in Illinois each day. The spike has prompted Gov. J.B. Pritzker to repeatedly urge residents to wear masks and practice social distancing.
"(The coronavirus) is not something we can just wish away. We have to act responsibly and collectively to protect the people that we love," Pritzker said Monday afternoon. "Wearing a mask is like wearing a seat belt. It's required and it saves lives."
On Monday, the Illinois Department of Public Health reported 1,231 new COVID-19 cases and 18 virus-related deaths since Sunday, bringing statewide totals to 172,655 cases and 7,416 deaths. The statewide positivity rate is now 3.8%.
As of Sunday night, 1,417 people were hospitalized with COVID-19, of which 350 were in intensive care units and 124 were on ventilators, according to IDPH.
"In other parts of the country, people are dying at alarming rates," Pritzker said, citing Florida, where 1,600 people have died in the past two weeks. "That can happen here again. … This is our moment to pull together to protect the progress Illinois has made since the beginning of the pandemic."
During a visit to Rock Island County, which has seen a rising positivity rate and shares a border with Iowa, Pritzker said, "Things are not moving in the right direction."
He implored people to wear masks, practice social distancing and to wash their hands frequently. "This is not going to be forever, but we need to make a mild sacrifice," the governor said. "This is the moment for everybody to step up to the plate."
The governor also called on businesses to adhere to capacity limits designed to stop the spread of COVID-19. Many bars are not adhering to the 25% limit, he said. "That is problematic. That's one area I'm deeply concerned about.
"We are counting on city and county health departments and leaders to do what they know is right to protect their residents and that includes ticketing or closing a bar when it exceeds limits," Pritzker said.
On Monday, Chicago offcials announced they had closed a Beverly bar for violating rules designed to slow the spread of the virus and fined five others.
Pritzker also called on residents to avoid entering bars, restaurants or any enclosed spaces that look crowded, and to answer the phone if a contact tracer calls them.
"We need you to answer the phone. Just pick up the phone. It's extraordinarily important you get contacted. It will help you stay healthy and make sure you don't infect anyone else if you carry COVID-19," he said.
---
Contact Kristen Thometz: @kristenthometz | (773) 509-5452 |  [email protected]
---