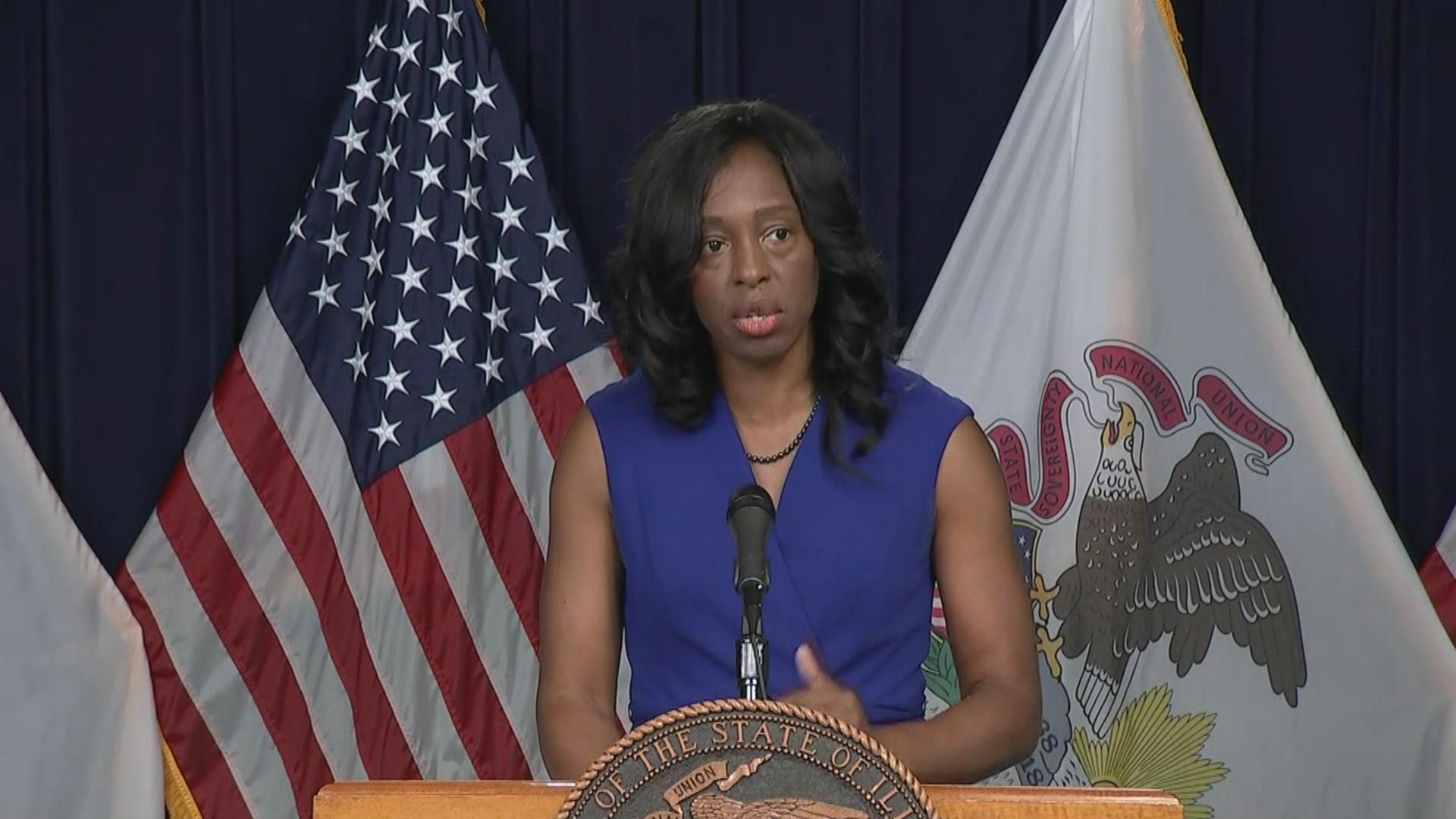 Illinois Department of Public Health Director Dr. Ngozi Ezike talks Wednesday, July 22, 2020 about the rise in coronavirus cases. (WTTW News)
On Wednesday, state officials announced 1,598 new COVID-19 cases in Illinois – the highest single-day increase reported in the month of July – and 23 virus-related deaths in the past 24 hours.
Statewide, the positivity rate has been rising slightly, reaching 3.2% on Wednesday. While that rate is relatively low, Gov. J.B. Pritzker warned the situation could change quickly, citing Arizona and Florida, where the number of cases is soaring.
Cases began rising in those states gradually before surging, according to the governor. "You can go from 3% positivity to Arizona's 23% positivity in the blink of an eye," he said.
Everyone must do their part to keep cases and positivity rates from soaring, Pritzker said. "The deadly nature of this virus is not a hoax. … Going out without a face covering endangers (others)," he said, adding there's nothing political about wearing a face covering. "The enemy is not your mask. If you're not wearing a mask in public, you're endangering everyone around you, so the enemy is you."
It's a common refrain for state officials desperate to keep residents safe and the state making progress in its fight against the pandemic.
Illinois Department of Public Health Director Dr. Ngozi Ezike compared face coverings to the protective — and nonpolitical — nature of seat belts. Furthermore, she said, if people don't wear face coverings and practice social distancing, that "will take us back."
Last week, health officials unveiled a plan to roll back restrictions if COVID-19 positivity rates spike. Now, the Metro East region in southwestern Illinois — one of 11 regions in the state — is "dangerously close" to seeing that happen. The positivity rate there has reached 7.1% — the highest in the state – but officials aren't taking action yet. 
Pritzker says he's spoken with leaders across the state and asked them to "clamp down" on outbreaks. "We're counting on city and local leaders doing what they know is right to protect their residents," he said. Residents should also hold their elected leaders accountable and demand they take action to curb the spread of COVID-19, the governor said.
While mitigation strategies my vary based on communities' needs and the nature of their specific outbreaks, wearing masks, washing hands and maintaining social distance are guidelines everyone should follow, according to Ezike.
"This is not about restricting freedom. This is about decreasing the transmission of the virus" and saving lives, she said. "Please, let us not reverse all the gains that we've made."
Pritzker ruled out a quarantine order for neighboring states, which he says have double and triple the positivity rate of Illinois. "This is challenging for us. We don't live in a country where you close the border between states," he said. Instead of a quarantine order, people need to continue pay close attention to public health guidance and wear a mask – even in places where it's not required.
"If you're not wearing a mask, you're doing it wrong," he said.
Contact Kristen Thometz: @kristenthometz | (773) 509-5452 |  [email protected]
---