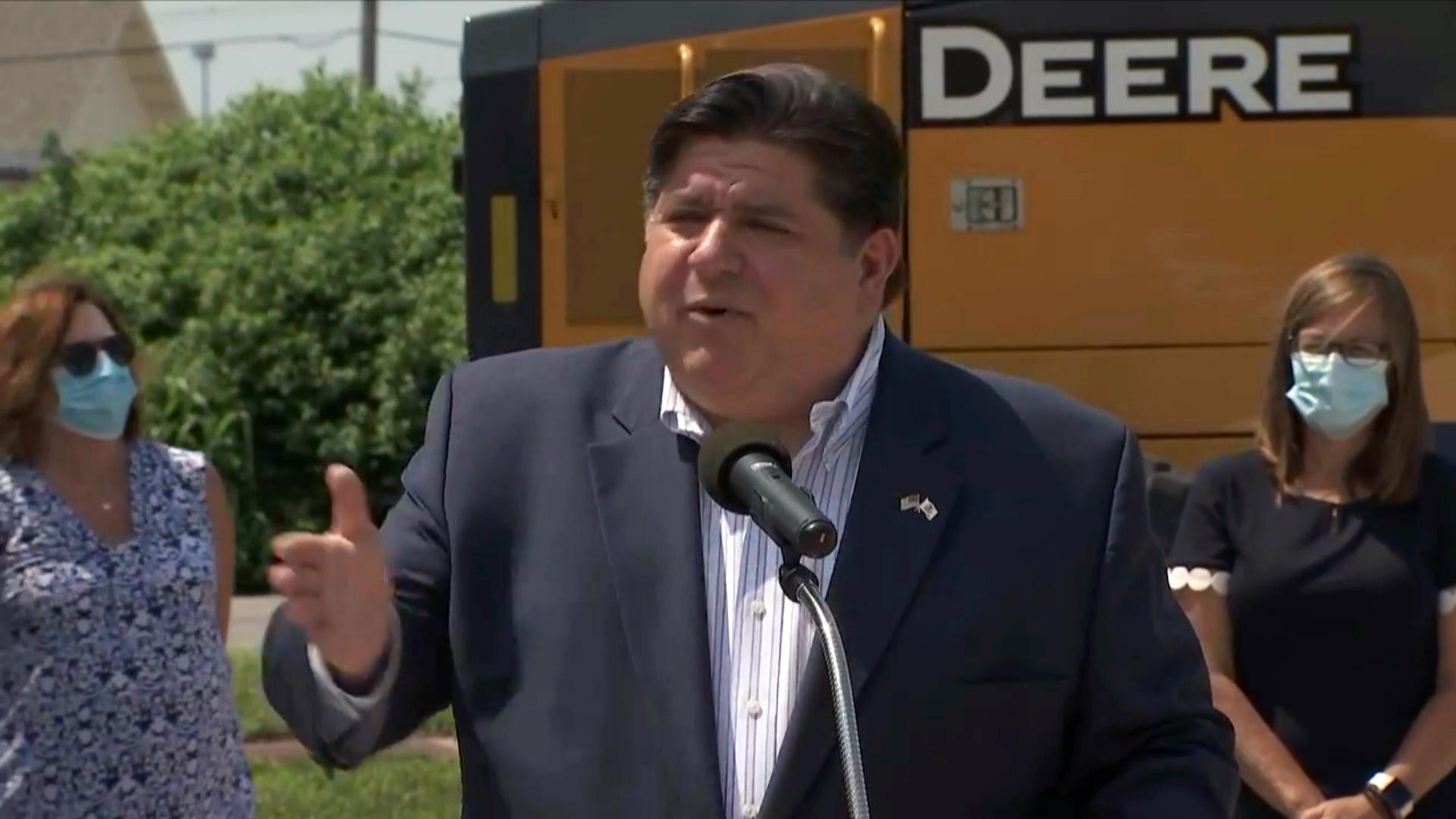 Gov. J.B. Pritzker speaks at a press conference Tuesday, July 21, 2020 in Collinsville, Illinois. (WTTW News)
Illinois has a plan in place to roll back restrictions if COVID-19 positivity rates spike. Now, one of the state's 11 regions is "dangerously close to that threshold," Gov. J.B. Pritzker said Tuesday.
According to Illinois Department of Public Health data, the Metro East region in southwestern Illinois has a positivity rate of 7.1% as of Monday — the highest in the state — fueled by seven consecutive days of positivity rate increases. 
The overall positivity rate in Illinois remains at 3.1% despite rising rates throughout the state, according to IDPH data.
The plan Pritzker outlined last week flags regions for possible intervention when they experience a sustained increase in positivity rates (based on a seven-day rolling average) and either a sustained seven-day increase in hospital admissions for coronavirus-like illness or a reduction in hospital capacity that threatens their ability to deal with a surge in cases.
Regions are also subject to additional restrictions if their positivity rates reach 8% or higher for three consecutive days. "The 8% is a fail-safe for the state to step in," said Pritzker, who has repeatedly implored residents to wear face masks.
The virus is still here, Pritzker said, citing rising cases and deaths in places like Florida and Texas as a cautionary tale. "This is no joke. This is no hoax. Metro East is at risk as is any area of the country of tipping over to the higher case and death counts we see in other parts of the country," he said.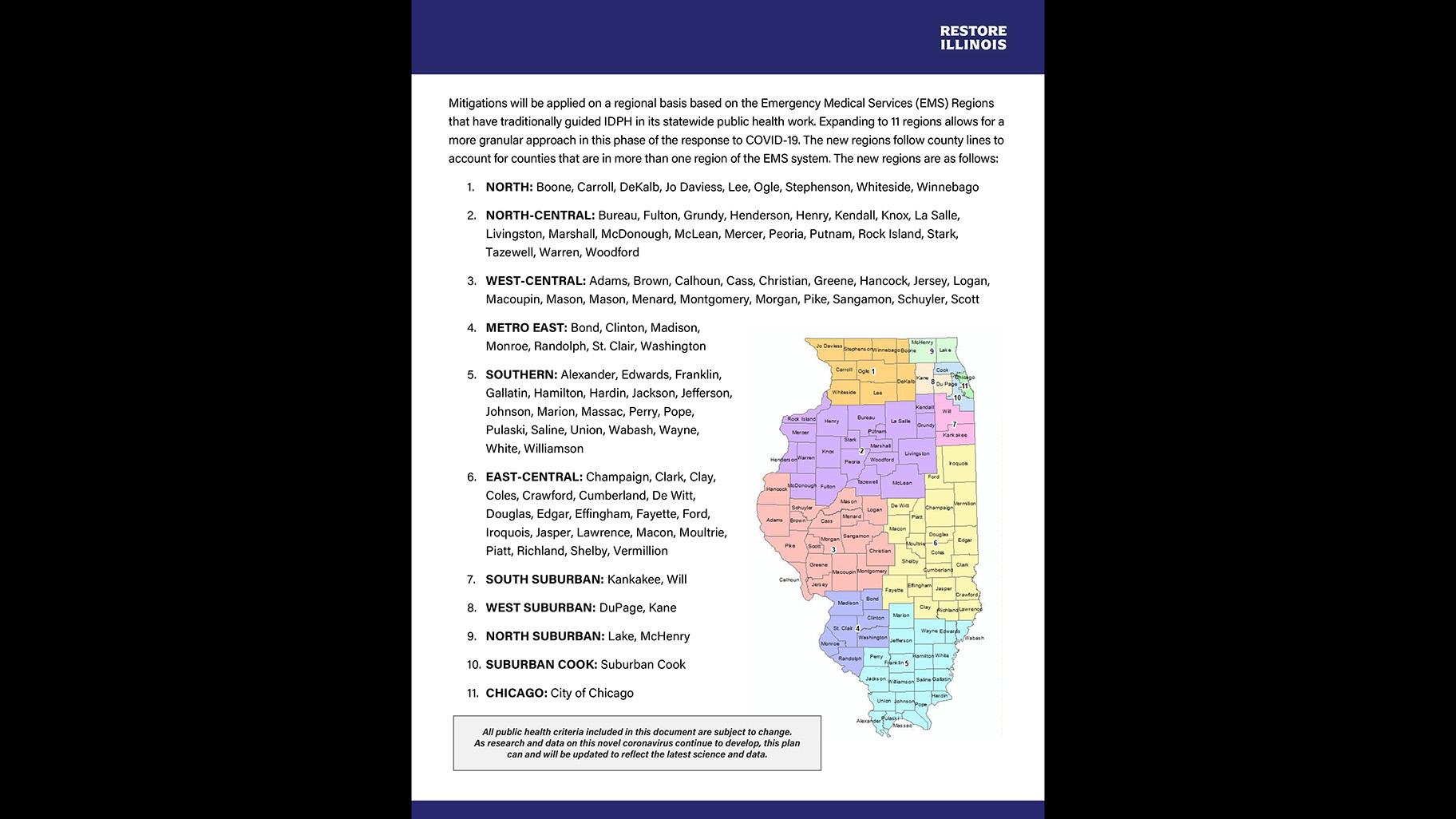 A map of Illinois' 11 regions. (Click to see full COVID-19 mitigation plan released by Gov. J.B. Pritzker.)
Officials said Randolph and St. Clair counties were the primary contributors to the rising positivity rate in the Metro East region, but noted "concerning trends and behaviors throughout the region," which includes counties that border Missouri, where mitigations are less strict.
"The virus knows no boundaries," Pritzker said Tuesday, urging residents to be responsible and follow IDPH guidance, like wearing a mask even when visiting other states that don't have mask mandates.
Health officials reported 955 new COVID-19 cases and 23 virus-related deaths on Tuesday, bringing statewide totals to 163,703 cases and 7,324 deaths.
As of Monday night, 1,466 people were hospitalized with COVID-19 and of those, 320 were in the intensive care unit and 142 were on ventilators, according to IDPH.
Officials also reported cases in 27 staff and five residents of the Chester Mental Health Center in Randolph County, as well as seven cases at Shapiro Developmental in Kankakee County. According to IDPH, infection control measures have been taken at these facilities for residents and staff.
Meanwhile, the Illinois Department of Juvenile Justice Center IYC St. Charles facility is reporting 16 new COVID-19 cases in staff and three among youth, prompting increased mitigation and infection control, according to IDPH.
Contact Kristen Thometz: @kristenthometz | (773) 509-5452 |  [email protected]
---