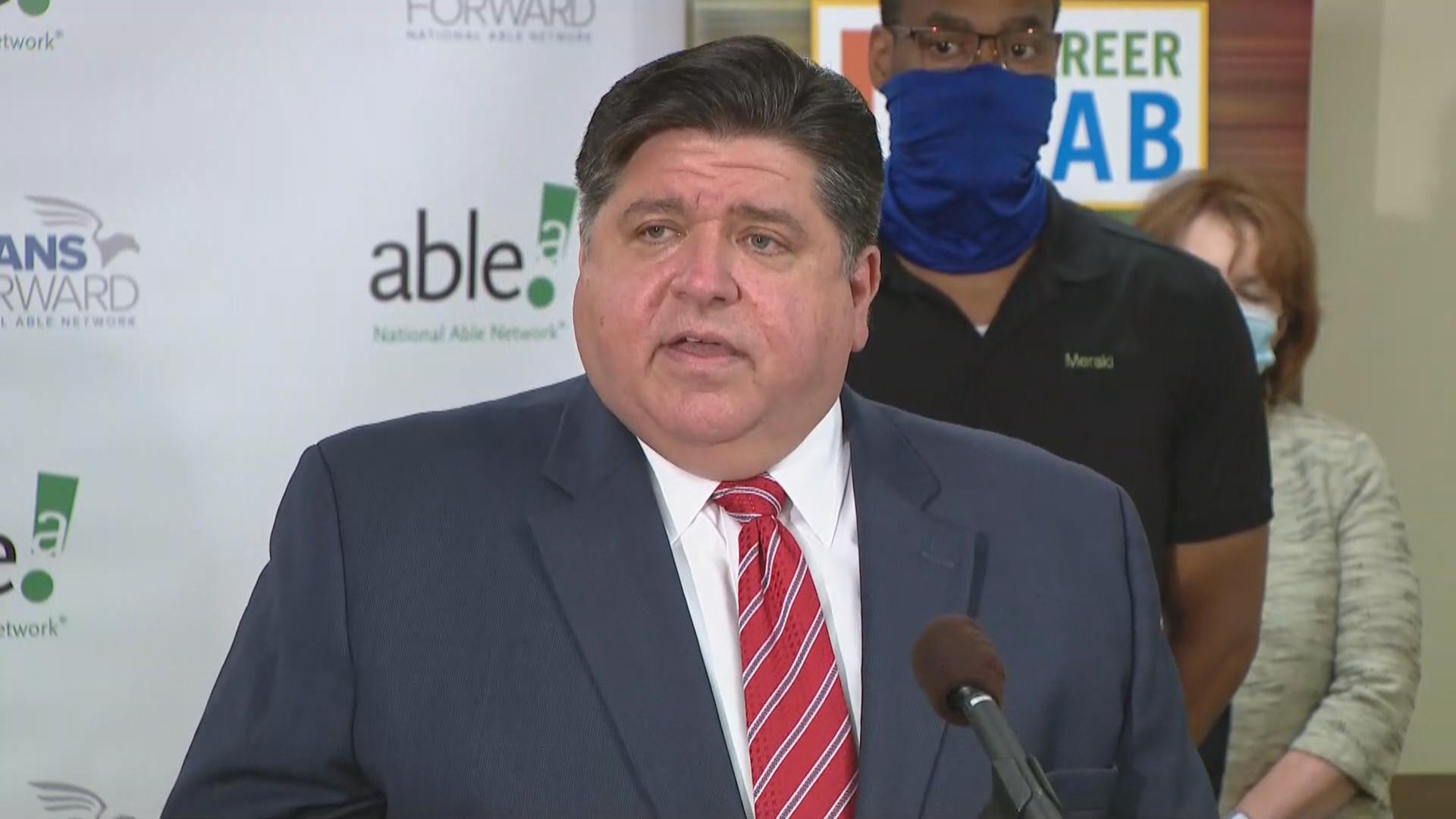 Gov. J.B. Pritzker announces an apprenticeship program expansion on Tuesday, July 14, 2020, in Chicago. (WTTW News)
UPDATE: Pritzker Outlines Plan that Would Trigger Additional COVID-19 Restrictions
As coronavirus infections surge in many parts of the country, Illinois Gov. J.B. Pritzker is keeping a close watch over public health data for the state, which shows an uptick in COVID-19 cases in recent days.
"We are watching these numbers very, very closely," Pritzker said Tuesday. "I will not hesitate to reimpose some mitigations if (we're) seeing numbers moving upward. My concern again is all about the health and safety of the people of Illinois."
The state's Restore Illinois plan, released in May, allows for moving the state into earlier phases if data shows a "sustained rise in positivity rate, sustained increase in hospital admissions for COVID-19 like illness, reduction in hospital capacity threatening surge capabilities and significant outbreak in the region that threatens the entire health of the region."
Pritzker declined to provide details Tuesday about the specific metrics that could trigger a rollback — including what positivity rate would be considered too high. As of Monday, the state's positivity rate is 3% and has remained relatively stable despite a rising number of reported infections.
Video: Chicago Alds. Matt Martin and Patrick Thompson talk about the uptick in COVID-19 cases in the city.
But Pritzker did say all options are on the table in terms of reimposing restrictions. "Let me be clear: All of the things that have been part of our Restore Illinois plan that have reopened in phases are things that we look at" in terms of reimposing restrictions, he said.
That includes allowing restaurants to offer indoor dining and bars to reopen. Chicago officials on Monday announced they had shut down a brewery and cited six other businesses for violating safety measures aimed at curbing the spread of COVID-19. The virus has infected a rising number of 18- to 29-year-olds in recent weeks, many of whom are likely going to bars and acting unsafely, according to Pritzker.
"They may be thinking as young people that they are invincible that they can't possibly catch it. That's not the point. You'll be actually spreading it," he said. 
Young people need to remember to wear masks, wash their hands and watch their distance, he said.
Despite a surging number of cases in other states, Pritzker says he is not considering a statewide two-week quarantine order for travelers from states with COVID-19 hot spots.
Chicago already has such an order and the city is home to the state's major airports, which means many travelers will be subject to the city's order. "I think the mayor has done what I think she thought was the right thing to do to manage the inflow for the potential of COVID positive people to the state of Illinois," Pritzker said.
Contact Kristen Thometz: @kristenthometz | (773) 509-5452 |  [email protected]
---