It was while out at an estate sale last September that Chicago artist, Shannon Downey, found an unfinished quilt and knew she had to complete it, but would need help.
Before the coronavirus pandemic, we caught up with Downey to learn more about how a project known as Rita's Quilt brought women from around the country together.
Rita Smith of Mt. Prospect, Illinois was 99 years old when she started a quilt of the United States. She died before she could finish it, and it ended up at an estate sale.
"When I walked in, there was this absolutely gorgeous hand embroidered map of the U.S. on the wall with all of the state flowers, and I floated over to it and took it off the wall," said Downey. "As I started looking at it, I was like wow, this woman was an amazing stitcher."
With a U.S. map at the center, the quilt also called for 50 unfinished blue stars, as well as 50 unfinished states' official state birds and flowers all on individual hexagons. Downey assisted me in creating my own star, just to get an idea of how much work had to be done. Downey decided in order to finish the quilt she would need help. So she put out a call on Instagram.
"Within 24 hours, 1,000 people had not just said, 'I'll do it.' But like, 'if you don't give me Colorado I'll be so mad," Downey said.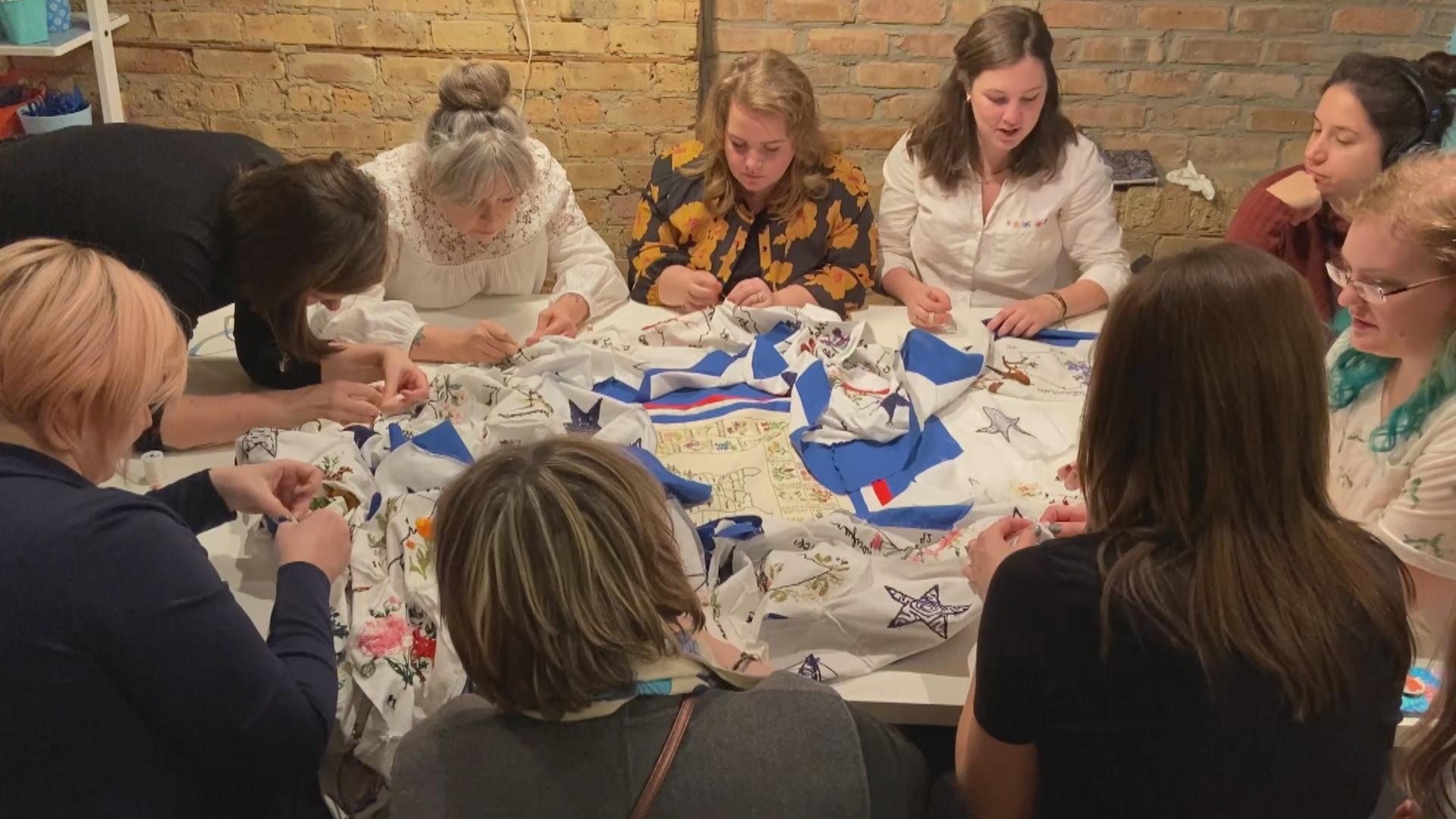 Downey sent hexagons to women in more than 30 states and 2 Canadian provinces and in nearly 3 months, all of the hexagons were complete. The last step was bringing the pieces together to form the quilt.
"Having 30-35 different sewers come and we spent 8 hours in this space hand piecing the entire quilt (together) in one day," Downey said. "It was amazing I was like, nobody flexes harder than quilters."
For the women that were able to make it from around the country, this piecing party in December was about more than the quilt finally coming together. It was about finally meeting the members of this new community at Wishcraft Workshop.
"I was talking to the people, and I can remember, I was following the stories like I'm going to try this with the bird or here's the progress on this," Melanie Patrick said. "So, I remember seeing, I was at the table with Tiffany who did Minnesota, and was like, 'Oh I remember you!'"
"I just wanted to extend another way of putting beauty into the world as well as supporting women and supporting crafts and craftivism," said Sarah Evans of Skokie. "Because I think it's an important way of using our hands to tell our stories."
"Honoring this aspect of what is women's work and watching it change through the resurgence of craft and activism, and having it come together," said Kristina Betke of Wishcraft Workshop. "People are telling stories through textile art and creating opportunities for other people to collaborate with each other."
It's this combination of craft and activism, or craftivism, that Downey is currently fulfilling with her road trip across the country where she'll show Rita's Quilt. Through small meetings and virtual stitch-ups, she hopes to foster necessary conversations with art as the mediator.
"That's the most exciting part. I just want you to show up and see what was possible and how all these people who have very different beliefs and understandings of things in the world, still came together and did this thing and now we're all deeply connected, and isn't that what we're trying to do? Right? We're trying to bring these folks together," Downey said.
The finished quilt and accompanying exhibit were on display at the National Quilt Museum in Paducah, Kentucky one full day before the pandemic hit and they were forced to close. It will remain there until September before joining Shannon Downey on her "Badass Cross Stitch Tour," which she plans to be on for at least a year.
Follow Angel Idowu on Twitter: @angelidowu3
Angel Idowu is the JCS Fund of the DuPage Foundation Arts Correspondent.
---