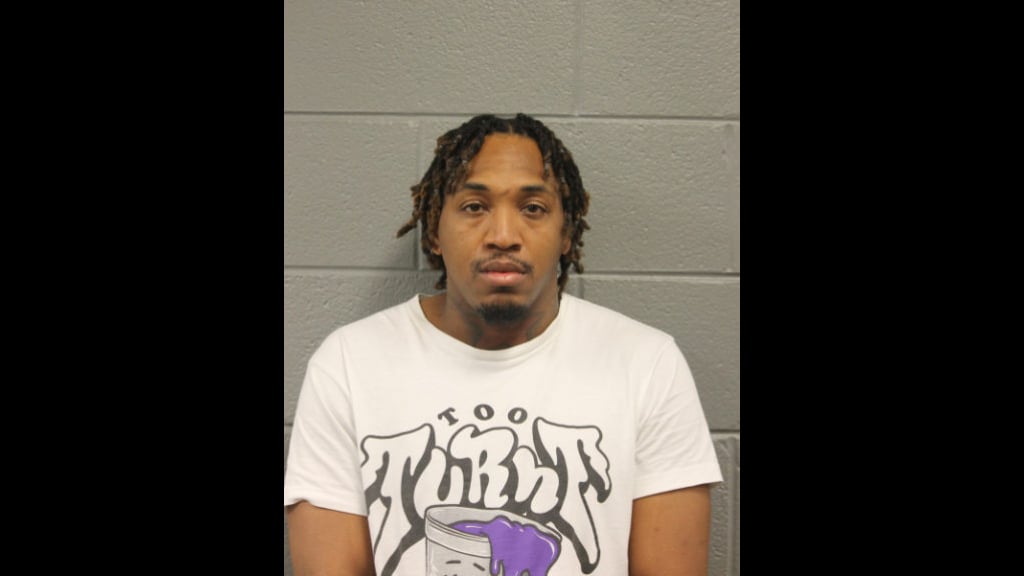 Reginald Merrill (Chicago Police Department)
A Cook County judge has denied bail for a Chicago man believed to be the getaway driver in a gang-related shooting on the Fourth of July that left a 7-year-old girl dead in the city's South Austin neighborhood.
Reginald Merrill, 33, will be held in jail on charges of first-degree murder and aggravated battery following his first appearance in court on Tuesday, three days after surveillance footage allegedly captured three men getting out of his vehicle and firing "numerous" shots in the 100 block of North Latrobe Avenue.
Natalia Wallace, 7, was struck in the forehead and killed. A 32-year-old man who authorities believe was the intended victim was shot in the right ankle and survived.
During Tuesday's bond hearing, Cook County Judge Mary Catherine Marubio said she believes Merrill poses a "real and present threat to the safety of the community." 
"Anybody who was on that street was in harm's way," she said.
The shooting occurred just after 7 p.m. Saturday, according to Cook County Assistant State's Attorney Kevin DeBoni, as Wallace and other children were playing in the parkway outside her grandmother's home at 152 N.  Latrobe Ave.
DeBoni claimed a white 2016 Subaru Legacy can be seen on surveillance video driving through that block and slowing down before three men exit and open fire at the 32-year-old victim and another man who were on the sidewalk. The gunmen then get back into that vehicle, which can be seen driving away from the scene.
Two hours later, police located Merrill in the same vehicle, which was registered to his girlfriend, and placed him into custody. He allegedly told investigators he was the only one with keys to that car and identified it on surveillance images from the scene of the shooting.
However, he claimed he wasn't in the car and was instead attending a backyard barbecue elsewhere at the time of the shooting. DeBoni claimed they were able to "break" that alibi, but did not give more details during Tuesday's hearing.
Chicago police detectives interviewed the second adult victim at Mount Sinai Hospital, DeBoni said, and learned that the brother of one of the alleged shooters had been shot and killed just days earlier in a gang-related conflict on June 29.
DeBoni said the same suspects in the July 4 shooting believed the person responsible for the brother's killing lived on Latrobe, and they had "shot up" another alley on that street just two days earlier in retaliation.
Investigators obtained surveillance footage that clearly shows the three men's faces, DeBoni said. But Merrill's attorney Nick Burris noted that his client, believed to be behind the wheel, could not be positively identified through any footage. Burris also argued there's no evidence to show Merrill knew what was going to happen when the other three armed men got out of his vehicle.
Marubio disagreed, repeating from the prosecutor's proffer allegations that the three men who exited Merrill's car had guns showing as they got out, and that Merrill had slowed down and waited for the men to get back into his car before leaving.
'A chance at life'
Studious and sweet, Wallace was preparing to start second grade in a few weeks at a Chicago elementary school. Her father, Nathan Wallace, said he'd hugged his daughter minutes before the shooting.
"I just wanted her to have a chance at life," he said. "Whatever she wanted to do, I was going to be there no matter what. To see my daughter on the table with a gunshot wound to the forehead, that'll change somebody's life."
A pair of GoFundMe campaigns, set up by Wallace's father and cousin, have collectively raised more than $6,000 as of Tuesday afternoon for funeral and other expenses.
Teachers remembered Natalia as shy yet diligent as she completed remote lessons at the end of first grade.
"Sometimes, her quiet spirit gave her the strength to lead the reading lessons within her group, and she soared when it came to doing math," said a statement from the school. "During e-learning, Natalia was always present and participating. At the end of each class session, she would type in the chat box, 'I Love You.'"
The Associated Press contributed to this report.
Contact Matt Masterson: @ByMattMasterson | (773) 509-5431 | [email protected] 
---