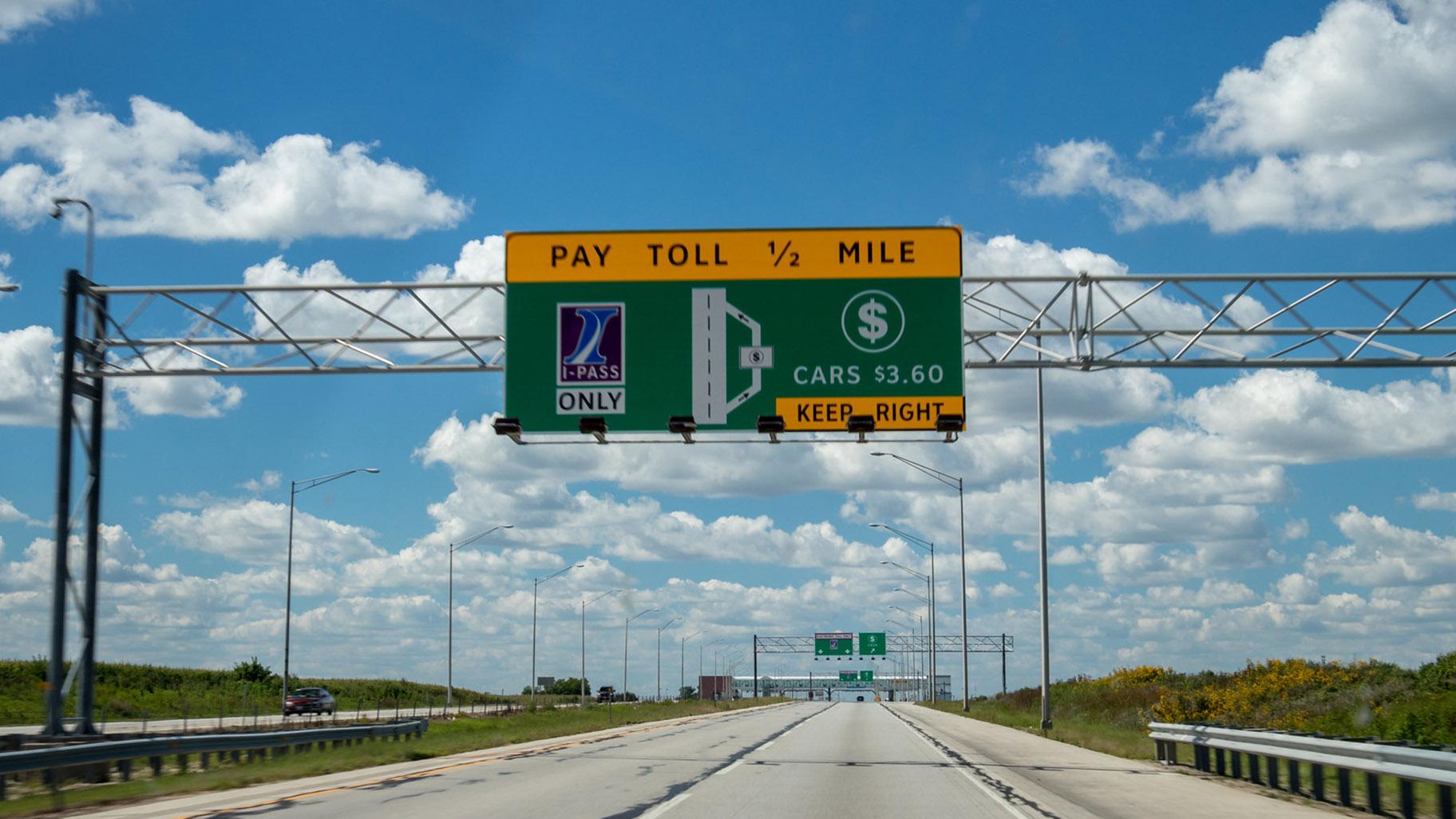 (Michael Leland / Flickr)
Before the coronavirus pandemic, the Illinois Tollway projected its revenues in 2020 would reach $1.5 billion, a 3% increase from 2019.
But with people staying at home due to the coronavirus, that means fewer drivers on the roads – including the tollways.
According to figures provided Monday by the Illinois Tollway, tollway transactions (a transaction occurs each time a vehicle passes a toll collection point) are down 27.6% so far this year.
"We were up the first two months of the year," spokesman Richard Bossert said. "Then March hit."
Gov. J.B. Pritzker issued his first executive order requiring residents to stay home save for essential business on March 20.
Bossert told WTTW News that in April, commercial toll transactions dropped 15% from the agency's projections; passenger transactions declined by 55% — meaning that only 45% of the drivers the tollway was expecting traversed its collection points.
Money paid in tolls is used to repair and maintain stretches of highways, including the Tri-State Tollway (I-94/I-294/I-80), the Reagan Memorial Tollway (I-88) and the Veteran's Memorial Tollway (I-355). 
Rates vary from 30 cents to more than $10 based on the type of vehicle, the toll plaza, when the vehicle passes by and how the tolls are paid: those who use an I-Pass electric auto-deduction device get a break versus drivers paying tolls in cash. 
Bossert said the Tollway is slowly recovering. Passenger transactions are down by a quarter while commercial transactions are down roughly 5% from projections.
"Every week's been a little better," he said.
Transactions don't directly translate to traffic volume, but Bossert said the figures roughly equate.
They also doen't directly match receipts.
The Tollway had previously disclosed that toll collections during April fell from projections by $52 million, but on Monday afternoon Tollway officials were unable to immediately provide updated figures.
At the time, the Tollway told the Chicago Tribune that the agency was not cutting back on road projects, nor was it laying off employees.
As the Tollway is seeing declines in the tolls on which its budget largely depends, it's taking a gentler approach toward those who drive by a collection point without paying. 
Drivers have long been able to go online during a two-week grace period to pay any skipped tolls without additional fees. Beyond that, customers would be charged a $20 initial violation fee.
A program approved by the Tollway board in late June gives customers a significant break: Through this year, owners of passenger vehicles will be mailed an invoice with a $3 fee for each unpaid toll.
Customers need not pay any additional fines or fees for unpaid tolls incurred between March 9 through June 25, as part of relief efforts.
Meanwhile, those who've been holding out or who don't have the money to pay past violations have the rest of 2020 to pay a reduced amount. Outstanding violations that had been $20 to $50 per unpaid toll will be reduced to a $3 fine per unpaid toll.
The Tollway is banking on the approach to be revenue-neutral, in part through incentivizing those with unpaid violations to pay them during the six-month grace window.
Newly racked up fines for unpaid tolls will not escalate as quickly.
"These measurers take a holistic approach to realigning the way customers interact with the Illinois Tollway, and lay the foundation for future changes to ensure the Illinois Tollway system works for everyone," the Tollway's Director Jose Alvarez said during the June board meeting, according to a transcript provided by the agency. "We've found that the quick escalation of fines was counterproductive — not only for the customer, but also to our own operations."
Alvarez said more changes are forthcoming.
The state tollway board next meets July 16.
Follow Amanda Vinicky on Twitter: @AmandaVinicky
---