Chicago's Auburn Gresham neighborhood is a majority Black, working-class community that at the beginning of the pandemic was considered a hot spot for cases of COVID-19; the neighborhood saw the first coronavirus death in Illinois.
It has recently become a hot spot for some of the city's increasing violence, too.
The Fourth of July weekend is notoriously a violent one in Chicago, and data shows violence is already on the rise in the city. At St. Sabina parish, a Demand Justice rally Thursday night called for an end both to violence committed by community members and by police. Outside St. Sabina, a giant mural on the sidewalk spells out "Demand Justice" in massive letters. For pastor the Rev. Michael Pfleger, justice means resources for the community.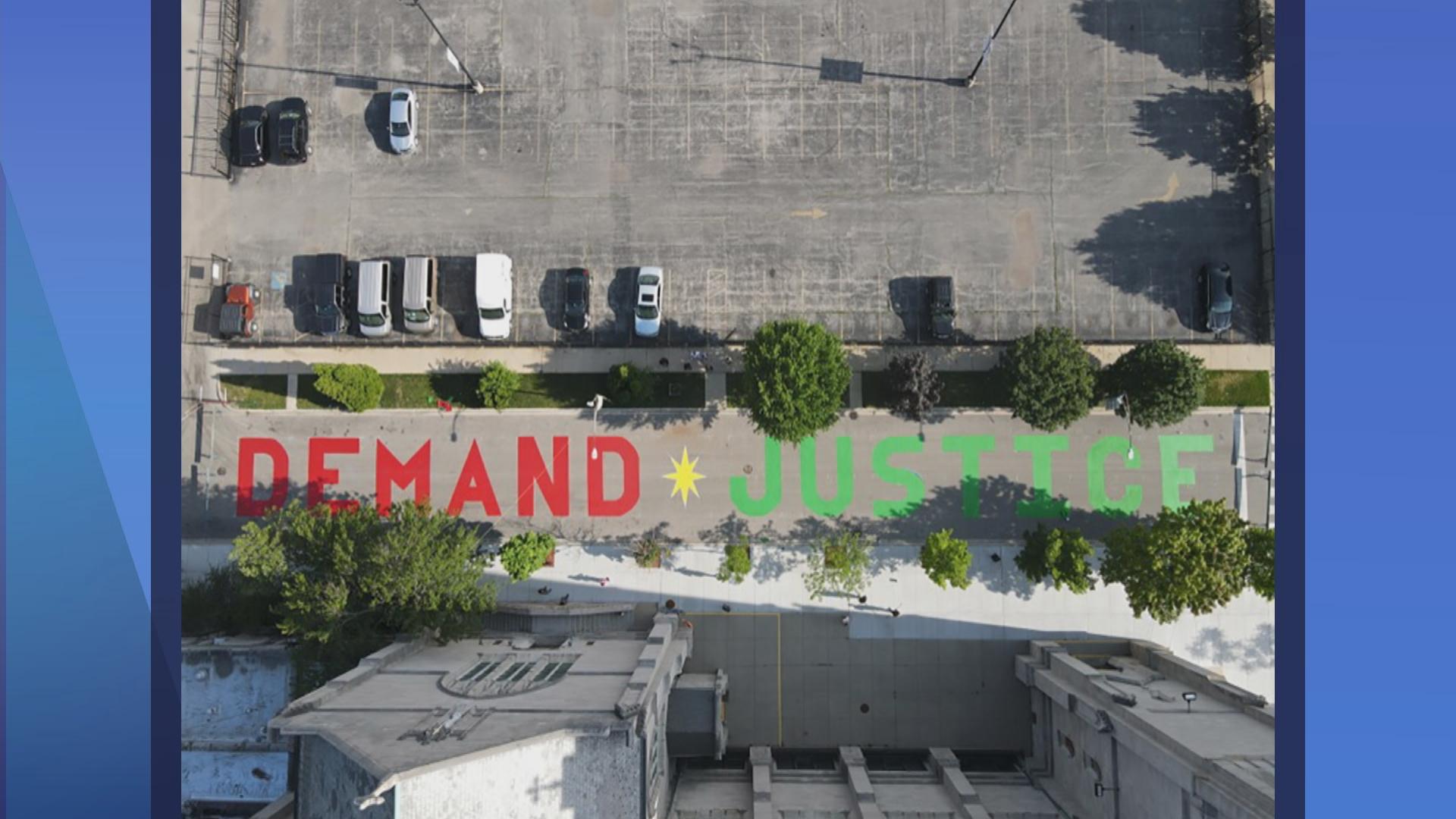 "We want investment of jobs, of economic development, good schools, access to health care, access to food, we want help with housing in the neighborhood," Pfleger said.
The Chicago Police Department plans to put 1,200 additional officers on the street each day of the holiday weekend in an attempt to stem the violence. And while Mayor Lori Lightfoot had a stern warning Thursday afternoon for anyone thinking about picking up a gun, she also said solving the city's violence will take more than police officers.
"If we are truly to reverse the epidemic of gun violence and make every neighborhood safe and secure we need to continue working to reverse the circumstances that underpin it. The circumstances that lead people to feel like their only option is the streets and gangs and drugs. That means reversing the generations of inequity, of poverty, lack of hope, and despair," Lightfoot said at a press conference.
Another strategy: putting outreach workers on the street to offer alternatives to young people who are at risk of getting caught up in violence.
"Whatever we can do to take their mindset off what they normally do, where they end up in trouble or violence," said Carlos Banks of Target Area Development Corporation.
Video: Our full interview with Todd Belcore of nonprofit Social Change.
But Todd Belcore of nonprofit Social Change says to turn around troubled areas requires rethinking the city's policy – not doing more of the same.
"I think to add 1,200 police officers is a continuation of Chicago's tradition of investing in incarceration versus liberation," Belcore said. "If you're worried about public safety, if you're worried about food, you're worried about shelter, that's not freedom."
Earlier on Thursday, Social Change helped to organize a food giveaway at St. Sabina, which Belcore said highlighted the need in the community.
"The turnout was both heartening and heartbreaking," Belcore said. "We had a three-hour event, but in half the time, 500 families' worth of food was distributed."
Video: Our full interview with Carlos Nelson of the Greater Auburn-Gresham Community Development Corporation. 
Carlos Nelson knows the need in the community well. He leads the Greater Auburn-Gresham Community Development Corporation and was one of the area leaders sounding the alarm about the dangerous lack of testing earlier on in the coronavirus pandemic.
"We've known all along that this community has been a health and wellness desert. The fact that we were all screaming for a testing site in this community where the very first death in the state of Illinois occurred two and a half blocks from where we're standing was really a travesty," Nelson said.
Now, testing is more widely available in Auburn Gresham, but Nelson says there are more health needs to address.
Earlier this week, Nelson's organization landed a big investment for the community: $4 million from the city's Invest South/West initiative for a "healthy lifestyle and technology hub." Nelson says the building, when completed, will be a full-service health center with physical, oral, and mental health services, and will also feature a location of the Black-owned restaurant Mikkey's with vegan and vegetarian food.
"Once fully completed we'll have up to 150 living wage jobs in that building right near 79th and Halsted," Nelson said.
---
Community Reporting Series
"Chicago Tonight" is expanding its community reporting. We're hitting the streets to speak with your neighbors, local businesses, agencies and leaders about COVID-19, the economy, racial justice, education and more. See where we've been and what we've learned by using the map below. Or select a community using the drop-down menu. Points in red represent our series COVID-19 Across Chicago; blue marks our series "Chicago Tonight" in Your Neighborhood.
---