A man wearing a dark shirt and a hat sprays a liquid over the counter of a looted Ulta Beauty store in Brighton Park and ignites the fluid with a match. A group of men start a fire inside the back of an open CTA truck downtown. Two men enter a sporting goods store in Englewood and set fire to papers that had been scattered across the floor.
These are among the 18 persons of interest the U.S. attorney's office and Chicago Police Department say they're seeking to identify in connection with 53 separate arsons set during a five-day stretch of protests between May and June after the killing of George Floyd at the hands of Minneapolis police.
The groups, joined also by the Bureau of Alcohol, Tobacco, Firearms and Explosives, released photos and surveillance footage of several of these suspects in hopes that the public can assist in their identification and arrest.
"Solving these fires and rebuilding our neighborhoods is important to me and I know it's important to you," Kristen deTineo, ATF special agent-in-charge at the Chicago field office, said during a press conference Tuesday. "As I said before, we are not finished. I implore you to act, stand up with the community that has stood up for you and be our partner."
Ten videos of suspected arsons can be seen on the CPD's website, alongside a link to submit tips anonymously to the department.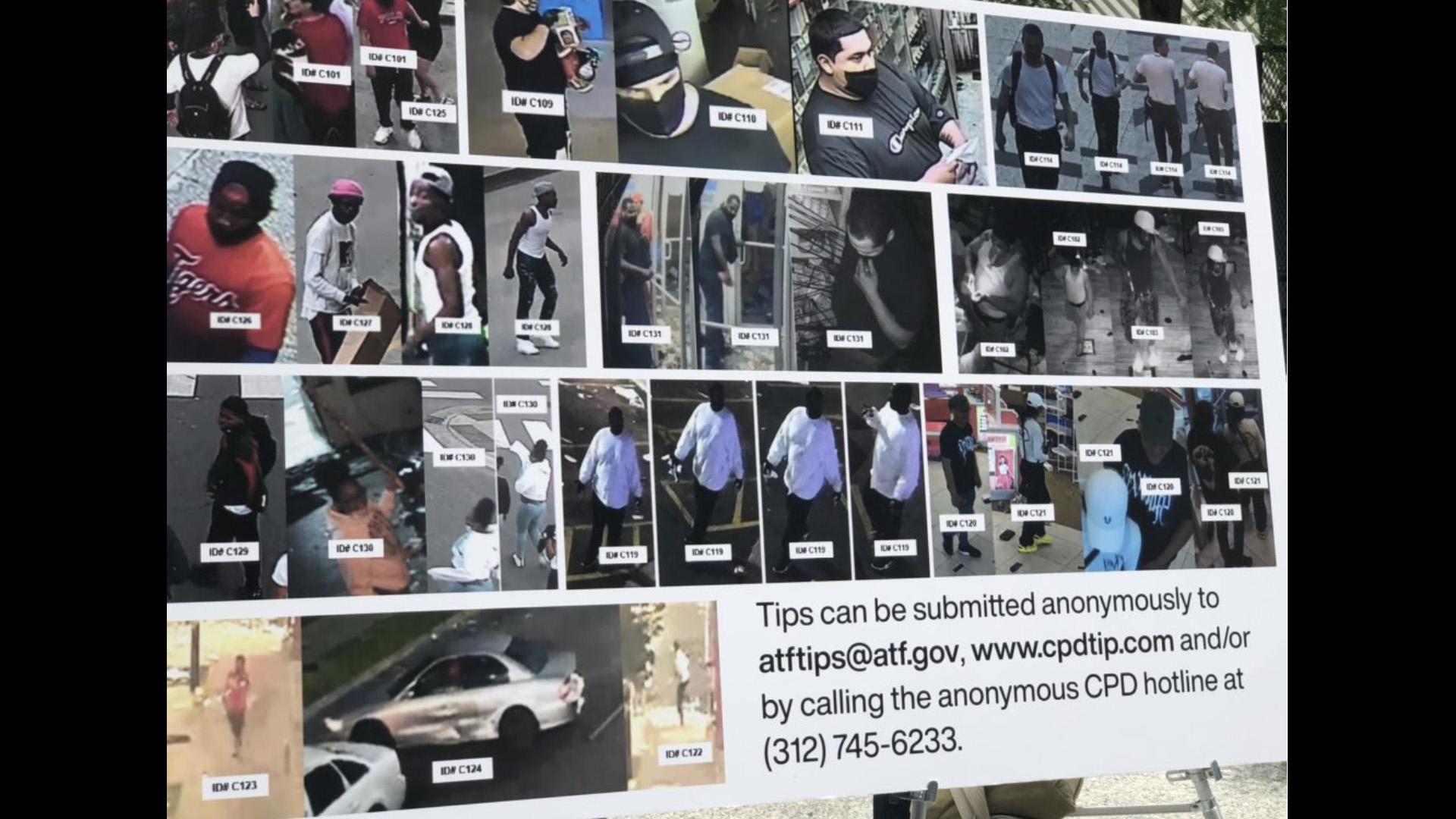 (Bureau of Alcohol, Tobacco, Firearms and Explosives)
The fires caused "extensive damage" to businesses, city vehicles and other properties across the city, according to John Lausch, U.S. attorney for the Northern District of Illinois. Beyond these 53 incidents, Lausch said other arsons are also under investigation, as are instances of rioting, civil disorder and looting during the widespread protests.
All of the cases occurred between May 30 and June 3, the height of protesting in Chicago following Floyd's killing on May 25.
Chicago police previously announced they had arrested more than 1,200 people during protests in the final weekend of May. More than half of those arrests were related to looting and destruction of property.
"Business owners throughout Chicago saw their hopes and dreams go up in flames with these fires," Police Superintendent David Brown said Tuesday. "Communities have also suffered. Not all of these businesses will reopen. Many will remain blighted for years to come."
Federal prosecutors have already filed charges in cases tied to that weekend, including against a Galesburg, Illinois, man who allegedly brought homemade bombs to throw at police during protests in both Minneapolis and Chicago.
Lausch said anyone viewing the videos should take care to look at the suspect's faces, hair, tattoos and any other identifying marks they may have on them.
"All sorts of things, we are looking for information about," he said. "I would ask anyone to look at everything."
Contact Matt Masterson: @ByMattMasterson | [email protected] | (773) 509-5431
---