The intersection of 71st Street and Jeffery Boulevard was once described as the main artery of the South Shore neighborhood, but years of disinvestment — and the blight that follows — changed that.
Chicago artist Dorian Sylvain decided to reclaim the corner.
"We feel that this corner is such an important intersection for the community, the children, the seniors, the neighbors that lives here; that reclaiming it artistically doesn't change the fact that this building is still abandoned, but it does tackle the psychological stress of seeing abandoned properties everywhere you look," she said.
Mural Moves, the campaign created by Sylvain and her artistic children, has been working to help beautify Black- and Brown-owned businesses during the pandemic.
"I love working with them. But it's also about passing down skills, passing down legacy, passing down ideas of citizenship and how we as artists have commitments to our neighborhood," Sylvain said.
They invited artists from the neighborhood to volunteer their time and invest in their community.
"A lot of our neighborhoods are in the condition that they're in because they are neglected, especially in the arts," said artist Marcus Alleyne. "I use my art as a form of protest. I think my slogan is, art is my weapon. I may not be out there on the front lines fighting. I just feel like this is my way of showing my solidarity with the movement to help advance the culture to the level it's supposed to be."
The project offers an opportunity for anyone to come out and share their story. That's how 10-year-old Ashe Williams ended up contributing to Mural Moves. She was just walking down the street with her parents and decided to stop.
"I just hope they like it if they want to," Williams said of her creation. "But they don't have to like it."
Sylvain's son Kahari says it's interactions like these that speak to the necessity behind their work.
"Cultivating younger artists is really important and mentorship and having people that have experience that you can talk to about it, is just a big part of the game," he said.
With the help of a few students, art teacher Juarez Hawkins created a piece that references a poem by Paul Laurence Dunbar.
"We wear the mask that grins and lies. So that's really applicable to what we're going through now," Hawkins said. "As people of color are facing really what they've been facing for the past 300-400 years, but now it's like the scab is ripped off publicly. But at the same time it's like we always have to keep our cool and keep our calm and find ways to survive and thrive in spite of all the crazy."
"It brightens your spirit, it makes your spirit feel a little brighter you know," a South Shore resident said as she walked by.
For Arlene Turner-Crawford, it was about paying tribute to late civil rights activist Dr. Conrad Worrill with a phrase that she believes embodies his work. 
Candace Hunter continued a series she started when the pandemic began, titled "Brown Limbed Girls."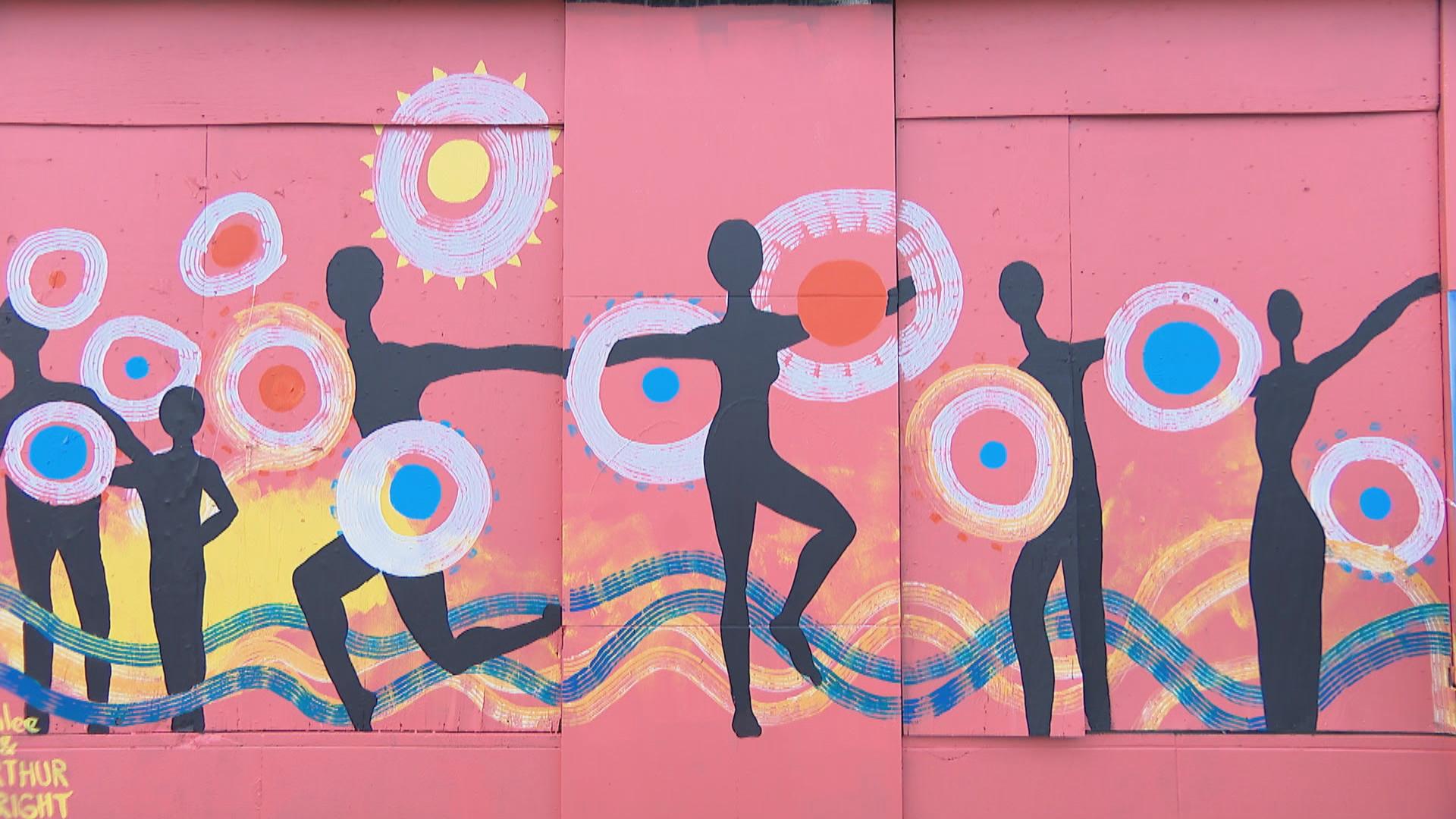 (WTTW News)
"The figures in the piece are just about joy, about sunshine and life and loving being in the skin they're in," Hunter said.
 It's this message and many others shared at this intersection that reflect the long-term impact of Sylvain's mission.
"We all just want to be heard. Not everybody has the capacity to draw beautiful things," she said. "Sometimes people just want to write their name on the wall. But it's about giving people that platform, giving people an opportunity that doesn't feel intimidating."
Note: This story was originally published on June 29, 2020.
Follow Angel Idowu on Twitter: @angelidowu3
Angel Idowu is the JCS Fund of the DuPage Foundation Arts Correspondent.
---