Food blogger Jeremy Joyce exceeded his own expectations when he raised money for Black-owned restaurants amid the COVID-19 pandemic and nationwide protests against police brutality.
"I only wanted to raise $20,000 and when we did $25,000 in 24 hours, I was like, wow," Joyce said. "So we were able to raise $75,000. After the GoFundMe fees, we were able to spread the funds evenly among 54 restaurants and actually, the checks are in the mail and they're going out to Black-owned businesses to help further their business."
Money from Joyce's restaurant relief fund will go to businesses he showcases on his website Black People Eats, an online directory of Black-owned restaurants and an Instagram account with more than 65,000 followers.
Joyce started the site in December 2017 with a focus on Chicago restaurants and has since expanded it to include Atlanta, Houston, Washington, D.C. and other U.S. cities.
"Furthering the cause in the Black community – that's what we pride ourselves with," Joyce said. "Connecting people to Black-owned restaurants and helping Black-owned restaurants increase their revenue through media."
One of the restaurants benefiting from Joyce's coverage and relief fund is Cleo's Southern Cuisine, a small restaurant in the Bronzeville neighborhood on Chicago's South Side.
Restaurant owner Krissy Harper said Joyce provided a much-needed boost when they opened in May 2019.
"Jeremy was here day one – he was the reason why we had customers for the grand opening," Harper said. "He came in the night before the grand opening, cut the video and posted it and we had a line down the street."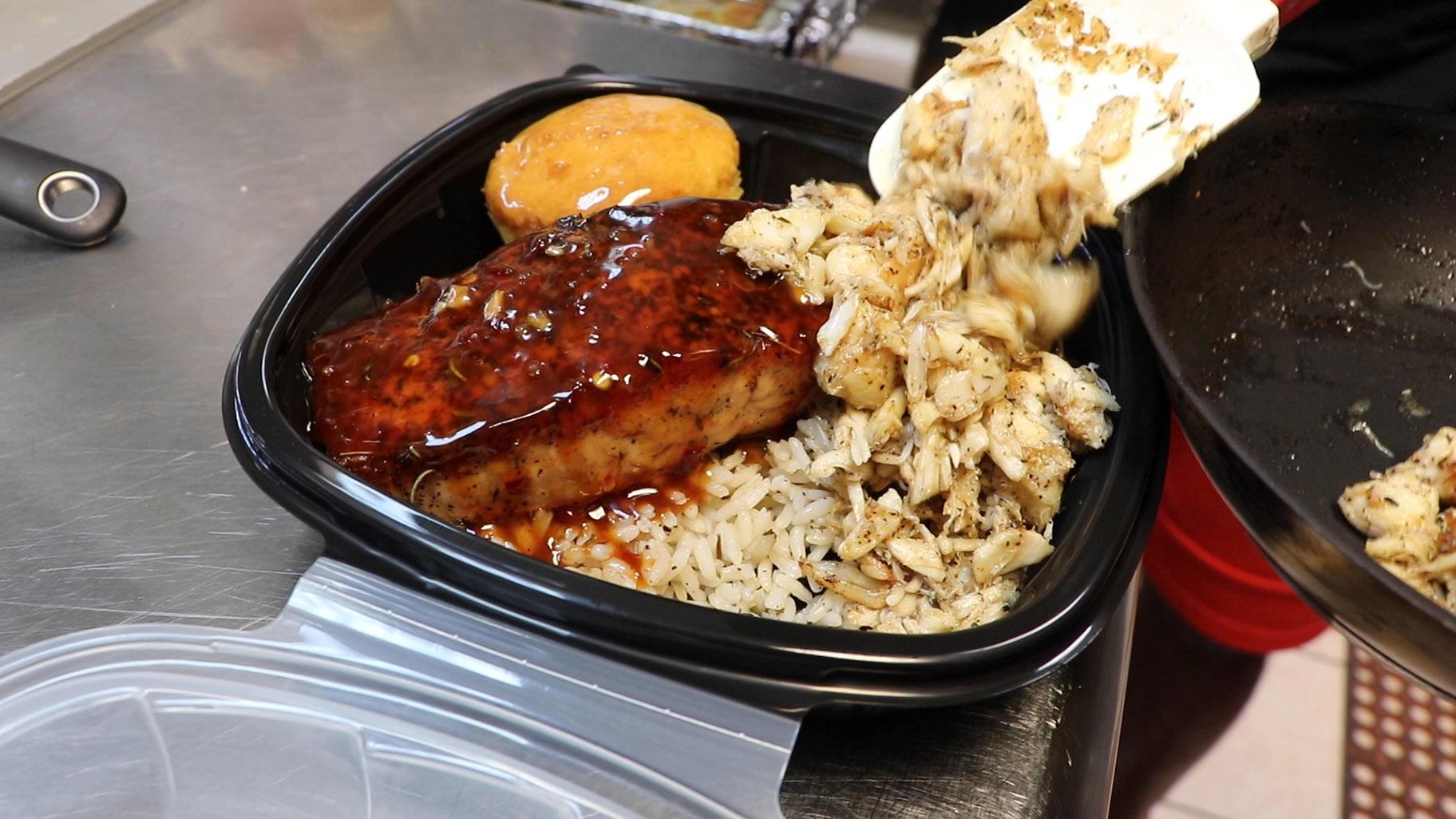 Creole-buttered lump crab meat and pan-seared salmon with sweet chili sauce is placed in a to-go box at Cleo's Southern Cuisine in Chicago's Bronzeville neighborhood on June 27, 2020. (Evan Garcia / WTTW News)
Like several businesses trying to weather the COVID-19 pandemic, Cleo's has taken a financial hit: Harper said she had to lay off two part-time employees and they're only open Friday through Sunday for the time being.
On Friday, Chicago restaurants were given the green light to allow limited indoor dining. As a small restaurant, Cleo's has not opened its dining room yet.
The Illinois Restaurant Association estimates Chicago restaurants have experienced an average revenue loss of 80% during the pandemic.
An update to this story
Throughout the month of October, Black People Eats is hosting Blaktober, a virtual food festival featuring discounts and specials at Black-owned restaurants as well as virtual cooking demos and workout sessions. To learn more, visit Blaktober's event page.
Follow Evan Garcia on Twitter: @EvanRGarcia
Note: This story was originally published June 29, 2020. It has been updated.
---