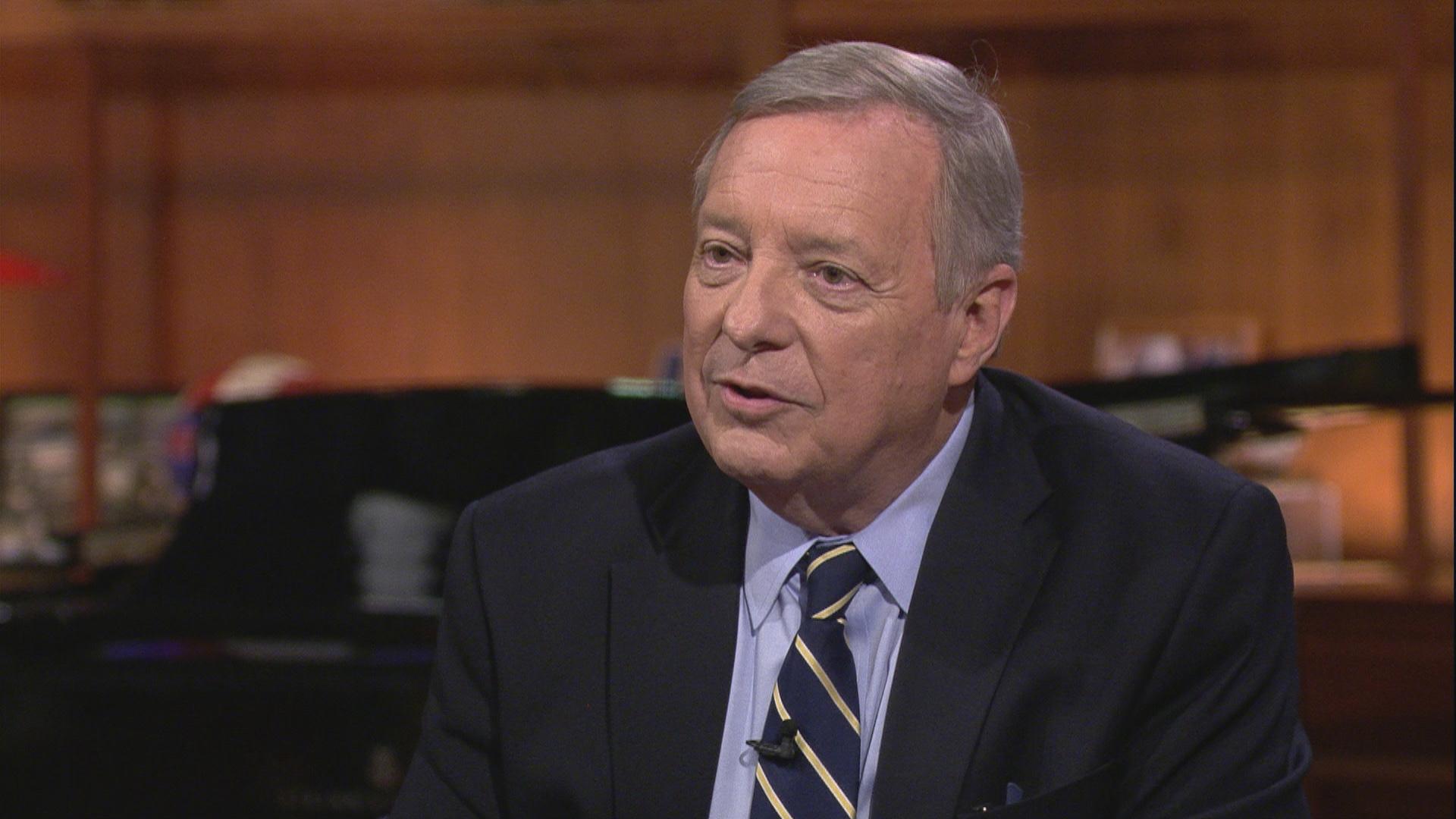 U.S. Sen. Dick Durbin appears on "Chicago Tonight" on Sept. 30, 2019.
The 738,600 Illinois residents characterized as unemployed in the state's latest figures may have pandemic politics to thank, rather than blame, for at least some solace should a prediction by Illinois' senior U.S. senator come true.
The CARES Act signed into law by President Donald Trump in March expands the qualifications for unemployment benefits and increases the unemployment payment by $600 a week through the end of next month.
Democratic Sen. Dick Durbin said with an election on the horizon, he doubts that enhanced benefit will end then.
"With the election looming on Nov. 3, the president is not going to allow this unemployment benefit to expire on July 31, with almost 40 million unemployed people across this country. That is not a good message to take in the final weeks of an election campaign," Durbin said.
Illinois' bleak 15.2% unemployment rate is at least trending in the right direction, according to the latest figures released by Illinois Department of Employment Security on Thursday, with 62,200 non-farm payroll jobs added between April and May.
Non-farm jobs are down by 737,900 compared with a year ago.
Durbin is running for a fifth six-year term in November's election.
He's set to face Republican Mark Curran and Willie Wilson, a wealthy businessman collecting signatures to run as the figurehead of his own namesake new party.
Wilson, who has previously run unconventional campaigns including last year for mayor of Chicago, is set to hold a public meeting on Monday in Chicago about reparations for descendants of enslaved people. According to a release from his campaign, Rep. Will Davis, a Democrat from Hazel Crest and a member of the General Assembly's Black Caucus, will participate, along with a handful of Republican lawmakers from central and southern Illinois, some of whom have advocated for those regions to secede from the state.
Durbin, who as the Democratic Whip holds the second-highest position in the chamber, is less optimistic that the federal government will come through with money for state and local governments looking for help with fallout from COVID-19 closures.
"I don't think President Trump is going to do Illinois any favors," Durbin said. "But if he comes up with a program to help the nation, it could help our state too."
A stimulus bill known as the HEROES Act passed the U.S. House last month and is pending in the Senate, but Trump and Republican leadership in that chamber have said they do not support additional local government assistance.
"We desperately need it in Illinois, we need it in the counties, we need it in the cities – they lost so much revenue, they're going to have to start laying off teachers and nurses, doctors and policemen and essential employees of our local and state government. That would be a disaster. So I hope that they can be persuaded to come around," Durbin said. "What it boils down to is — we've made it clear, the governor's made it clear to the Republicans in our delegation — we're not seeking a pension bailout. We're asking for the same help every other state is asking for, and that is the lost revenues that are hundreds of millions of dollars that need to be made up by some benefits coming from Washington."
Illinois' ability to withstand financial hits was anemic even before a global pandemic hit, but the novel coronavirus has led the state to craft a novel budget strategy.
The state's new budget, set to take effect next Wednesday, July 1, relies on up to $5 billion in borrowing in part from a federal program explicitly meant to help governments stem the tide due to the revenue hits caused by COVID-19.
Durbin on Thursday also indicated to WTTW News that he did not see recent Supreme Court rulings as a sign the tide of the bench has changed; Supreme Court Chief Justice John Robert joined with the court's four liberal members in two major recent decisions.
"Two decisions don't define a court," Durbin said.
Roberts on Thursday was part of a 5-4 majority that ruled the Trump administration unlawfully tried to end the Deferred Action for Childhood Arrivals (DACA) program that gives temporary protection to undocumented immigrants to came to the U.S. as youth.
Last Monday, Roberts, as well as conservative Justice Neil Gorsuch, joined in an opinion that found that job discrimination on the basis of sexual orientation is forbidden in existing federal law
Roberts' actions have resulted in backlash from some conservative members of Congress, and on Thursday, Trump tweeted: "Do you get the impression the Supreme Court doesn't like me?"
Durbin called the decisions and Roberts' choices a "big surprise" and that the "right wing of the Republican Party – the very right wing – is just apoplectic; they're as angry as they can be. They thought they had the Supreme Court under control."
But, Durbin said, "Remember, there have been 90 5-to-4 decisions by the conservative coalition of the court before this."
The Senate could as early as Tuesday begin with at least procedural votes on changing policing practices.
"People want change," Durbin said. "The question is whether or not the Senate will move to that change."
Democrats have authorized a bill titled the "Justice in Policing Act of 2020" that would mandate training in discriminatory profiling, establish a database of officers found to have committed wrongdoing and require the use of body and/or dashboard cameras by police.
Durbin said his reform priorities include banning chokeholds and establishing "accountability by the police."
"We've got to make sure that those who are misusing the authority and power that they have are held accountable, and that their record is clear if they seek future employment. We've got to make certain that families that have been injured by this wrongdoing have a day in court – in many cases they don't," he said. "So there are a number of elements here that have to be part of it, but start with accountability and transparency."
Follow Amanda Vinicky on Twitter: @AmandaVinicky
---