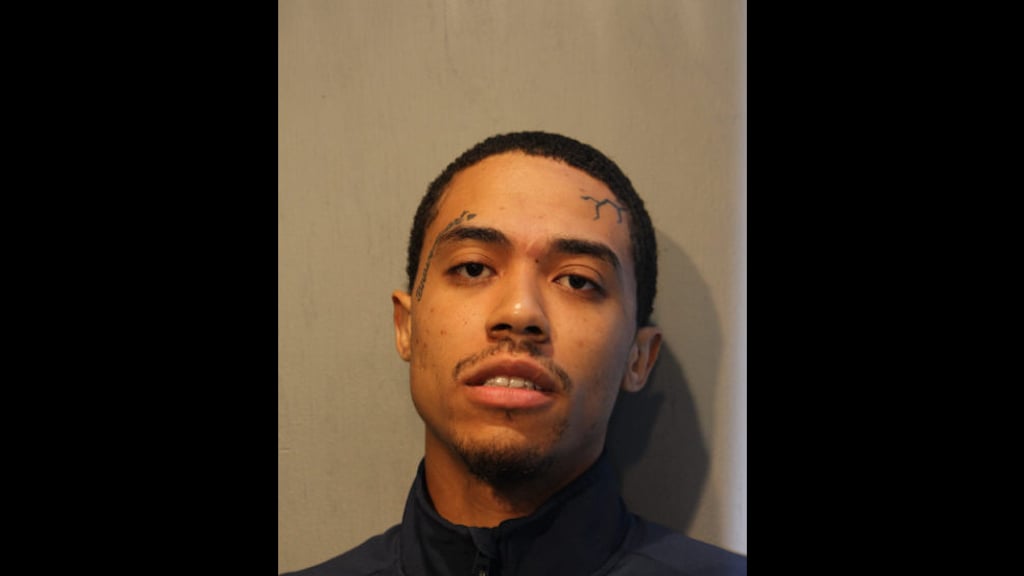 Steven McGee (Chicago Police Department)
A reputed gang member has been ordered held without bond, days after he allegedly opened fire on a car full of uniformed Chicago police officers, striking one in the leg, as they attempted to arrest him in Bronzeville for a previous aggravated assault.
Steven McGee, 22, appeared in court Wednesday after being charged with four counts of attempted first-degree murder as well as additional felony counts of unlawful use of a weapon and aggravated discharge of a firearm.
Cook County Judge Arthur Wesley Willis ordered him held without bond.
According to Cook County prosecutors, four Chicago Police Department officers were in an unmarked squad car patrolling near South Martin Luther King Drive on Monday evening in search of McGee, who was wanted for an aggravated assault that had occurred five days earlier.
The officers spotted him in that area and called out to him before he allegedly fled northbound on foot. McGee, a reputed member of the Gangster Disciples street gang, was recognized in part due to a distinctive tattoo above his right eye that reads "Braveheart," according to prosecutors.
As he fled, the officers drove next to him and asked him where he was going to run, prosecutors said.
McGee then allegedly pulled a handgun from his waistband, turned toward the vehicle and opened fire. The officers each ducked and fled from their vehicle, which was hit by multiple gunshots.
One of the officers, identified in the prosecutor's bond proffer as Victim #2, "immediately felt something" on his right leg as he exited the vehicle and terminated a foot pursuit of McGee "due to a pain in his right leg."
According to the proffer, officers heard McGee fire five to seven gunshots. He continued to run and allegedly fired five additional shots into the glass door of an apartment building in the 5000 block of South Martin Luther King Drive so he could get inside.
The proffer states McGee went to the third-floor apartment of an acquaintance, where he changed clothes and attempted to use an earring to remove the SIM card from his phone. But the occupants alerted police of McGee's whereabouts and he was taken into custody.
Following the shooting, CPD Chief Fred Waller told reporters the wounded officer had been struck in the knee and was taken to the University of Chicago Medical Center for the treatment of a "non-life threatening injury."
Officers did not fire any shots at McGee, Waller said. According to the proffer, eight 9 mm shell casings were recovered at the scene of the shooting, and five more were found at the apartment building door.
Inside the apartment, police also recovered a pair of blood-covered shoes, a cellphone, several items of clothing and a black garbage bag. Inside that bag, the CPD's forensic lab staff found more clothing as well as a black Glock 19 handgun, the proffer states.
According to the proffer, McGee has a previous conviction for armed robbery with a dangerous weapon.
Contact Matt Masterson: @ByMattMasterson | [email protected] | (773) 509-5431
---