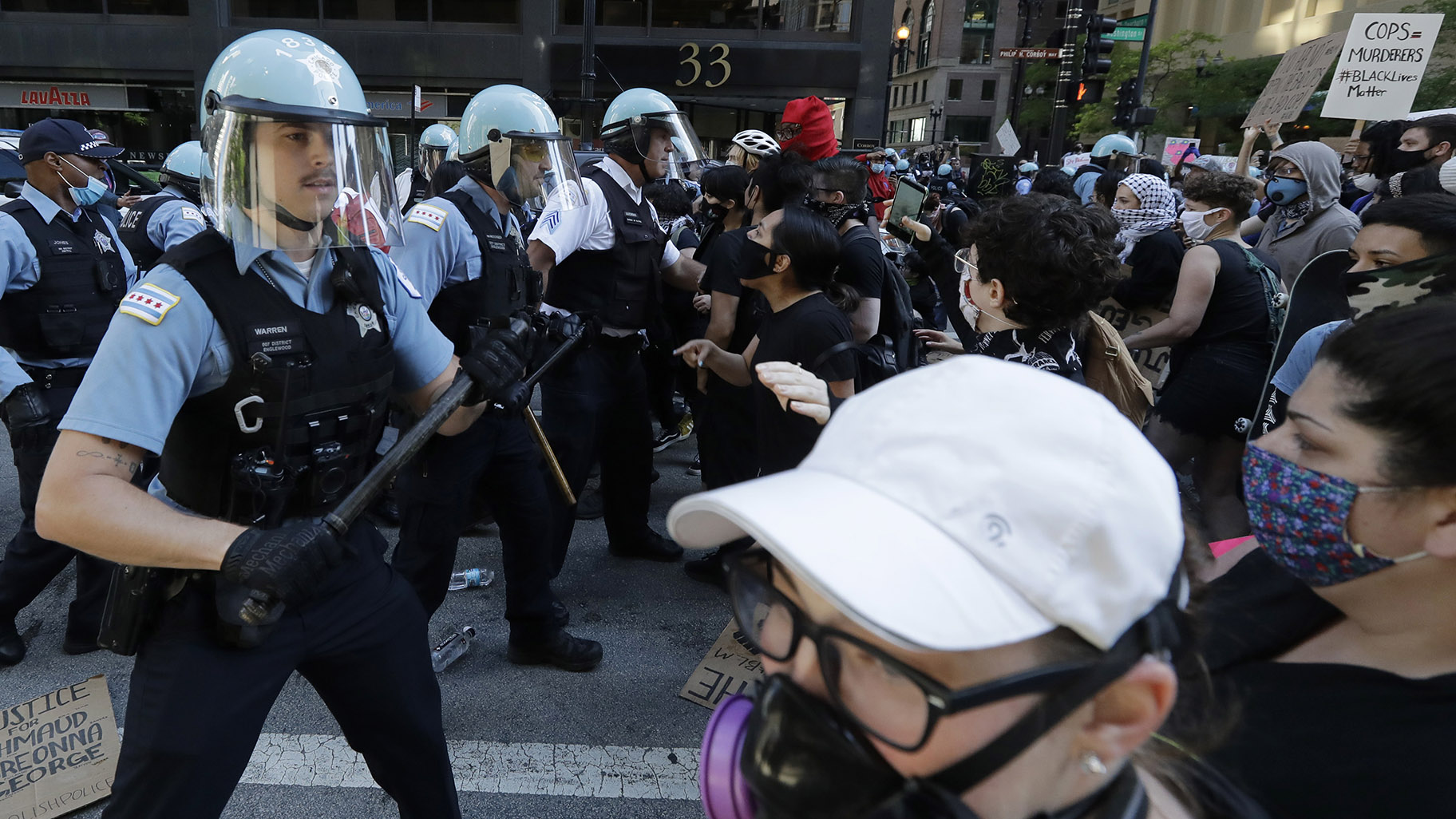 Chicago Police officers and protesters clash during a protest over the death of George Floyd in Chicago, Saturday, May 30, 2020. Floyd died after being taken into custody and restrained by Minneapolis police on Memorial Day in Minnesota. (AP Photo / Nam Y. Huh)
A freelance journalist is suing the city of Chicago after he alleged he was pepper-sprayed by a police officer while covering protests late last month following the police killing of George Floyd in Minneapolis.
Jonathan Ballew, a credentialed journalist who has worked with local media outlets including Block Club Chicago, the Chicago Reporter and the Chicago Sun-Times, filed a federal lawsuit Thursday claiming he was "assaulted with a chemical agent" during the May 30 protests in River North.
"A free press is critical to democracy, especially when it comes to monitoring the police," Ballew's attorney Matt Topic said in an emailed statement. "CPD's attack on a journalist who was doing his job and posed no threat to anyone cannot and will not be tolerated."
The suit names both the city and an unnamed John Doe Chicago police officer as defendants, and alleges they violated Ballew's First and Fourth amendment rights through the use of "excessive force."
According to a seven-page civil complaint, Ballew was covering a protest on the afternoon of May 30 and openly recording both protesters and officers from a "comfortable distance." He continued with the protest as it moved toward Trump Tower and kept recording until approximately 8 p.m., at which point the unnamed officer allegedly sprayed him with a "chemical agent believed to be pepper spray."
"At the time the chemical agent was used on (Ballew), he posed no threat to anyone," Topic wrote in the complaint. "At the time the chemical agent was used on Plaintiff, he was not interfering with or obstructing any police actions. Prior to the attack, Plaintiff had identified himself as press by lifting his press badge to DOE's line of sight in a clear and visible manner."
In a video of the incident Ballew posted on his Twitter account, he can be seen backing away from a line of officers who are walking toward him and a group of protesters. Ballew can be heard shouting that he is "press" as a masked officer sprays him and others.
— Jonathan Ballew (@JCB_Journo) May 31, 2020
---
"You guys are pepper-spraying press? Come on," Ballew can be heard saying to a different officer. "I'm holding my press pass, come on."
In a tweet posted following the incident, Ballew said: "Just got pepper-sprayed directly while holding my press pass up and screaming PRESS." The complaint states he suffered "immediate physical injury and pain," including "difficulty in breathing, choking sensation, burning eyes, skin irritation, and blurred vision."
"As a result of DOE's attack, Plaintiff was forced to step away from his reporting to tend to his injuries, depriving him of the opportunity to document the identity of the officer who attacked him and members of the protest and to otherwise observe, document, and report on official police activities at the public protest while they were using force against protesters," the complaint states.
A spokesperson with the city of Chicago did not immediately respond to a request for comment Friday morning.
Contact Matt Masterson: @ByMattMasterson | [email protected] | (773) 509-5431
---