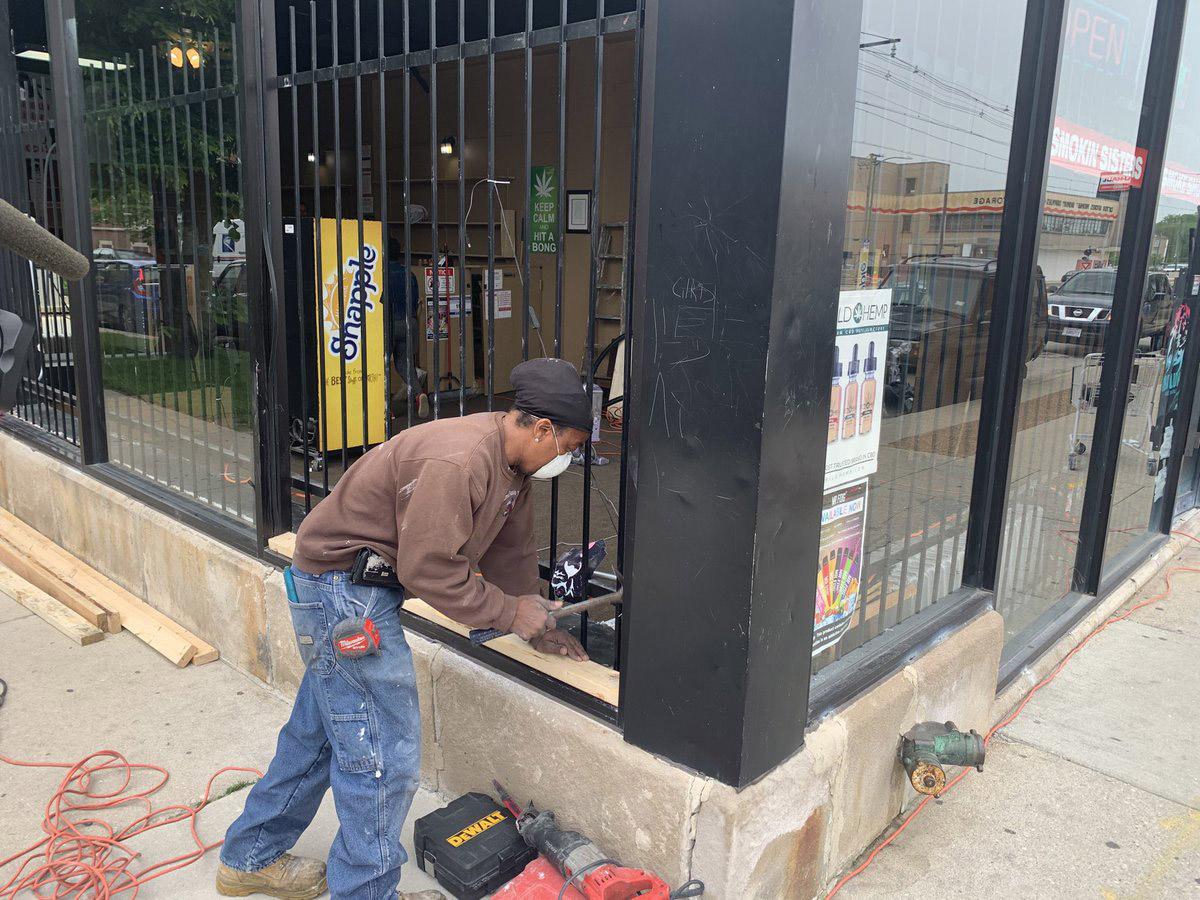 Crews start boarding up the 3 Smokin Sisters Tobacco Shop on 71st Street in Chicago's South Shore neighborhood. Shop owners emptied the store of inventory following looting on Sunday, May 31, 2020. (@paschutz / Twitter)
When his Hyde Park liquor store Kimbark Beverage Shoppe was looted, Jonathan Swain said the first person he called after surveying the damage was his wife.
The second: his insurance agent.
It's a sign of the significant role insurers will play in whether, and how soon, retailers, restaurants and other businesses that were ransacked by looters in the past 10 days will be able to reopen.
Ultimately, that will be determined by individual businesses' insurance policies.
But Gov. J.B. Pritzker's administration on Monday attempted to use the state's muscle to tip the scales in those businesses' favor.
"Insurance companies must do everything in their power, and are obligated, to give their customers the funds that they need to rebuild and get back on their feet as soon as possible. Help can't wait," Pritzker said.
The state insurance department has been in discussions with major insurance companies about "the need for quick and robust support they must provide the Illinois business owners who have experienced property damage, including those who have experienced vandalism and looting" and issued a bulletin to insurers.
The directive "requests" that insurance companies expedite claims filed by looted businesses, that they advance claims payments, and that they "err on the side of the policyholder" when paying claims "as a result of riots, civil commotion, or vandalism" even if a commercial policyholder was unable to make full premium payments in the period since March 20 when Pritzker issued his coronavirus stay-at-home order that required nonessential businesses to shut down or scale back their services.
"The pain being felt by so many is amplified by the global economic devastation that's been brought on by the COVID-19 pandemic. For our small businesses, that succeed or fail at the margins, each setback is all the more difficult to come back from," Pritzker said.
The Department of Insurance bulletin also directs insurance firms to refrain from canceling or not renewing "impacted policyholders" for the next 60 days.
Insurers are to base payouts on pre-virus business activity levels, which stands to make a major difference to companies given the precipitous decline of sales and economic activity the past few months.
"The Department understands the importance of the insurance industry in the recovery during times of great loss and thanks insurers in advance for handling claims in a fair and timely way. We encourage insurers to assist in whatever additional ways they can and trust the insurance industry stands ready to be a critical participant in recovery," the memo said.
The industry signaled a general readiness to comply, via a statement issued by Paul Blume, the American Property Casualty Insurance Association's vice president for state government.
"The insurance industry stands by its customers who have experienced property damage resulting from the recent civil unrest. Insurers are currently at work assisting customers during the recovery process and every effort is being made to assure prompt assessments and payments for covered claims," Blume said. "We can reassure customers that most standard insurance policies for business owners and homeowners provide coverage for property losses related to civil unrest."
However, it comes as many insurance companies and businesses are in a legal standoff over whether losses related to COVID-19 closures are protected.
Monday's memo from Department of Insurance Director Robert Muriel is, again, phrased as a request.
If insurers do not comply, "Probably the number one thing we can do is engage in market conduct examinations" Muriel said. "To the extent that insurance companies are not complying with the law, or doing what we expect of them, we have the ability to send in examiners into their offices to make sure that they are doing what they're supposed to do. So I would say that is the strongest thing we can do."
Muriel said the department can also levy fines, or suspend insurers' licenses.
Felicia Goodwin, who co-owns Z-Couture in Stony Island, said her and her daughter's "hearts were broken" by the pillaging of their boutique.
"They broke windows, took all of our clothing, damaged racks. Undressed and damaged our mannequins. We found our cash register in the street. They took everything from us," Goodwin said. "I know the struggles that I went through in order to build this business up."
She's waiting for her insurer, State Farm, to tell her how much of the damage it will cover.
There's already been some additional disappointment.
"Because we hired a boarding company to come and board our windows – they screwed into the framing, the metal framing around the windows. So we found out that we would be responsible for those repairs," she said. "We cannot reopen our business without inventory, glass being repaired, supplies and furnishings."
The pandemic adds an additional complication given that some adjusters are unable or unwilling to visit businesses in person.
Swain said the adjuster he called upon visiting his burglarized beer and beverage store "understood that on the other side of that phone was not just a business owner looking to get property replaced. But it was a person who's invested their lives in trying to rebuild, and build, an existence for their families and for one or two generations."
His parents bought Kimbark Beverage Shoppe in 1974, making them some of the first black business owners in Hyde Park, Swain said.
He said it's crucial that the insurance money comes as soon as possible because without it he won't be able to reopen. Small businesses – particularly black-owned businesses – often don't have cash for upfront costs, he said.
"We have to pay staff to come in and get the business ready. We have to replace fixtures and damage. We have to replace computers, which are our registers, which we can't operate without. And we have to purchase inventory," Swain said. "And yes, insurance may cover that. But we have to pay it out now, if we want to get back open. What most people don't understand about small businesses is they're not operating off trying to make huge profits, they're operating off cash flow. And if their doors are closed, they're unable to succeed."
Follow Amanda Vinicky on Twitter: @AmandaVinicky
---