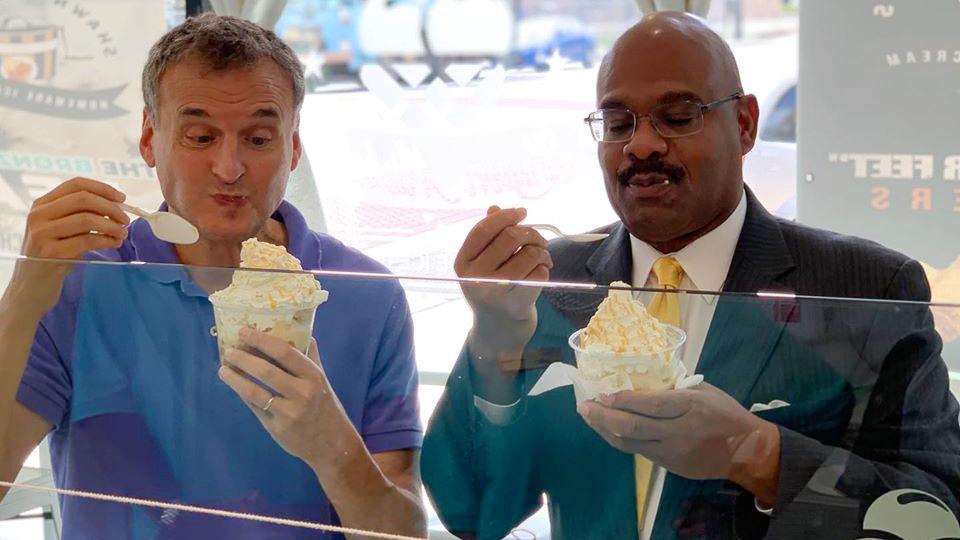 Phil Rosenthal, left, digs into peach cobbler and ice cream during the Chicago episode of "Somebody Feed Phil." (Courtesy of Shawn Michelle's Ice Cream)
If it's possible to feel nostalgic for the pre-pandemic Chicago of a mere two months ago, then prepare to get a little misty-eyed while watching a new Chicago-centric episode of the food-travel series "Somebody Feed Phil," the third season of which just dropped on Netflix.
Hosted and produced by "Everybody Loves Raymond" creator Phil Rosenthal, the show, which filmed in 2019, serves up a reminder of the Chicago food and drinks scene we all know and love, and hope can bounce back from the coronavirus shutdown.
Rosenthal covers a lot of ground, culinary-wise, in the 45-minute episode, hitting up everything from an Italian beef stand to an urban farm to a white-tablecloth James Beard Award winner. And yeah, there's an obligatory stop for pizza, but at least it's unexpectedly at Pequod's instead of one of the usual deep dish suspects. 
In the city of the big shoulders, at the pizzeria with the deep dish, @PequodsPizza in #Chicago. Season 3 Friday May 29 @netflix pic.twitter.com/Ej6EyYzE0P

— Phil Rosenthal (@PhilRosenthal) May 23, 2020
Chicago places featured in the episode are Al's #1 Italian Beef, Bang Bang Pie & Biscuits, Pequod's Pizza, Urban Growers Collective, Monteverde, Shawn Michelle's Homemade Ice Cream, Virtue, Chicago Athletic Association and Ebenezer Missionary Baptist Church.
From cheap eats to fine dining, neighborhood restaurants are in many ways the lifeblood of Chicago and cities like it. In recent interviews, Rosenthal has talked about how hard hit these establishments have been by stay-at-home orders across the country, and what a post-pandemic future might hold for the industry.
"We're losing the middle class of restaurants, which is where most of us want to live and eat every day," Rosenthal said in an interview with Vulture. "The mom-and-pop Italian place down the street won't survive unless we help them. I mean, can you actually imagine a world without independent restaurants?"
Contact Patty Wetli: @pattywetli | (773) 509-5623 | [email protected]
---