It was the site of an infamous race riot in 1966, when Martin Luther King Jr. came to Chicago to protest the city's segregation and discriminatory housing practices and was met with a violent mob after marching through Chicago Lawn to Marquette Park, where someone hit his head with a rock. 
The incident prompted King to say that he had never seen a mob as violent and hate-filled as the one in Marquette Park. 
Interactive: More from our series, COVID-19 Across Chicago.
At the time, Chicago Lawn was overwhelmingly caucasian; the population is now almost half African American and half Latino.
It is a working class community with a relatively low median income, and is situated in a zip code that has seen one of the worst COVID-19 outbreaks in the city, reporting 2,896 cases as of Wednesday.
Hundreds of people have been treated nearby at Holy Cross Community Hospital, part of the Mt. Sinai Health System. One of the challenges for health officials has been convincing members of the neighborhood's very large undocumented immigrant population to get treatment for symptoms of the virus.
"There is a fear in the community of coming out and being treated, and we want to encourage everyone to seek care," said Donnica Austin-Cathey, vice president of administration. "Sinai Health System is a safe place to do that. We have interpreters and other services for all patients, so we want to invite people to come see their physicians, and Sinai Health System is a safe place to do that."
But as health concerns mount, so do financial concerns. The local Southwest Organizing Project (SWOP) warns of a ticking time bomb on possible evictions and foreclosures, estimating that more than half of the neighborhood's residents will have trouble affording June rent.
"It's a trickle-down effect," said Imelda Salazar, an organizer with SWOP. "You have jobs, and then you are essential workers, but your hours are less and less. And the longer you go without opening businesses up in the food industry, then you have families where the only provider is working half of the time they used to. Then you have people with COVID, with more expenses with medicine, so making the rent is very tricky."
Add to that the concerns of small businesses that have had to shut down, or in the case of restaurants, move to takeout and delivery services only. It's not clear how restaurants in Chicago Lawn would benefit from the new outdoor dining allowances, as there isn't a lot of sidewalk space, and it's hard to envision shutting down 63rd Street, the neighborhood's noisy and busy main commercial thoroughfare.
The situation has put whatever progress the community has made in jeopardy, according to the Greater Southwest Development Corporation.
"Over the past few years, we started having some successes, but they were hard-fought wins," said the organization's president, Adrian Soto. "We started seeing, little by little, the commercial corridors improving. We're really worried that, all the progress we've made, we're taking backwards steps."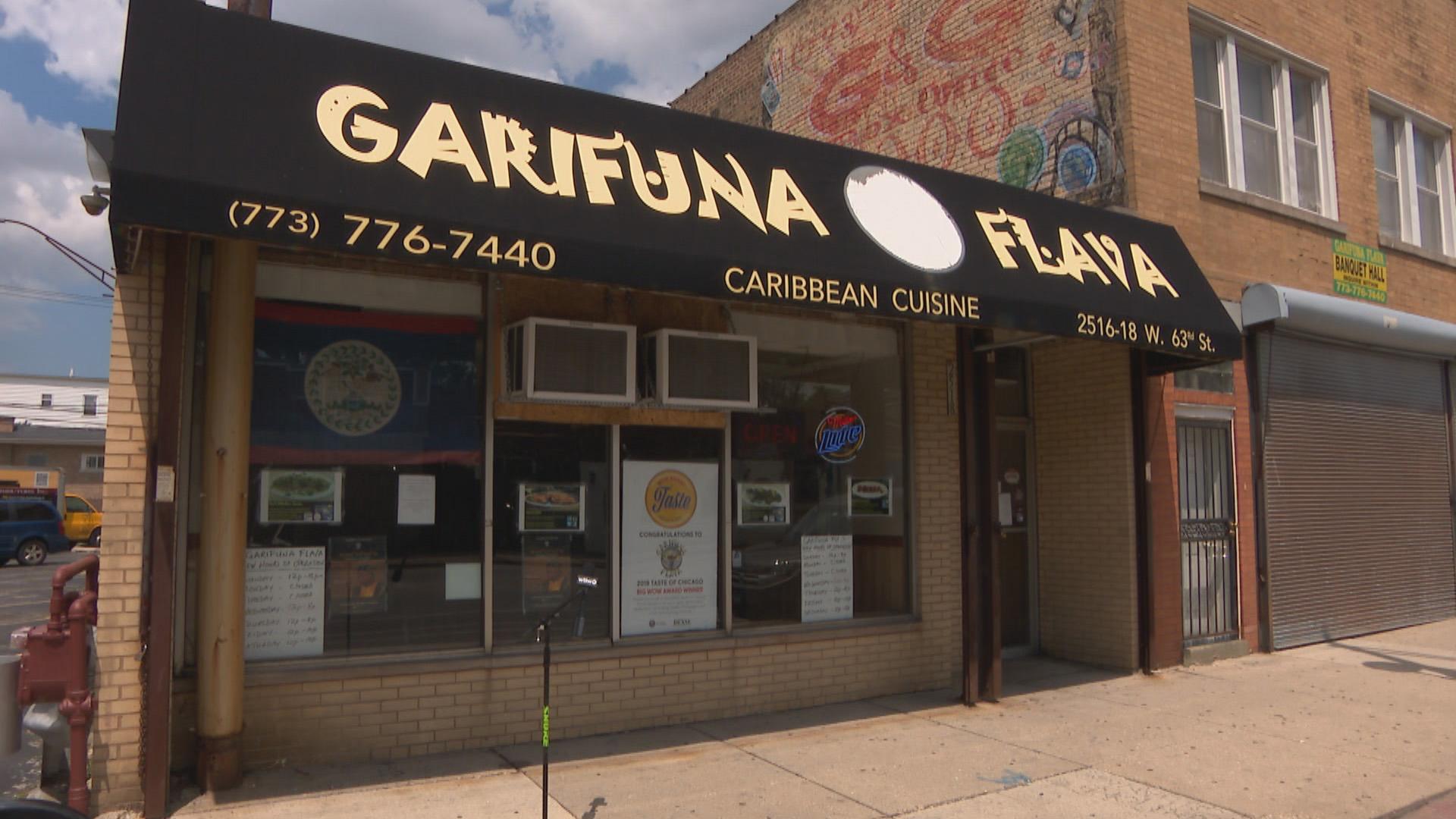 (WTTW News)
One local restaurant, Garifuna Flava, which is famous for its Belizean and Caribbean cuisine, has turned to federal stimulus money and GoFundMe donations to stay afloat. Owner Hussein Castillo, who immigrated to Chicago with his parents from Belize City, says the key to surviving has been to avoid food apps which charge exorbitant fees to restaurants, in favor of staffing delivery service in-house.
"We have a team that does the deliveries, and gives a more personal experience," Castillo said. "You run into issues with those apps, where drivers take the food and don't show up. So we want to keep things as in house as possible."
Follow Paris Schutz on Twitter: @paschutz
---
Community Reporting Series
"Chicago Tonight" is expanding its community reporting. We're hitting the streets to speak with your neighbors, local businesses, agencies and leaders about COVID-19, the economy, racial justice, education and more. See where we've been and what we've learned by using the map below. Or select a community using the drop-down menu. Points in red represent our series COVID-19 Across Chicago; blue marks our series "Chicago Tonight" in Your Neighborhood.
---