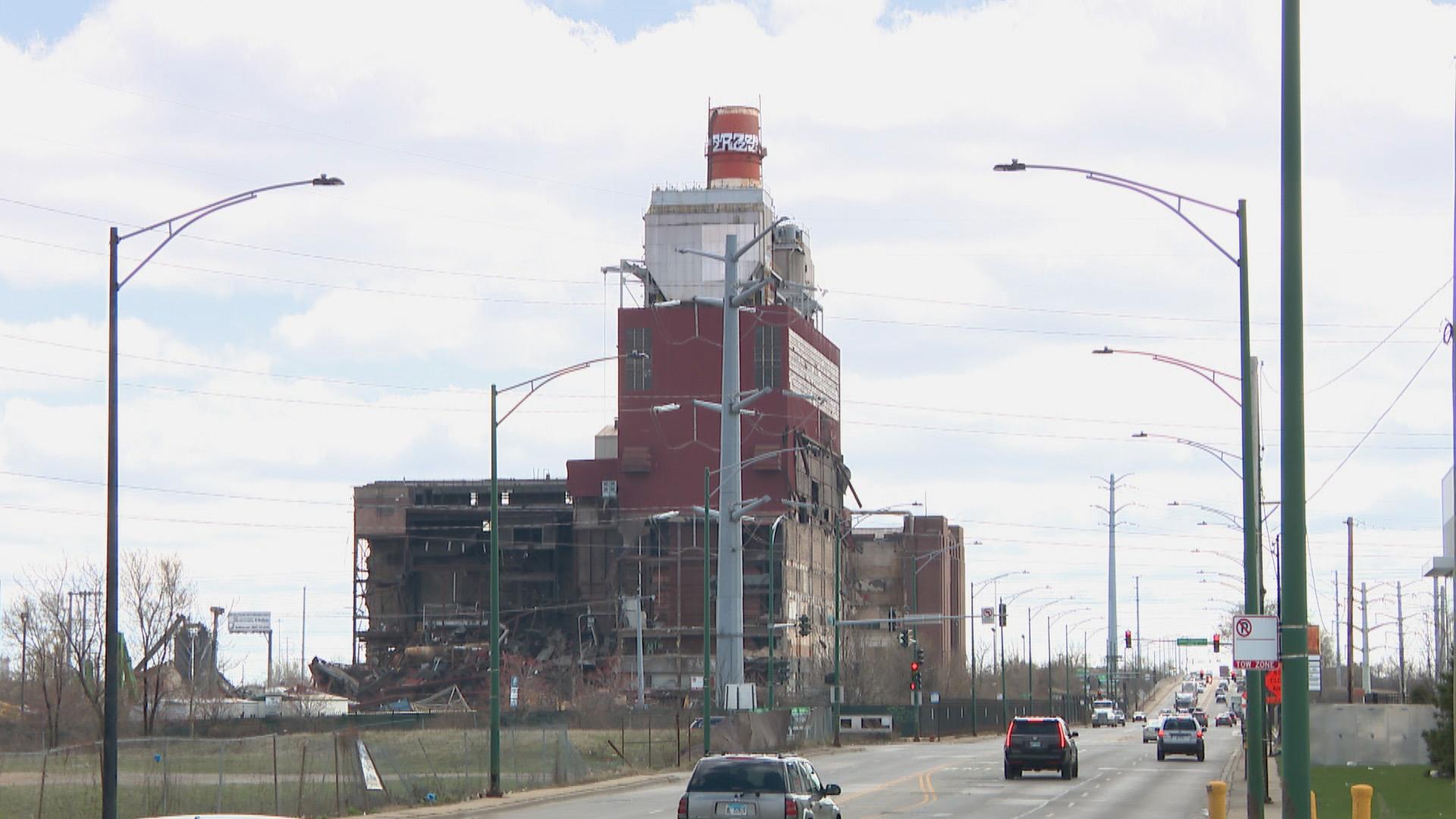 The partly demolished site of the former Crawford Power Generating Station, which was active from 1925 to 2012. (WTTW News)
City officials hosted a virtual town hall Saturday to provide an overview of plans to demolish what's left of the Crawford Coal Plant in the Little Village neighborhood and to answer residents' questions following the implosion of a smokestack on the site last month that left the community covered in a plume of dust.
But some residents had trouble participating in the discussion, saying that captions in Spanish, which were supposed to be provided, didn't work and otherwise weren't helpful to those who had to call into the meeting. Several participants said a professional translator should've been provided.
Ivy Czekanski, who lives on the city's North Side but said she stands in solidarity with Little Village residents, called the city's response to the smokestack's implosion and handling of the situation "blatant racism," citing the swift action taken by city officials to shut down General Iron in Lincoln Park following a pair of explosions last week.
Demolition of the remnants of the coal plant's turbine building was slated for last week, but put on hold after protests from Little Village residents, including a march on Mayor Lori Lightfoot's home in Logan Square.
City officials have released plans for the demolition, which will include the use of water cannons to ensure a plume of dust doesn't engulf the surrounding neighborhood as it did in April.
City officials say the demolition should take one to two days, weather permitting, and the timeline will be set by the contractor, Henegan Wrecking Co. Chicago Building Department Commissioner Judy Frydland said the city is taking "extreme precautions" to make the demolition "as uneventful as possible."
"Only a few bricks will come down at a time, (you will) not see a huge wrecking ball come down," Frydland said, adding it's going to be a very slow and methodical process. "We want everyone to be safe."
While officials say the building is dangerous and must be demolished, one participant took issue with that. Mary Lu Seidel, who works with Preservation Chicago, said the building could be stabilized and reimagined with a new building behind it that could serve as a symbol of Hilco Global's commitment to the community.
"Turbine hall is a significant historic structure," Seidel said. (In 2019, Preservation Chicago named the Crawford Power Station to its most endangered buildings list.) "(I've) seen much more unstable buildings stabilized and restored. The city should command Hilco to do that with turbine hall."
Frydland said the building was "structurally unsound," and while the city has worked with Preservation Chicago on other projects, "they were not in the condition of this building. This is an extremely hazardous and dangerous condition."
Officials also said the turbine building was already 50% demolished before the April implosion and that while the building was still standing it could come down at any minute.
Don Finn, who represents a union of electricians in Cook County, said while there was a misstep with the April implosion he believes city officials are going about the demolition in the "safest and best way" they can.
Little Village resident Juan Rangel said a variety of issues need to be addressed before demolition proceeds. "Hilco Global must make amends with Little Village," Rangel said, adding the company needs to do more to show "good faith to prove they're good neighbors."
Those things include prioritizing the hiring of community residents, creating a Little Village endowment fund to provide scholarships for youth, and to redesign the area's development plan to include increased public use and access along the Chicago River, according to Rangel.
Frydland said the development of the area was approved in July 2018 by the City Council and that while she didn't have all the details of those plans, she said river access was part of that.
He also called for lawsuits filed against the company by residents affected by the implosion to be dealt with and for the creation of an arch over Pulaski Street welcoming residents into the community which would serve as "unifying symbol of industrial and residential areas of Little Village."
Contact Kristen Thometz: @kristenthometz | (773) 509-5452 |  [email protected]
---