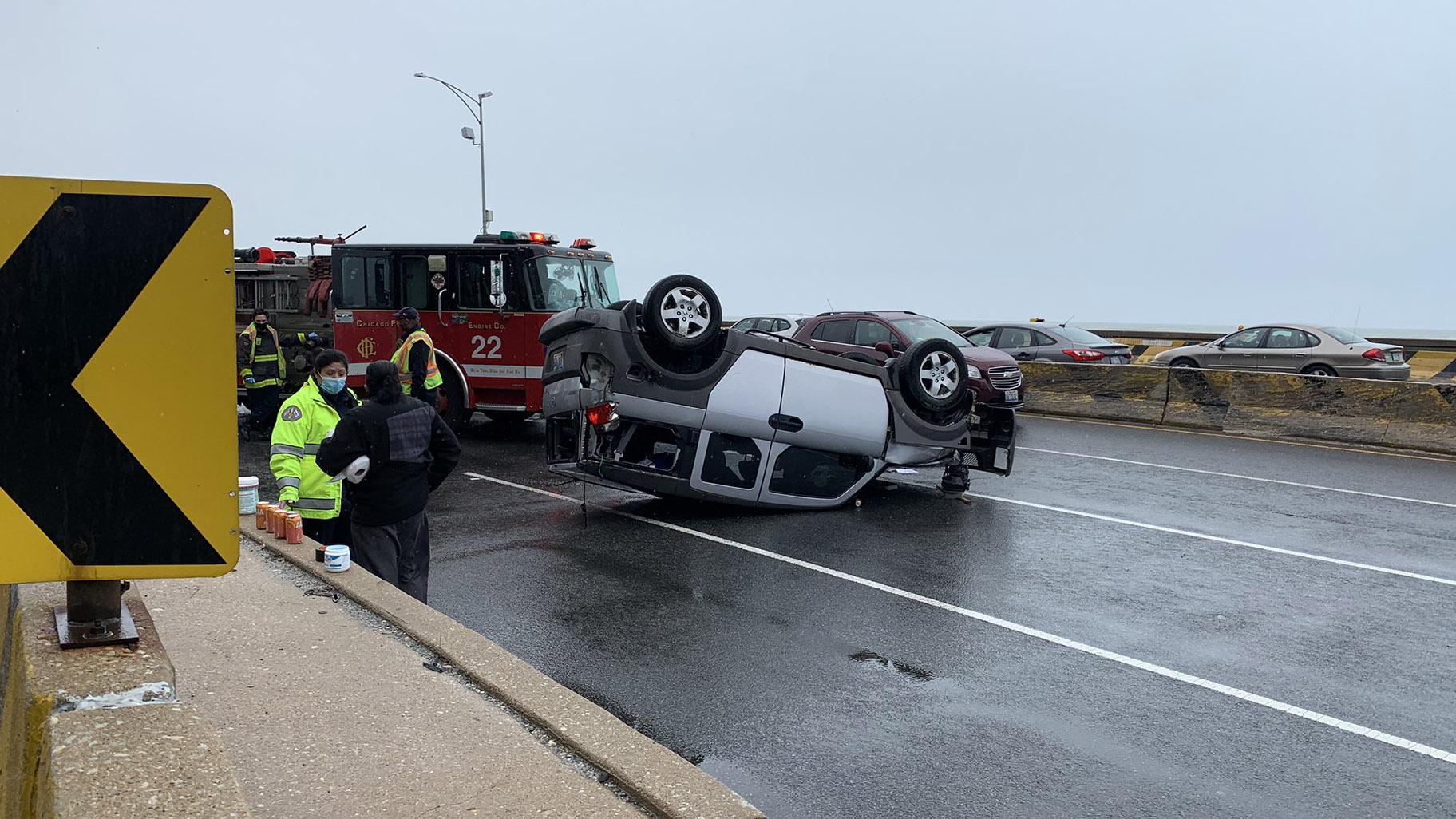 A crash shut down the southbound lanes of Lake Shore Drive on Tuesday, May 5, 2020. (Courtesy Chicago Police Department)
More people died in traffic crashes in Illinois during the first quarter of this year than last year, according to an analysis released Wednesday by the Itasca-based National Safety Council, which tracked a "very, very disturbing" 11% increase compared to the first three months of 2019.
Nationwide, the fatality rate from traffic crashes jumped 14% in March, despite the huge decrease in number of miles Americans drove as coronavirus restrictions went into effect. While the overall number of traffic deaths dropped around the U.S., Illinois was one of 11 states NSC clocked as seeing a significant spike in first quarter fatalities. National Safety Council CEO Lorraine Martin warns that the data point to reckless driving on roadways suddenly clear of congestion.
"It feels like we have open lanes and somehow that signals that ... we can have an open season on our roadways, specifically with speed," Martin said. "We know that speed is usually a major factor in some of the more critical crashes and fatality crashes."
In Chicago, officials have warned of a 14% increase in speeding, and analysts found a worrying trend of dangerous driving during the pandemic. While Martin says there's more work to be done to understand the numbers, the fatality data from March could be "sort of the canary in the coal mine."
In addition to avoiding the urge to drive recklessly, Martin says there are other important safety steps. If you haven't gotten behind the wheel much during the last couple months, you might be rusty and not keeping the basics of safe driving in mind.
Drivers also need to be cautious about more pedestrians and bikers out and about, especially walkers and runners using the roadway to ensure physical distancing. Martin says it's up to each of us to help keep the roads safe, and that many of the traffic deaths so far this year were likely preventable.
"That's a lot of our friends and family that are no longer with us, and that's something that we really can do something about and should do something about, especially in this time when it's really important that we're not distracting first responders and medical capacity to deal with preventable crashes," Martin said.
---