One of the city's new COVID-19 testing sites is about to open in Englewood, a community that's been hit hard by disinvestment and high rates of crime over the years.
Those issues have been linked to higher-than-average rates of the coronavirus, but the two zip codes that encompass Englewood and West Englewood have reported 1,035 cases of the virus — a figure far lower than those in nearby areas like Brighton Park, Gage Park and Little Village.
That relatively low rate might have something to do with testing. The new facility is slated to open on the campus of Kennedy-King College, at 63rd and Halsted streets. It comes in addition to at least two other sites that are testing for COVID-19.
One of them is the Howard Brown Center, where Medical Director Maya Green says she and her staff began testing for the virus nine weeks ago, before any analysis showed that areas with a majority of African American and Latino residents were seeing a disproportionate number of cases.
Interactive: More from our series, COVID-19 Across Chicago.
Green says the African American community has historically been hit harder by infections and diseases like influenza, HIV and other illnesses.
"We know our communities are going to bear the brunt," Green said. "We knew ahead of time, not because we have some magic formula, but because we can look to the past. We have history."
Howard Brown also recently began operating a mobile site to test anyone who travels to neighborhoods around the South Side. On Wednesday, it was on 79th Street and St. Lawrence Avenue in the nearby community of Chatham in the city's 6th Ward.
Green says that Englewood benefits from having fresh food options, including a Whole Foods store, that can help residents stay healthy and avoid diseases like diabetes and heart diseases that can make COVID-19 more serious. The Whole Foods went in under much fanfare during the tenure of former Mayor Rahm Emanuel. Other chains, like Chipotle and Starbucks, have opened branches in the same development on 63rd Street.
Felicia Slaton Young, president of the Greater Englewood Chamber of Commerce, says the idea was to use the development to spur more local business by attracting more shoppers to the neighborhood and enticing them to stay.
But local businesses struggled to gain a foothold before the pandemic, and Young estimates that half of them will not survive, even if they get state, local, or federal assistance.
"You apply for things like resiliency fund, and SBA and all these fantastic things," Young said.  "But when you are literally losing hundreds, thousands of dollars a week, and its 6-8 weeks to find out if you even get $2,000, $5,000 or $10,000 dollars, for some, it's already too late."
Englewood Branded, a small apparel shop, is one local business that has not been able to secure any government funds. Owner Corie Luckett says he beefed up the store's social media presence to sell merchandise to customers over Facebook and Instagram.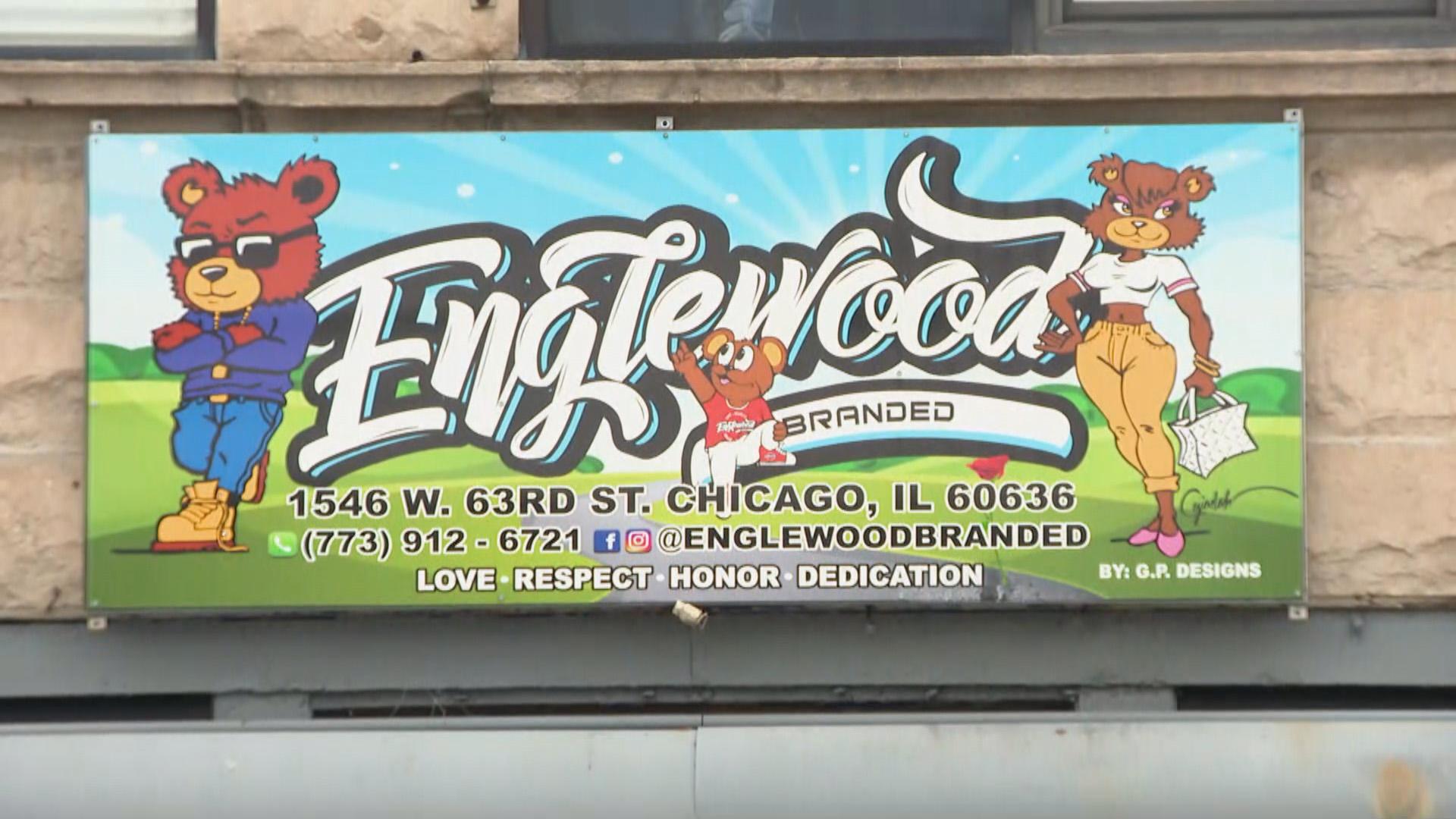 (WTTW News)
Luckett is a graphic designer who designed an Englewood logo and a Bear mascot for his clothing. He says he never intended the store to be anything other than a brick-and-mortar shop because his goal has been to build community.
"I wanted to do it this way opposed to a website, because I wanted people to come to Englewood," Luckett said. "I wanted them to overlook the stigma of Englewood being a 'bad' community. It's instrumental for the store to be here so people can come to the community and see what's going on in a good sense."
Luckett says he's also starting a nonprofit to help families of gun violence victims.
The social service organization Family Focus Englewood helps educate young parents. Many of the organization's students have lost custody of their children and are completing coursework as part of their mandatory program to regain custody.
The pandemic has complicated those efforts, as the center has expanded its coursework online, according to the center's director, Carrie Brown.
"Some of those parents are having anxiety because they haven't been able to be in contact with their children for 2-3 months," Brown said. "We try to keep them on track so that when things return to normal, they can make progress on their case and be reunified with their child."
Follow us on Twitter: @paschutz / @rquinnmyers
---
Community Reporting Series
"Chicago Tonight" is expanding its community reporting. We're hitting the streets to speak with your neighbors, local businesses, agencies and leaders about COVID-19, the economy, racial justice, education and more. See where we've been and what we've learned by using the map below. Or select a community using the drop-down menu. Points in red represent our series COVID-19 Across Chicago; blue marks our series "Chicago Tonight" in Your Neighborhood.
---