This past weekend, Skokie would have hosted its annual Festival of Cultures – an event  "representing Skokie's tremendous diversity."
But like so many other gatherings and events, it was canceled due to the coronavirus pandemic.
Nonetheless, Skokie is a "vibrant, cohesive community" said Mayor George Van Dusen.
Interactive: More from our series, COVID-19 Across Chicago.
All the more so because of an infamous incident in the late '70s, when Skokie leaders went to court to block a neo-Nazi group from marching in the village; at the time, Van Dusen said, Skokie was home to the highest number of Holocaust survivors outside of Israel.
While the group ended up holding its march elsewhere, Van Dusen said it made community religious, philanthropic, governmental and business leaders realize they had to come together.
They did – forming the Skokie Religious Council, now the Niles Township Religious Council.
"Today, Skokie has over 100 different places in the world represented. We live in peace and harmony. And part of that is because of the institutional structure we've created," he said.
That institutional structure is now having to face the challenges brought on by COVID-19.
Van Dusen estimates the budget of the north suburban village could be $10 million short.
Skokie has not had to raise its property tax levy since 1990, but that's in part because it is heavily reliant on sales taxes coming in from shoppers at places like Westfield Old Orchard. But retail sales, and the sales taxes that come with them, have taken a dive; the mall had to shut down, though last week some stores began to offer curbside service.
The mayor said raising property taxes is a last resort, and that he and members of a recovery task force are in discussions about what they can do to safely reopen retail and restaurant establishments, and to kick-start the local economy. 
Part of that plan: the village's tech park.
Skokie is home to the 3D printing startup Azul, a technology first developed at Northwestern University.
The company says it's got the highest throughput 3D printer out there, meaning it can print a lot of material, very quickly. The company quickly pivoted to making face shields, part of the all-important protective equipment for medical and other front-line workers.
Company co-founder and Northwestern professor Chad Mirkin says Azul is now able to print 1,000 face shields, per printer, each day. He hopes governments will invest in 3D printers like his company's, that in good times can be used to manufacture just about anything they might need.
"But when you have a crisis you can flip a switch, change the direction immediately and start printing what you need when you need it. That's the big difference between 3D printing and injection molding. This idea of, we have to go coerce or convince people to change their assembly lines goes away. The supply chain concerns go away," he said.
Normally, visitors would be able to learn about the village's history at the Skokie-based Illinois Holocaust Museum.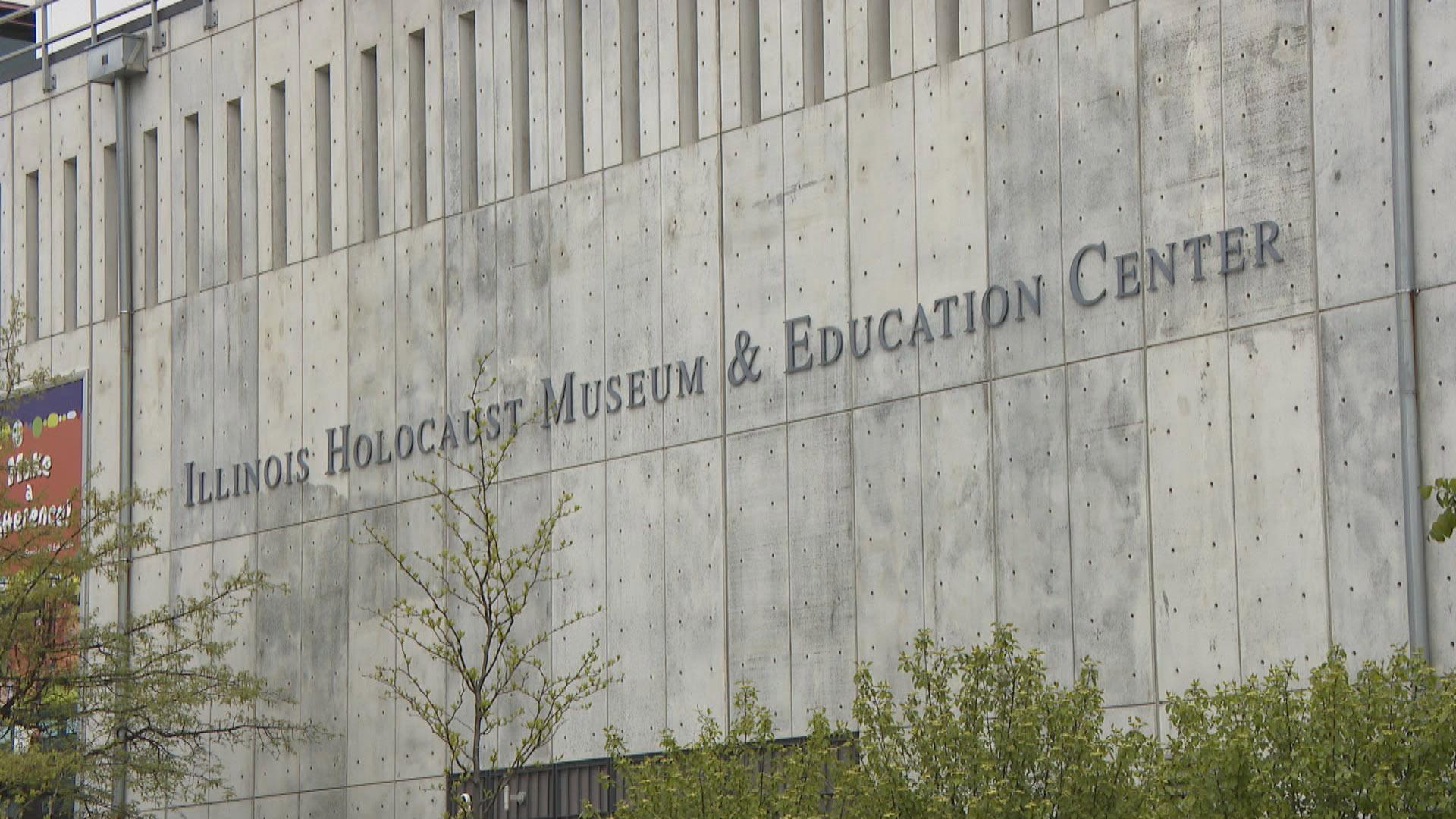 (WTTW News)
Instead, as it has since the pandemic forced the museum to close its doors, the museum is encouraging people to visit its exhibits virtually — as it did Monday on International Museum Day — and to watch live events on social media with museum staff and Holocaust survivors.
At a time when Asian Americans are being targeted and political leaders are being compared to dictators like Hitler, the museum's Marcy Larson says it's work is vital — even if it's virtual.
Congregation Bene Shalom, which opened nearly 50 years ago as the first synagogue for the deaf, with a signing choir rather than a singing one— has also had to physically close its doors due to the coronavirus.
Rabbi Shari Chen hopes the doors won't be closed forever.
The congregation is aging, many youth aren't religious and the deaf community is changing, Chen said.
All of that contributed to the congregation's financial difficulties. Bene Shalom has a GoFundMe campaign going, but COVID-19 has hampered fundraising efforts.
Chen said the most important concept in Judaism is "saving a life" — and in order to do that you go above and beyond.
"The saddest thing about our houses of worship is that we have to be closed when people are looking for faith, hope. But to take a chance of making someone sick? That's not what God wants," she said.
Chen still talks with, prays with – and prays for – congregants daily. (She says sign language isn't always the easiest over an iPhone or Zoom).
She tells them something similar to what she tells herself about Bene Shalom's future: To have faith in God, and to know that "this too shall pass. It will pass."
Follow Amanda Vinicky on Twitter: @AmandaVinicky
---
Community Reporting Series
"Chicago Tonight" is expanding its community reporting. We're hitting the streets to speak with your neighbors, local businesses, agencies and leaders about COVID-19, the economy, racial justice, education and more. See where we've been and what we've learned by using the map below. Or select a community using the drop-down menu. Points in red represent our series COVID-19 Across Chicago; blue marks our series "Chicago Tonight" in Your Neighborhood.
---