Local officials in Kankakee and the surrounding region say their economy should reopen sooner than Chicago's.
The city is the seat of Kankakee County, which has reported 874 cases of COVID-19. The population of 26,000 is almost evenly split between Caucasian and African American residents. 
Local health officials say they haven't seen a spike in cases that areas in Chicago have seen, and hospital capacity has so far been able to keep up with demand. 
A large percentage of the cases here and in surrounding towns like Manteno, Bradley and Bourbonnais have come from long-term care facilities.
Interactive: More from our series, COVID-19 Across Chicago.
One of them, the Shapiro Developmental Center in Kankakee, has recorded 116 cases and one death. Shapiro is run by the Illinois Department of Human Services. State officials say the first case was reported there on March 25 and that family members were immediately notified. 
IDHS spokeperson Meghan Powers says Shapiro and all state-run facilities implemented safety and social distancing protocols on March 12.
In a statement, Powers said: "All of the State Centers for Developmental Disabilities are approaching the COVID-19 emergency with the urgency and seriousness it demands. Beginning March 12th, all non-essential visitors were restricted from entering State Developmental Centers. Temperature checks for all staff and residents at shift changes were initiated."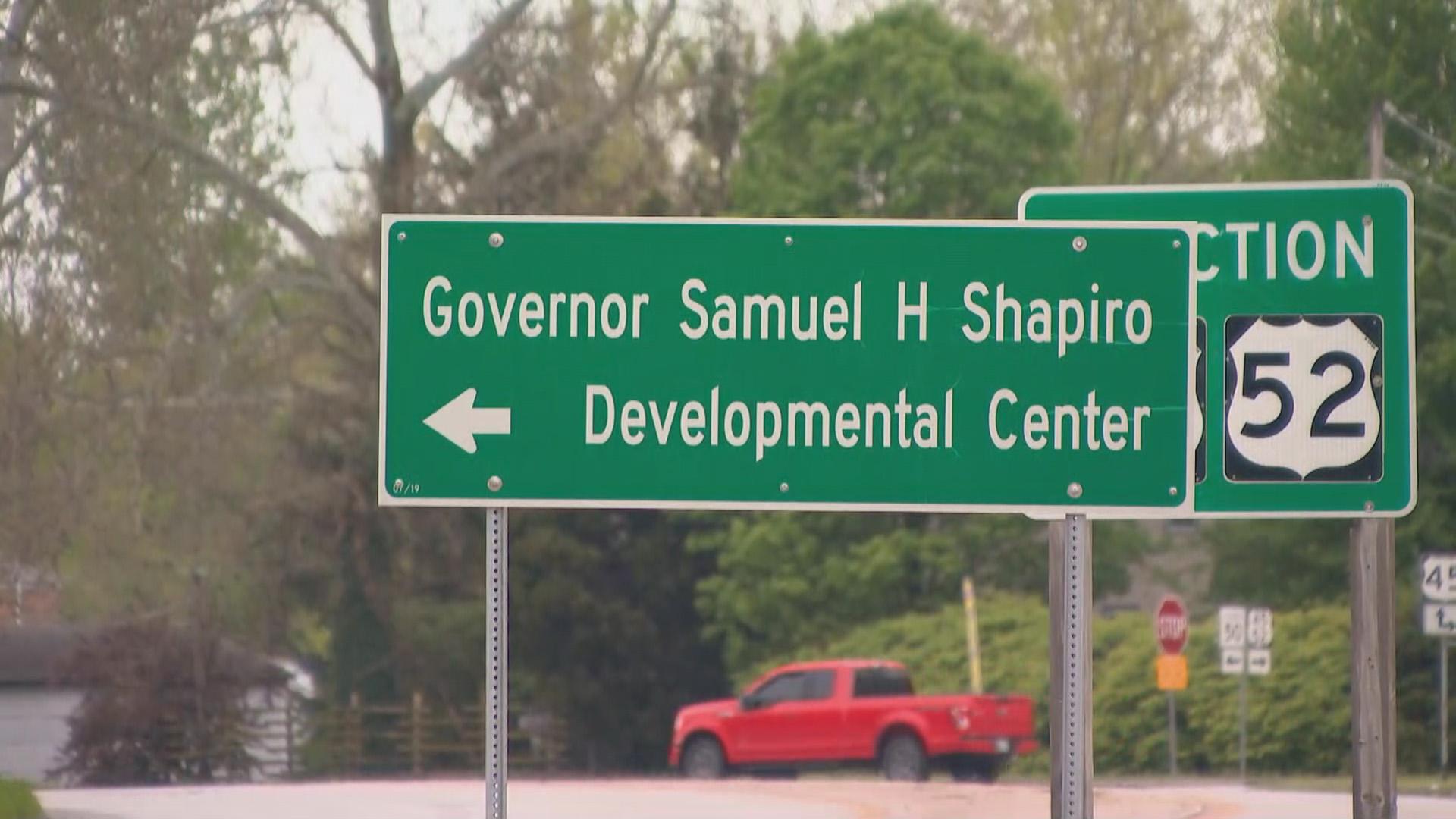 Members of the Illinois National Guard and local hospital staff were recently deployed to mitigate the situation, which officials say is under control after an initial outbreak.
One of those hospitals is AMITA Health St. Mary's Hospital, which conducts about 60 COVID-19 tests per day. 
Hospital CEO Chris Shride says it has no more than 8-10 coronavirus inpatients on a typical day. And as a right of passage, when a patient recovers, the entire staff gets together to cheer the patient as they are discharged, with the theme song from the movie "Rocky" playing over the hospital's sound system.
AMITA is a large hospital system which means it has been able to take patients from harder-hit areas like Chicago. Shride says treatment has really improved as doctors and staff now have a better idea of what to do.
"On the front end, there were a lot of unknowns, and different mixed information," he said. "Physicians have much greater confidence. One of our physicians today expressed his personal confidence in responding immediately and being able to track the symptoms and understanding how to respond, such that their hospitalization is much, much shorter than the original patients we had."
Meanwhile, the pandemic shutdown has battered a local economy that was already struggling. Evolve Clothing Company, a boutique located in a restored building downtown, sells its clothes for pickup and delivery. Owner Christy Smith says she has turned to social media to generate sales, specifically by producing a live Instagram stream every day to showcase her wares.
"We go live for about an hour and show off our newest inventory, that way we're able to connect with our customers virtually," Smith said. "I could be talking, and then people throw in questions and comments so we can have a dialogue. We process their orders through social media, send them an invoice, and a couple days later, we're seeing them at our curbside pickup."
Much of the regional economy is agriculture based. 
Manteno farmer Greg St. Aubin and his son-in-law, Brendan Suprenant, say the state's agriculture sector, like many other industries, is being hit hard. Food is in high demand, but commodity prices for corn and soybeans have tanked, which means that St. Aubin has to sell his yield for much less. Compound that with the hit farmers took from the trade war with China, along with plunging oil prices that affect ethanol, and it's a perfect storm of financial difficulties.
"It affects the bottom line very seriously," St. Aubin said. "Our total source of how we operate our business is through selling of our commodities. We produce our commodities only once a year, compared to other industries that are making widgets every day. Having to depend solely on markets, world events, pandemic, to try and move the markets where we can sell our commodity at a decent price and make a living."
And the rash of COVID-19 cases that have closed meat packing plants means livestock farmers are not able to sell all of their product.
"Producers are not able to get rid of their animals when It's time to go to market," said Surprenant, a farmer. "A lot of these meat packing plans have shut down, so they have barns and feedlots full of animals ready to go to market that have nowhere to go."
Follow Paris Schutz on Twitter: @paschutz
---
Community Reporting Series
"Chicago Tonight" is expanding its community reporting. We're hitting the streets to speak with your neighbors, local businesses, agencies and leaders about COVID-19, the economy, racial justice, education and more. See where we've been and what we've learned by using the map below. Or select a community using the drop-down menu. Points in red represent our series COVID-19 Across Chicago; blue marks our series "Chicago Tonight" in Your Neighborhood.
---