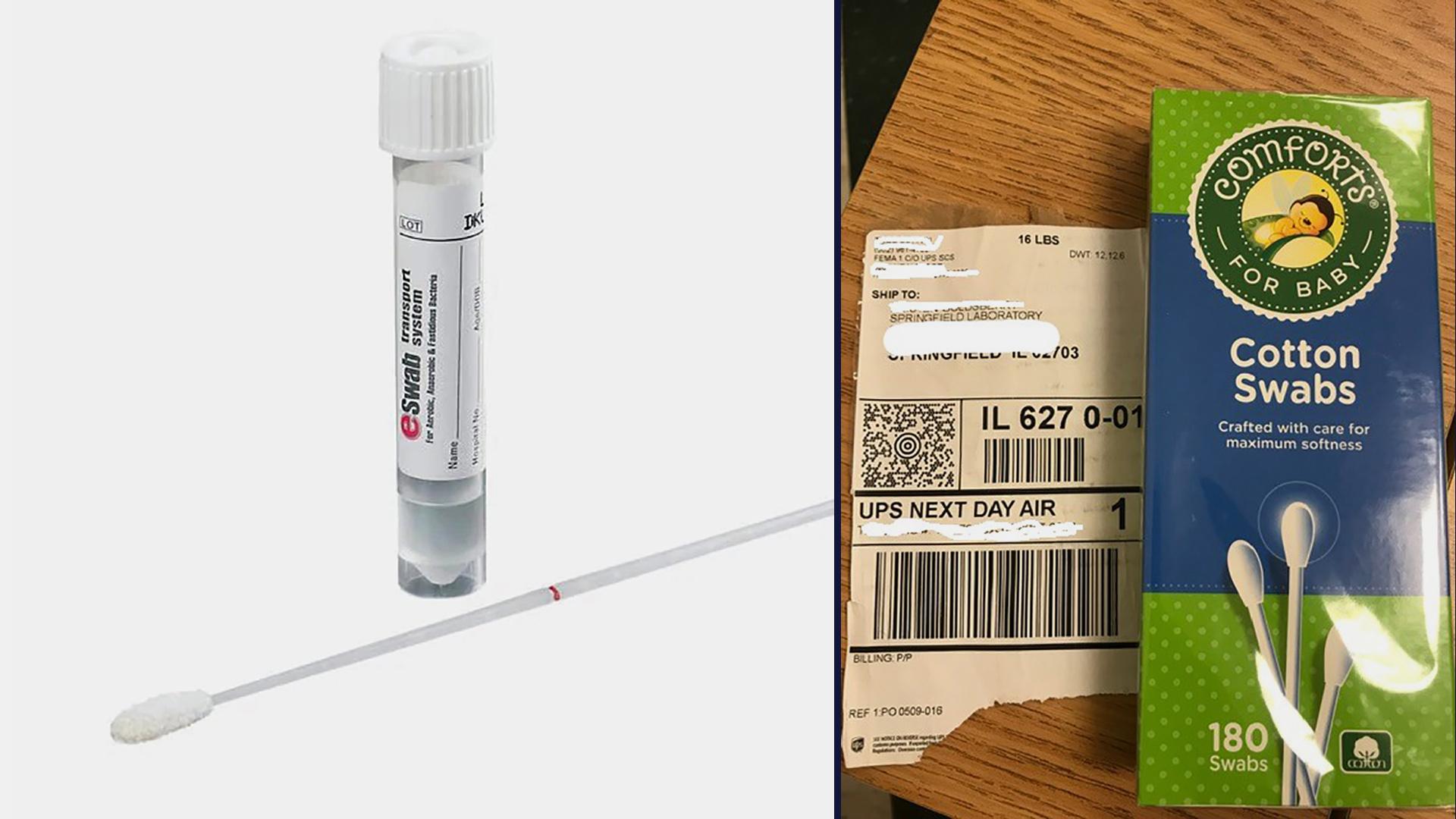 (Courtesy of the Office of Gov. J.B. Pritzker)
First, it was masks. The federal government sent the surgical variety, instead of the N95 respiratory-grade masks Illinois asked for and needed.
Now, swabs are the issue.
It's the latest trouble with supplies sent to Illinois by the federal government to deal with the coronavirus.
WTTW News got a tip about the mix-up, which the administrations of both Gov. J.B Pritzker and President Donald Trump confirmed.
Pritzker's office said after some back-and-forth, the feds promised 600,000 swabs to the state this month for use in testing for COVID-19.
Some arrived without issue: A shipment of 5,000 came on May 4, then another 39,600 arrived a week later, on Monday.
But this week, Illinois got what appeared to be – at first glance — some 23,000 cotton baby swabs.
Packages marked "Comforts for Baby: Cotton Swabs" arrived in a cardboard shipping box; 180-count packs that look the same as what Illinois received are selling for $1.50 on Instacart. 
"What are we supposed to do with these?" a spokeswoman with the Pritzker administration said. "Not helpful."
The Federal Emergency Management Agency said Wednesday that despite the label, the swabs are in fact made of the polyester variety used for COVID-19 tests.
"In an effort to answer our country's call to action and expedite the production and delivery of the new spun polyester swab, US Cotton used existing packaging for its polyester swabs, which does not accurately communicate the content of each package. Going forward, the spun polyester swab packaging will be blank," FEMA's media office wrote in a statement to WTTW News on Wednesday. "The shipment of 23,400 swabs received by the state of Illinois on Monday did contain the FDA approved sterilized polyester spun swab for the specimen collection of COVID-19."
In late April, President Donald Trump invoked the Defense Production Act to force an unnamed company to produce medical swabs after states complained there weren't enough.
FEMA also forwarded a letter to Illinois officials from the manufacturer.
"The packaging and labeling being utilized for initial FEMA production does not accurately reflect its contents. This is to certify that the packaging does contain the FDA approved sterilized polyester spun swab for the specimen of COVID-19," wrote U.S. Cotton L.L.C.'s vice president of quality, Mark Novelli, on company letterhead.
Illinois officials nonetheless remain unconvinced the swabs can actually be used to test potential COVID-19 specimens.
Upon inspection, a spokeswoman for Pritzker's office said state public health workers found the swabs are, in fact, made of polyester rather than cotton.
But these swabs are short – the same as a Q-tip, or about the length of a finger.
Swabs used to test for COVID-19 are typically longer, roughly double in length, in order for a person to hold onto the stick end while pushing the tipped portion unsettlingly high into a nostril.
The swabs FEMA sent also came in a package resembling something you could buy from a drug store.
Pritzker's office said that has the potential to cause contamination issues; the swabs the state has been using come individually wrapped to avoid that.
The Centers for Disease Control pointed Illinois to guidance for "handling bulk-packaged sterile swabs properly for upper respiratory sample collection."  
The guidelines call for using gloves to distribute individual swabs into individual plastic bags, if possible. If that's not possible, they recommend using clean, gloved hands to retrieve a new swab from the container, to then close the container immediately, and to store opened packages of swabs in an airtight container when they're not in use.
 "At this point we're trying to explore how they could be used," Pritzker spokeswoman Jordan Abudayyeh said. "Maybe we would send them to be sterilized and put into individual packages, which will take time, money and effort."
She said it's another instance of a promise the federal government has yet to follow through on during the pandemic.
It's not a major cause for alarm, though, she said, given that Illinois is procuring swabs on its own.
Still, supply chain problems continue to be stymie efforts to further ramp up testing for COVID-19; even if there are enough swabs, there may not be enough viral transport medium. The state began cooperating with Illinois-based labs and universities to make VTM, but then realized there's a shortage of the packaging needed to properly transport specimens so they're kept at the correct temperature.
"My guess is these are not going to be used immediately," she said of the latest shipment of swabs.
The administration continues to wait for the remainder of the promised half-million swabs.
Follow Amanda Vinicky on Twitter: @AmandaVinicky
---